Found May 22, 2012 on Fox Sports Tennessee:
The 2011 NFL season was a challenging one for first-year coaching staffs in particular. To the extent that a staff might have changed schemes, it had no offseason in which to install them, owing to the lockout and somewhat shorter training camp. In the Tennessee Titans and head coach Mike Munchaks case, they still managed to go 9-7 while tying for 18th in the league in total defense in coordinator Jerry Grays first season. As a result of the lack of time to implement the full depth of the playbook, Grays defense worked under the handicap of having to be a little bit vanilla. Considering that Gray worked under Gregg Williams on-and-off in three different locations over a 10-year period, including with the Titans, and that Williams defenses were known for a gambling and attacking style of defense, its fairly safe to say that if Gray had his druthers, he might have called things a little differently than he did in 11. With Titans offseason team activities under way, rookie camp already completed and a normal length training camp ahead, those are things that Gray and his unit are concentrating on. Looking at what we did last year, were going to add a lot, Gray said last Thursday in a video posted on the teams Web site. Were going to add because we didnt have this period last year. We pretty much took the defense the Titans ran two years ago. We cut out the fat and just pretty much ran that from last year. Now were going to get a chance to watch some stuff we want to do, some other things, were adding some things that weve done in the past, that I did in Buffalo, where he was defensive coordinator from 2001-05 when Williams was head coach from 2001-2003, things I did in Washington where he was secondary coach from 2006-09 when Williams was defensive coordinator from 2004-2007. Were kind of tailoring this defense to the players we have, not to what we had run last year. Gray said that it was frustrating in a way not to be able to have full use of the calls and defenses he would have liked to have made. But, to me, I think what you do is you learn to adjust, Gray said. We used a lot of young guys and finished 9-7. Now can we build on that? Can we build on 9-7 and hopefully go 11-5, 12-4, 13-3? In order to do that, youve got to work. Specifically, right now, Gray cited the need for players individually to improve their technique. Thats significant, considering the number of rookies who were contributors on the Titans defense last year: linebacker Akeem Ayers (16 starts) was a second-round pick; defensive tackle Jurrell Casey (15 starts) was a third-rounder; linebacker Colin McCarthy (seven starts) was a fourth-rounder and defensive lineman Karl Klug (seven sacks) was a fifth-rounder. In reference to a question about Ayers, Gray delivered this colorful quote on the importance of using the time presented now, If you dont have technique, youre going to revert to what you know and thats pretty much nothing. Gray said this period is crucial for Ayers. As if it were necessary to mention, the Titans ranked 31st in the league last year in sacks. We need Ayers to get some sacks, Gray said. We need Ayers to have a dominant attitude of You know what? A tackles not going to block me, a running backs not going to block me. Gray said Ayers needs to incorporate what hes learning with newly hired defensive assistantpass rush specialist Keith Millard. Ayers, who had two sacks last season, seems to have taken that message to heart. Thats important to me this offseason is really working on my pass rush, Ayers said last Thursday in a video posted on the teams Web site. I had a few opportunities last year, but I didnt really get the opportunity to work on it the offseason. This year we got an offseason. We got coach Millard here to help with the pass rush, so just really putting emphasis on my pass rush this year. Ayers said he has spent time with Millard reviewing video of his rookie season and viewing what he did wrong. I learned a lot by just meeting with him, said Ayers, who stressed the need to be able to translate what he has seen in the meeting room onto the field. Its all part of the process to make the Titans more dangerous on defenseand perhaps less predictablein the coming season.
Original Story:
http://www.foxsportstennessee.com/05/...
THE BACKYARD
BEST OF MAXIM
RELATED ARTICLES
Zach Brown was selected in the second round for the Tennessee Titans and is coming off a dominant season for the Tarheels. Brown was the recipient of the 2011 Elite Linebacker Trophy and was a first-team All-ACC selection this year as he compiled a team-high 91 tackles.
On Sunday, a report came out that Kenny Britt's injured knee needed a second procedure. And on Wednesday, Britt had that second operation as a "clean-up" procedure to alleviate swelling in the star wide receiver's right knee. Britt underwent season-ending surgery last October to repair a torn ACL and a torn MCL from a hit suffered against the Denver Broncos. ...
The Tennessee Titans have agreed to terms with linebacker Zach Brown, their second-round draft pick out of North Carolina. Brown played in 47 games with 230 tackles, seven interceptions and 5.5 sacks at North Carolina. He started 12 games as a senior with three interceptions and all of his sacks. The Titans announced the deal Monday. The team now has agreed to deals with four of...
NASHVILLE, Tenn. (AP) -- The Tennessee Titans have agreed to terms with linebacker Zach Brown, their second-round draft pick out of North Carolina. Brown played in 47 games with 230 tackles, seven interceptions and 5.5 sacks at North Carolina. He started 12 games as a senior with three interceptions and all of his sacks. The Titans announced the deal Monday. The team now has agreed...
The Tennessee Titans have reached a contract agreement with rookie linebacker Zach Brown. Brown, the team's second-round pick, had 105 tackles, three interceptions and 5.5 sacks for North Carolina last season. Four of the Titans' seven draft picks from the draft in April have now agreed to terms.
Photo Credit: Donn Jones/TitansOnline.com Zach Brown, the second-round selection (52nd overall) of the Tennessee Titans, has agreed to terms on a four-year deal worth $3.858 million, according to Brown's agent, Aaron Wilson of the Carroll County Times reports. Brown will also see a $1.246 million signing bonus and his second-year guaranteed salary is $565,377. "This is one of...
The Titans brought in two veteran safeties in for a visit for depth behind starters Jordan Babineaux and Michael Griffin, Abram Elam and Gibril Wilson. This comes after the Titans brought in two other veteran safeties for a visit a week or so ago, Yeremiah Bell and Chris Crocker. Bell signed with the Jets earlier this week and Crocker remains unsigned. Even after using a 6th round...
Getty Images Houston Texans defensive coordinator Wade Phillips was on KILT in Houston with Josh Innes and Rich Lord, via SportsRadioInterviews.com.  He was asked to give his thoughts regarding the audio of former Saints defensive coordinator Gregg Williams' speech before last season's playoff loss to the 49ers. "Well I mean it made me sick. I just don't believe in that...
Four months after botching a pair of punt returns in January's NFC Championship Game loss to the Giants, Kyle Williams opened the 49ers' first organized team practice for veterans on Tuesday in a battle for a roster spot. San Francisco brought in significant competition at the position, signing free agents Randy Moss and Mario Manningham and using their first-round pick...
BEREA, Ohio -- Forced to fight for his name in a ''public trial'' against the NFL, Browns linebacker Scott Fujita vowed he did not participate in the New Orleans Saints' bounty program. Fujita, suspended for three games by the league for allegedly contributing ''a significant amount'' of money to a pay-for-hits pool while he played for the Saints...
It seems that with each week there is a new twist to Bountygate. Last week, it was Jonathon Vilma filing a defamation suit against Roger Goodell. This week's twist comes from discussions that CBS Sports' Mike Freeman had with a few "angry", "tired and determined" Saints players. In his discussions with the players, one believes that the Saints are being "railroaded"...
Titans News

Delivered to your inbox

You'll also receive Yardbarker's daily Top 10, featuring the best sports stories from around the web. Customize your newsletter to get articles on your favorite sports and teams. And the best part? It's free!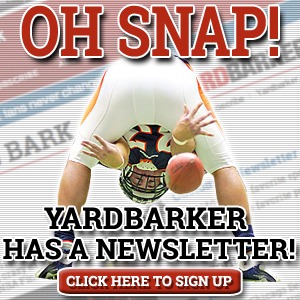 Latest Rumors
The Backyard

Today's Best Stuff

For Bloggers

Join the Yardbarker Network for more promotion, traffic, and money.

Company Info

Help

What is Yardbarker?

Yardbarker is the largest network of sports blogs and pro athlete blogs on the web. This site is the hub of the Yardbarker Network, where our editors and algorithms curate the best sports content from our network and beyond.