Found October 05, 2012 on Purple Jesus Diaries:
Game Five?! How the hell did this happen already? We're on the fifth game of the season? And the Vikings have a winning record?! That's what really freaks me out. Even if they lose this game they'll still have a winning record! We have so many wins losses don't even matter!! We're so good. ... That's not entirely true, but it should convey my overall surprise when it comes to this team this year. To say I wasn't expecting this kind of a start would be a colossal understatement. The freakiest part is that pretty soon I'm going to have to make a judgment call on this Vikings team. I mean, they're 3-1 a quarter of the way through the season. They've been both good teams and bad teams, with both sloppy play and sound football. Sure, they're still kind of hard to judge right now, but at what point won't they be? Do I reserve judgment on what kind of caliber this team is until week 16? No! I won't stand for it. I figure in the next couple of weeks we'll have a pretty good idea of what we'll get out of these guys on a consistent basis, and all indications are that ... *GASP!* ... they're decent! Who would have thought?! This is fun.
Thanks to Melba Toast from Rube Chat for another great game preview graphic!
Eat My Choad, Chris Johnson! If you follow the PJD Fantasy Football League posts you'll know that I've ended up with Chris Johnson on that team as well as other fantasy teams I have. To say it was a horrible, horrible mistake would be like George Lucas saying he now has reservations about writing Indian Jones 4. No ****, dude. Chris Johnson BBBLLOOOOOOOWWWS, and as we've seen in interviews with Titans fan Nonpopulist and blog Total Titans this week, even Titans fans think the guy is pretty much done for. Which is hilarious. Because remember when he held out to get his pay day (smart move by him, I guess) and thought he was a better running back than Purple Jesus? OUTSTANDING. Here's the facts, dick nose - Purple Jesus has one leg and he's a better running back than you are today. There's no denying that. No please shut up, and chew down your plate of emulsified choad. Delicious!
Defense Be Defensing? This is the other thing that is freaking me out about being five weeks into the season already ... Do we have to declare the Vikings defense as being good again? I mean, Pro Football Reference currently has them ranked as 7th in points against and 8th in yards given up. Jesus, a top 10 defense?! I never thought I'd live to see the day again. I'm trying to figure out why, too, and I can't quite place my finger on it. We've faced two bad teams, but also two seemingly good teams. We've had some breaks, sure, but we've also just had some solid play as well. I have to think that it's a mix of the infusion of new talent and some younger guys finally coming into their own. For instance, Harrison Smith has been an instant HIT (pun intended), while Josh Robinson has played admirably, helping the entire unit. Likewise, Everson Griffen has really started to shine his magical griffen pixie dust everywhere, and guys like Erin Henderson and Jasper Brinkley have finally started to live up to their billing. It's freaking me out, man. Do the coaches get any credit for this? I'm not sure how to react if they do. That's over the top. Good coaching?! Get out.
Dolan of the Week: More twisted ass **** for your week. You're welcome. This is a great Dolan comic on so many levels. First, it breaks down a popular culture reference with the Call Me Maybe song, and twists it into something horrific. It's also a bonus because of the Gooby tears. You just got banged by your best friend, dog. You're so stupid. I also like that you hardly see Dolan, but as soon as that last panel hits you just go OH ****! Game over, man.
Scotch of the Week: I have noticed that I've started to run a bit low on my scotch recommendations, and that is ALSO freaking me out. Must be close to Halloween. ... Because I'm really freaked out in this post so far? #surprisedemoticon? Whatever. We still have some to look at here before I start pulling out the real obscure references, or recap scotch's we reviewed on the site back in 2010. It's a blog life, no one remembers that ****. Whatever. Today, we're checking out the  Scapa 16 year. It's got a hard gold color, like a golen dipped ****, with a floral nose to it, similar to a whiff of a virgin's pubes in the Alps. There are hints of sweetness (probably the pubes, bro), maltiness, and toffee, meaning it has a little bit for every booze hound out there. It actually feels spicy in your mouth, like when you tongue kiss a South American chick, offering medium to light peat notes. I like this one a lot because it tastes like bourbon with a bit more of a bite. Also, it has just a hint of bread pudding to it, whatever that means. Bready? Is that a descriptive term? I'm so worldly. It finishes soft on the tongue, like a gentle, summer's kiss from a homeless man, finishes medium to long, and leaves you wanting more with a little pepper at the end. Better pepper than a salt taste, because my Grandma always said salt will kill you, even though that's not actually true. She lied to me, and I don't even care.
Shirtless Viking of the Week: It's a shame we had to see rookie wide receiver Greg Childs head to injured reserve this season. I mean, sure, he probably would have helped out a lot ON the field, which totally would have been nice and was maybe the main benefit the coaches were thinking of when they drafted him, but for a rookie? Holy ****, this bro has come HARD with the shirtless pics. That's another one we found of him this week. I mean, the guy is on injured reserve because he tore a ligament in both of his knees, and yet he's still beasting around without a shirt. Dude don't give a single F Bomb. Not one. And for that, we thank him. And yes, he's been added to the every growing Shirtless Vikings picture gallery. Say goodbye to your Friday afternoon!
Got a picture of a Vikings player without a shirt on? Why not spread the love? Send us your photos at purplejesusdiaries@gmail.com and we'll highlight them every week, while also giving you credit and probably internet fame. You deserve it!
  Confident Predictions! And so it all comes down to this - Do I think going into the fifth week that I really know who the Vikings are? I thought they'd lose that Colts game (and was right) but also thought they'd lose that 49ers game too (and was wrong). I predicted a Lions win, but did so on shaky ground, and they did almost cough that one up. Teams obviously have highs and lows throughout the season, and I'm starting to wonder if we've already seen both of those extremes with the Vikings. From here on out it's exactly what we'd expect. This week? I guess I'm expecting a win. The Titans have had a hell of a schedule so far and aren't looking that great, but are they that much better than we are? I honestly don't know. I think we shut down the run for the most part, and keep a rusty Hasselbeck at bay. I'm more worried about their defense slowing down our offense, but hopefully Ponder can show more of his continued growth this season and do just enough to get us the win, like he did just enough to make your mom's panties loosen a tear drop by winking at her. After guessing the Lions win correctly last week, that puts me at 3-1 on the season in my predictions, same as the Vikings record, and I like us both going to 4-1. It'll be close, but I think the home crowd helps the Vikings nab the W.
Enjoy the game every one. We'll be around this week and make sure to get a game thread up for the four people that want to comment there. See ya then.
[follow]
Original Story:
http://www.purplejesusdiaries.com/201...
THE BACKYARD
BEST OF MAXIM
RELATED ARTICLES
While it's still a little early to label the Minnesota Vikings as NFC North favorites, they certainly look like the most consistent team in the division. Christian Ponder has been playing solid football and looks to be a promising quarterback for a Vikings team that hasn't seen much consistency at the position in the last decade or more. The defense has looked good enough and...
Thanks to PJD for Purple Jesus Diaries, Bloguin's Vikings blog, for helping us to preview this week's game up in Minnesota. In addition to answering questions for us, he also sent me questions I answered for him, which you can read here. Without further ado, the Q&A: Total Titans: Christian Ponder: who is he, and what are his strengths and weaknesses? He's...
Percy Harvin's versatility, athleticism and toughness have made defending him difficult for Minnesota's opponents. Figuring out the most effective way to use - and protect - him has been a challenge for the Vikings, too. The experiment was so uneven last year - while the team finished 3-13 - that Harvin demanded better from the coaching staff, seeking clarity on his role...
EDEN PRAIRIE, Minn. The Minnesota Vikings went on the road last week and won a game against the Detroit Lions, ending their NFC North losing streak without scoring an offensive touchdown.Improved special teams units, exemplified last week with two return touchdowns and five touchbacks, have played a big role in Minnesota's surprising 3-1 start. With a rookie kicker who has met...
EDEN PRAIRIE, Minn. (AP) -- There's plenty of experience left in Minnesota's defense, despite the rebuilding project that has turned over so much the roster in the last year. If a mini-Mount Rushmore monument were made for this group, the faces of veterans Jared Allen, Chad Greenway, Kevin Williams and Antoine Winfield would certainly be featured. The older guys are still...
QB Joe Webb's Vikings career has run the gamut, but he remains committed to dutifully serving his role as the backup. He talked about how he helps Christian Ponder, the past as a receiver and where that Blazer package has been.
(Eds: APNewsNow. With AP Photos.) By DAVE CAMPBELL AP Pro Football Writer The veterans on the Minnesota Vikings defense are still significant contributors. Jared Allen, Chad Greenway, Kevin Williams and Antoine Winfield continue to make their mark. But the source of the improvement this season can be traced straight to the young guys. Rookie Josh Robinson, who has the team'...
EDEN PRAIRIE, Minn. Detroit Lions All-Pro receiver Calvin Johnson has created nightmares for Minnesota Vikings' coaches and defensive backs for five years, feasting on a secondary unable to handle his length and speed and often unwilling to be physical with the 6-foot-5, 239-pounder. In nine games against Minnesota, Johnson had 41 catches for 575 yards and six touchdowns. Last...
EDEN PRAIRIE, Minn. Two seasons ago, a meeting between Adrian Peterson and Chris Johnson, two of the NFL's premier running backs, would have been a highlight on the NFL's weekly schedule. Sunday's game, with Johnson's Tennessee Titans visiting Peterson's Minnesota Vikings, would have been billed as a matchup involving perhaps the game's biggest breakaway...
EDEN PRAIRIE, Minn. Fresh off back-to-back wins, the Minnesota Vikings return home to the Metrodome to face the Tennessee Titans this week, dealing with heightened expectations.Minnesota (3-1) has already matched last season's win total with wins against the San Francisco 49ers and Detroit Lions. The Vikings feel they are prepared to handle the success this season."I think...
• GULP: Kate Upton in dirty teacher glasses• Sweaty Donovan McNabb playing pickup ball• Video: Packers fan middle fingering a camera• Obvious: ESPN has giant boner for Tebow• OMG! Jeter's ex walking around in these pants• 16 Brides Doing Kegstands At Their Wedding• Jordan Carver…something…HANDBRA!• Hottest Australian Hooters Girl of the Day: RaechelFiled under: Daily Dump
Tennessee Titans (1-3) at Minnesota Vikings (3-1) If it wasn't for Arizona, Minnesota would be the surprise team of the year. In fact, I think they have a lot more staying power than the Cardinals. Despite Arizona's record, they rank 27th in the league in yards per play differential, which I think is more indicative of their ability. Minnesota, meanwhile, ranks 9th in that category...
NFL News

Delivered to your inbox

You'll also receive Yardbarker's daily Top 10, featuring the best sports stories from around the web. Customize your newsletter to get articles on your favorite sports and teams. And the best part? It's free!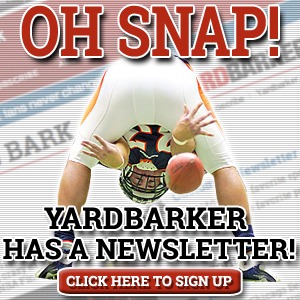 Latest Rumors
The Backyard

Today's Best Stuff

For Bloggers

Join the Yardbarker Network for more promotion, traffic, and money.

Company Info

Help

What is Yardbarker?

Yardbarker is the largest network of sports blogs and pro athlete blogs on the web. This site is the hub of the Yardbarker Network, where our editors and algorithms curate the best sports content from our network and beyond.