Found June 24, 2013 on Pats 360:
PLAYERS:
Tom Brady
,
Marlin Jackson
,
Peyton Manning
,
Jake Plummer
,
Champ Bailey
,
Rob Gronkowski
,
Randy Moss
TEAMS:
Indianapolis Colts
,
New England Patriots
,
Denver Broncos
,
Baltimore Ravens
,
San Francisco 49ers
,
New York Giants
Contributor: Alex Hoegler 2006 AFC Championship vs. Indianapolis Colts Tom Brady put up 34 points against one of the NFL's elite defenses. He threw for 232 yards and one touchdown. Only question is: Why is this such a choke-job, when he put up a rather impressive performance in one of the biggest games of his career? Easy, you should never blow an 18-point lead when you're supposedly "perfect" like the Patriots quarterback. Down 38-34 late, Brady had a chance to drive his team down-field for a last minute score, but near midfield he threw a pick right to Marlin Jackson, sealing the Colts a win. To make matters worse, Brady's arch-nemesis, Peyton Manning, went on to win his first Super Bowl. That wouldn't have happened if Brady didn't put up a disgusting second half performance. 2005 Divisional Round vs. Denver Broncos 341 yards, one touchdown and two interceptions. Tom Brady was able to move the ball well, but pulled off his first career choking job in this very game. The Patriots traveled to the Mile High City to take on Jake Plummer's Broncos. The Patriots' quarterback had never lost a playoff game.  Down 10-6 late in the third quarter, Brady faced a crucial third-and-goal situation. Brady faced a blitz and just threw it straight to the end zone. Broncos cornerback Champ Bailey returned it 100 yards to setup an eventual TD run for Denver. The Broncos took the momentum the rest of the way and won 27-13. Brady's first playoff loss was painful. He changed the game in one disgusting decision. The Pats haven't won a Super Bowl since. This one play may have very well changed his career. Very disgusting, indeed. 2012 AFC Championship vs. Baltimore Ravens The Patriots had the league's number one offense going into this game, scoring a total of 557 points, and Baltimore barely limped into the playoffs with a 10-6 record. The long and short of it? The Patriots scored just 13 points. Brady threw for 320 yards and one touchdown, but posted a quarterback rating of just 45.1. He threw two fourth quarter interceptions and zero points in the second half. Simply unacceptable for "the greatest quarterback of all time." Unacceptable to say the least. But this isn't close to his closest choking job. Super Bowl XLVI vs. New York Giants After winning the league MVP and posting a 14-2 record the year prior, Tom Brady and his Patriots were Super Bowl favorites going into the 2011 NFL season. The Patriots did not disappoint, their offense was one of the strongest in the league. The Patriots had a chance to avenge a famous loss (more on that later) to the New York Giants. Tom Brady had an exceptional game, going 27 for 41 and throwing 276 and two touchdowns. That's a pretty tremendous stat line, so why is he a choker here? Because, he had three chances to put the game away, but the Pats found themselves on the losing end. Up by two points early in the fourth, Brady had a chance to put away the game potentially by scoring a touchdown and making it a two possession game. For some reason, he lobbed a long ball to an injured Rob Gronkowski. The Giants intercepted it. The Patriots forced a punt. Brady had a chance to put the game away. He threw two incompletions, the Giants took the ball down field and scored a major to go up 21-17 with under a minute left. Brady missed open receivers and was stopped after a last-second Hail Mary. He could have won his fourth ring, but he didn't. He choked. 2009 Wild Card Round vs. Baltimore Ravens Okay, so the Patriots weren't exactly a powerhouse in 2009 with a 10-6 record—but they did put up a disgusting performance against Baltimore in the Wild Card round that is, in the words of Jim Mora: "inexcusable," and "pitiful, absolutely pitiful." Brady—wait for it, wait for it—threw 154 yards, two touchdowns and three interceptions. He threw two interceptions in the first quarter and had one lost fumble. Baltimore went up 24-0 and eventually won the game 33-14. How does a three-time Super Bowl Champion do that? Super Bowl XLII vs. New York Giants The greatest team to never win the Super Bowl. The Patriots went 16-0. Tom Brady threw a record 50 touchdown passes in a season, Randy Moss caught a record 23 touchdowns, and the offense scored a record 589 points. The Pats were 12-point favorites against the aforementioned New York Giants. The Giants ultimately won 17-14 after a last minute touchdown. Brady threw for just 266 yards, one touchdown and was sacked five times. Blame the offensive line all you want, but there's no excuse for a 589 point-scoring team to only put up 14 points when they had a chance to go down in history as the best ever. Absolutely disgusting. This is the game that told the NFL world that Brady is overrated and in fact a choker.
Original Story:
http://pats360.com/post/53754884212
THE BACKYARD
BEST OF MAXIM
RELATED ARTICLES
New England Patriots: 8 Players Firmly on the Roster Bubble: Kicking the week off with some bubble...
Report: Police prepare to search water near Hernandez's home--PFT: The latest on the Aaron Hernandez investigation: According to Kathryn Sotnik of NECN, police are preparing to enter a body of water near the home of Patriots tight end Aaron Hernandez. The most obvious source for speculation is that they're searching for the gun that was used to shoot Lloyd.  If so, it's...
As you have undoubtedly heard by now, an arrest warrant has been issued for the arrest New England Patriots tight end Aaron Hernandez. Authorities are not yet accusing Hernandez of murdering Odin Lloyd, found dead near Hernandez's home a few nights ago, but they are accusing him of destroying his cell phone and home security [...]The post Aaron Hernandez: the shocking soon-to-be...
According to Kathyrn Sotnik of NECN, police are searching a body of water near the home of Patriots tight end Aaron Hernandez for any evidence that can help them solve the murder of Odin Lloyd. Developing—MA state police suiting up to enter a body of water near Aaron Hernandez home. @NECN pic.twitter.com/JeHk3oYuWT — Kathryn Sotnik (@kathrynsotnik) June 24, 2013 The police still...
We reported earlier today that the police were checking a body of water near Aaron Hernandez's home for evidence. According to USA Today Sports, "no evidence" was found after the police check the area while wearing wet suits. Divers from the Massachusetts State Police searched a pond and heavily wooded areas on either side of the street leading into the upscale development...
Michael Fee is in the middle Aaron Hernandez's lawyer Michael K. Fee spent last night bashing the local media for their reporting that the police had issued an arrest warrant for Hernandez and he says the only warrants that have been filed in court are search warrants. Fee said in a statement: "Over the past week, our client, Aaron Hernandez, has been the subject of a relentless...
New England Patriots: Rookie OTAs and Minicamp ReportWhen evaluating a rookie class playing for the New England Patriots, you need to first realize some important facts.No. 1: This Franchise is an NFL powerhouse and stacked with veteran talent, making it hard for rookies to contribute.No. 2: Team management likes to trade within the draft and often comes out of the weekend with less...
A media and law enforcement firestorm has raged around Patriots tight end Aaron Hernandez for a week now. Yet after repeated reports that Hernandez was to be arrested immediately, he still walks free. Now he's fighting back.
The investigation into the death of a semi-pro football player continued to involve Patriots tight end Aaron Hernandez as police searched his house.
Aaron Hernandez's attorney has finally spoken out about his client's legal troubles. Michael Fee of Ropes and Gray LLP, released the following statement on Monday night, disputing some media claims about Hernandez's legal troubles and trying to clarify a few things. "Over the past week, our client, Aaron Hernandez, has been the subject of a relentless flood of rumors, misinformation...
Aaron Hernandez admitted to NFL teams during the 2010 draft process that he had failed drug tests while at the University of Florida. Media reports right after the draft took that number closer to six. Now, amid all the speculation surrounding Hernandez's past, Florida athletic director Jeremy Foley has finally come out in response to the reports of the Gators' negligence, according...
Will this be the first year in Tom Brady's career where the Pats don't win the division?Well, no, because no other team is as good.However, New England will look like a completely different team in 2013.New England (10-6)Worst-case scenario: Hernandez is arrested, out for the year. Gronk and Danny Amendola can't stay healthy and Brady struggles to make the rest of his...
NFL News

Delivered to your inbox

You'll also receive Yardbarker's daily Top 10, featuring the best sports stories from around the web. Customize your newsletter to get articles on your favorite sports and teams. And the best part? It's free!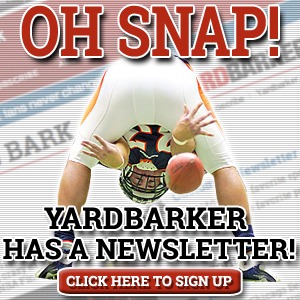 Latest Rumors
Best of Yardbarker

Today's Best Stuff

For Bloggers

Join the Yardbarker Network for more promotion, traffic, and money.

Company Info

Help

What is Yardbarker?

Yardbarker is the largest network of sports blogs and pro athlete blogs on the web. This site is the hub of the Yardbarker Network, where our editors and algorithms curate the best sports content from our network and beyond.