Found May 01, 2013 on Kissing Suzy Kolber:
Trevor Pryce spent 14 years in the NFL as a solid defensive lineman for the Broncos, Ravens and, briefly, the Jets. He retired following the 2010 season. At the time of his retirement, there were rumblings about his interest in producing film projects. He even pitched doing a film score to a Hollywood executive, a suggestion that was pretty much laughed off. But it's clear that Pryce has a bent for the creative and a desire to make a post-football life as filmmaker in some capacity. So far, a film project hasn't materialized, but Pryce has a co-author credit for a newly released fantasy book about frogs. An Army of Frogs follows Darrel, who is usually in trouble for fighting with Arabanoo's gang of juvenile delinquent tree frogs. Darrel and his best friend Gee (Gurnugan) sneak off to a distant border area of the Amphibilands near the outback to get a wattleflower that their friend Coorah needs for some herbal medicine. They are horrified to discover the army of scorpions already entering the Amphibilands in preparation for the Veil's destruction. Gee is captured, and Darrel is torn between trying to rescue him (which would mean sneaking into the scorpion's camp, like a brave Kulipari warrior undoubtedly would), or leaving to find the turtle king to warn him (which would be more prudent, but would mean abandoning Gee). Tough call. For what it's worth, the last time I counted on the turtle king, it was a definite letdown, but that could also just be the LSD. Anyway, what are reviews saying about the book? An Army of Frogs is a fast-paced adventure of manly derring-do for adolescent male readers. It contains numerous batrachian references such as Darrel, his mother, and his friends hopping instead of walking; Darrel's preference for traveling through the branches of trees instead of on the ground; and Darrel's worry about being "ponded" (grounded) by his mother if he gets caught. The title itself is another reference; the collective pronoun for a group of frogs is an "army". Loaded with frog puns! Just what I look for in YA books from former football players. Okay, maybe I'm not the intended audience. But I do appreciate the Trevor is following his second dream and so passionate about it that he's apparently arguing in the comments section of website reviews of the book. The post Trevor Pryce Co-Wrote A Young Adult Fantasy Novel About Frogs appeared first on Kissing Suzy Kolber.
Original Story:
http://kissingsuzykolber.uproxx.com/2...
THE BACKYARD
BEST OF MAXIM
RELATED ARTICLES
NOT GOOD ENOUGH, EH?
Warren Moon, who spent six seasons in the Canadian Football League, believes that Tim Tebow has no greater chance of success in that league than he does in the NFL.
Since the Jets released Tim Tebow yesterday, there's been some talk around the NFL community that another team may be willing to pick up Tebow if he's willing to play a different position such as fullback or tight end. Now, it seems, the Jets never considered changing his position, viewing him as a quarterback to till the end. On "Mike and Mike in the Morning,&quot...
The Allen Event Center wasnt too small a stage for Terrell Owens. But what about Tim Tebow? The quarterback, recently cut by the Jets, has been offered a contract by the Texas Revolution, according to The Dallas Morning News. The Texas Revolution is an arena football team that plays in the Dallas suburb of Allen. We feel like Tim Tebow can give his testimony of his faith on family...
The New York Jets are generally referred to as a "3-4″ defense. This description leads to people attempting to fit all their personnel into pre-conceived roles that lack flexibility. Once somebody is a defensive tackle, they have to be a space-eating two-gap player. Once somebody is an outside linebacker, they have to be in a 2-point stance, frequently lining up at the second...
The New York Jets are not only in the business of football but also it seems of producing awe and criticism. It is part of the Jets' DNA to do things that make others shake their heads. The 2013 NFL Draft was no different. The Jets are a mess. Coming off a 6-10 season improvement is mandatory. They began the re-haul by removing their star corner Darrelle Revis. They cap off...
It appears that Tim Tebow ride in the NFL came to an end, as the N.Y. Jets cut him from the team on Monday, but according to a report, Tebow is now looking at a new career.According to the Tampa Bay Tribune, Tebow will be opening up three chicken restaurants. The report goes on to say that Tebow will invest money into three PDQ [People Dedicated to Quality], which specialize in...
Jets are an entertaining squad. Not exactly sure what Mark Sanchez was thinking here, but LeBron laughs at his futile attempt to rock a headband. Mark Sanchez speaks with the media wearing a headband. Says it's "my inner soccer player." (via @kimjonessports) twitter.com/BleacherReport… — Bleacher Report (@BleacherReport) May 2, 2013
Business Insider ESPN shed thousands of collective tears when the New York Jets released their personal protector on the punt team Monday.  Some fans laughed.  Others thanked greater powers (why, I don't know).  Some NFL general managers confirmed publicly that their team had no interest in the newly-waived former quarterback.  The ears of some GMs perked up.  Lions GM Martin...
Speaking on the quarterback competition, Mark Sanchez says he has "no doubt" he will win the starting role (Credit: AP Photo) On Monday, the New York Jets made headlines when the cut former first round quarterback Tim Tebow who spent just one season with the team before being cut. With Tebow off the team, the Jets were down to just five potential starting quarterbacks. Heading...
Former Jets quarterback Tim Tebow through waivers unclaimed today and is now officially a free agent.  He can sign with any team at any time. Just because no teams put in a claim for Tebow doesn't mean no one is interested.  Now that he's a free agent, we'll find out if anyone really wants to really sign him.   Need NFL Tickets?
Thanks to the media, Tim Tebow is crammed down the publics throats every single chance they can get.  The New York Jets releasing Tim Tebow was given more publicity on ESPN than Jason Collins coming out as the first active gay athlete in a major sport, which is pathetic given Tebow's NFL career.  Mandatory.com feels similarly about the Tim Tebow circus and made a hilarious LinkedIn...
On this recent edition of The UC Show, Ed leads off by going crazy on the newly-drafted quarterback of the New York Jets, Geno Smith. See, it's one thing that Geno didn't get drafted in the first round. Teams are going to do what's in their best interest. It's been like that since day one. [...]The post Podcast: The Angry Corner, NFL Draft, And Cinco De Mayweather appeared...
Jets News

Delivered to your inbox

You'll also receive Yardbarker's daily Top 10, featuring the best sports stories from around the web. Customize your newsletter to get articles on your favorite sports and teams. And the best part? It's free!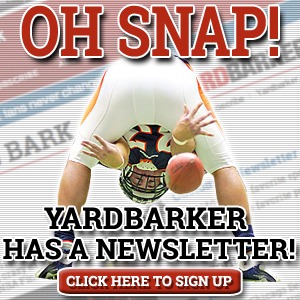 Latest Rumors
Best of Yardbarker

Today's Best Stuff

For Bloggers

Join the Yardbarker Network for more promotion, traffic, and money.

Company Info

Help

What is Yardbarker?

Yardbarker is the largest network of sports blogs and pro athlete blogs on the web. This site is the hub of the Yardbarker Network, where our editors and algorithms curate the best sports content from our network and beyond.