Found September 18, 2012 on New England Sports React:
After the first two games of the Patriots season, they are sitting a 1-1, certainly a disappointment but nothing to get concerned about yet. What does seem to be troubling though, is WR Wes Welker's diminished role early on this season. He is currently sitting behind Brandon Llyod and Julian Edelman on the depth chart and one could assume that if Hernandez did not go down early in Sunday's game, that Welker would have seen much less of the field in the 20-18 loss. One can not help but wonder that this is the typical Patriots way of cutting him out of the system after his much-publicized off-season where he did not receive a deal and is instead getting paid 9.5 million this year.  While no one is really saying Wes is getting taken out of the system little by little, it has become obvious that Edelman is quickly becoming the new Welker, and with both of them due for free agency this year, New England must be deciding whether they should keep Edelman or not. Their decision already seems to be made up about Welker.
Another potential reason is they are going to try and keep both going forward, but with giving Welker less opportunity, they could be trying to drive his value down to something more realistic and in lines with what he was offered during the off-season. They would be hoping that at 31 years old, he would realize he should just take the money and years offered from a team that has made him so successful. Whichever direction this team is heading, it seems they are trying to prove he is not as an integral part of this offense as he used to be.
- John Calabro
Original Story:
http://nesportsreact.com/trouble-in-n...
THE BACKYARD
BEST OF MAXIM
RELATED ARTICLES
It doesn't make much sense on the surface, an All-Pro receiver under utilized when there is a dire need for him. Wes Welker had less snaps (43) than Julian Edelman (55), and Edelman is no Welker. Welker has caught the most passes since 2007, and he's scratching his head on why he's not getting more burn. Wes talked on WEEI in Boston with Mut, Lou, and Troy Brown about if...
What is going on with the New England Patriots and Wes Welker? Well… - NFL.com: Of all the numerous...
One of the theories floating around out there about Wes Welker is that the Pats are simply trying to...
The way many people see it, Patriots wide receiver Wes Welker was left out of New England's game plan in some ways on Sunday. The way Welker sees it, though, it was just another game, with everyone doing their best to fill their roles. "We've got a good team and some good players, and [offensive balance is] good to have," Welker told WEEI on Monday. "If we...
Wes Welker caught more passes over the past five seasons than any other NFL player. So why is he spending more time on the New England Patriots sideline this year? Newcomer Brandon Lloyd has taken over the top receiving spot and three-year backup Julian Edelman has improved while Welker was involved in an offseason contract dispute and could leave as a free agent after this year...
Catch the Patriots taping opposing team's signals on the sidelines? Yawn. Watch Wes Welker seemingly get shunned from the Patriots' offense after an offseason contract situation in which he was nothing but the good soldier? Now you've got the attention of New England fans. Patriots supporters are waiting to see whether Aaron Hernandez's ankle is hurt badly and wondering...
Wes Welker broke one of the Patriots cardinal rules and then the Cardinals beat the Patriots. I'd say things are even for now. New England Patriots WR Wes Welker used to be Tom Brady's right hand man. That's why it seemed logical that the Patriots would try to work out an acceptable deal to extend Welker despite his size and advancing age. Especially, since he returned so quickly...
If one of the Patriots' Swiss Army Knives Julian Edelman gets cut this week, its pretty much safe to say it's because he took out one of the team's superstars. Edelman rolled up underneath tight end Aaron Hernandez's ankle during Sunday's loss against the Arizona Cardinals as he made his way downfield after catching a screen pass from Tom Brady. Please Click Here To Read This Article
There's a very simple explanation for what is happening between the New England Patriots and the team's relationship with Wes Welker. After Welker was third on the depth chart at wide receiver during Sunday's loss to the Cardinals – behind Julian Edelman – there's been speculation everywhere about what the hell is going on, but I haven't heard anybody come up with...
If you were watching the New England Patriots game Sunday you were repeatedly told by FOX announcer Dick Stockton that the only reason New England was out of sync offensively was due to the loss of tight end Aaron Hernandez. From the moment Hernandez went down after Julian Edelman rolled on his ankle while being tackled on an early first quarter pass play the long time play-by-play...
Smack Talk Sports hosts Chris McCarthy and Sean Bakke have a jam packed show lined up! They will be breaking down  week two of the NFL and the New England Patriots loss at home to Arizona, plus they will tell you their theory on what is going on with Wes Welker and Julian Edelman plus [...]
Deion Branch is back in New England, and the Patriots are excited to get the reliable No. 84 back on the field. After being a last-minute cut during roster trim downs on August 31, Branch's locker in the Patriots locker room has remained in tact with the expectation being that he'd find his way back onto the roster. Well, on Wednesday, he did just that. Unlike Kellen Winslow...
Patriots News

Delivered to your inbox

You'll also receive Yardbarker's daily Top 10, featuring the best sports stories from around the web. Customize your newsletter to get articles on your favorite sports and teams. And the best part? It's free!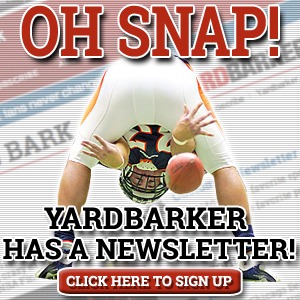 Latest Rumors
Best of Yardbarker

Today's Best Stuff

For Bloggers

Join the Yardbarker Network for more promotion, traffic, and money.

Company Info

Help

What is Yardbarker?

Yardbarker is the largest network of sports blogs and pro athlete blogs on the web. This site is the hub of the Yardbarker Network, where our editors and algorithms curate the best sports content from our network and beyond.