Found March 26, 2012 on Down and Distance:
PLAYERS:
Troy Aikman
,
Tony Romo
,
John Elway
,
Joe Montana
,
Dan Marino
,
Tom Brady
,
Peyton Manning
,
Aaron Rodgers
,
Drew Brees
,
Michael Irvin
,
Terry Glenn
,
Terrell Owens
,
Jason Witten
,
Patrick Crayton
,
Miles Austin
,
Dez Bryant
,
Marion Barber
,
Bill Parcells
,
Wade Phillips
,
Jason Garrett
,
Bill Belichick
TEAMS:
Dallas Cowboys
,
New England Patriots
,
Green Bay Packers
,
New Orleans Saints
,
Cincinnati Bengals
,
San Diego Chargers
,
Chicago Bears
When you think of the great quarterbacks that have played the game, you think of guys like John Elway, Joe Montana, Dan Marino and Troy Aikman. When you think of the current regime of NFL quarterbacks that stick out as great, you think of guys like Tom Brady, Peyton Manning, Aaron Rodgers and Drew Brees. Some would argue that Tony Romo fits the bill as well, while some say that he is nowhere near the status of the elite company.
Troy Aikman is not one of the critics of Romo. The three-time Super Bowl champion said earlier this week that Romo was a better quarterback than he ever was. "I think Tony already is a better quarterback than I was," Aikman said.
No, that is not a typo. Aikman continued "I know how quarterbacks are judged, but as far as his play-making ability and the things that he is capable of doing, he is a far more athletic quarterback, capable of making more plays than I ever was able to" he said. He went on to talk about the differences between his and Romo's game, noting the fact he was strictly a drop-back passer, whereas Romo is able to move around and scramble to extend and make a play.
So let's take a look at the numbers, where technically Aikman is right. Aikman played for a total of 12 years, but for all intensive purposes we'll cut that in half to six seasons, where Romo currently sits as a starter. In Aikman's first six years he threw for 16,303 yards and 61 touchdowns whereas Romo has thrown for 20,834 yards and 149 touchdowns. In terms of completion percentage Aikman averaged 62% compared to the 64% average of Romo. Comparing the quarterback rating of both, Aikman averaged a 94.0 QBR while Romo sits at 102.5. Both pan out pretty equal in terms of Wins and losses; Romo is 47-30 as a starter and Aikman was 48-34. Just for the heck of it I checked out the record of 4th quarter comebacks as well, Aikman had seven said comebacks in the same time it's taken Romo to rack up 13. 
Some would argue that the stats are inflated for Romo due to the era in which he plays, as more passes are thrown per game. But that's not completely a solid statement. In Aikman's first six years he attempted 2,281 passes, and Romo has attempted 2,592. Only 311 pass attempts are the difference, which Aikman made up for in his postseason performances.
Let's take a look at the targets Aikman had the luxury of playing with in his first six seasons. I only used the targets of each guy that had over 1,000 yards in said playing time, to avoid listing every Cowboys receiver in each QB's history.  (All stats mentioned here are ONLY receiving statistics of those of the six seasons, to make an equal comparison)
Michael Irvin, WR; 6,281 yards and 35 TD's
Jay Novacek, TE; 3,096 yards and 18 TD's
Alvin Harper, WR; 2,486 yards and 18 TD's
"Moose" Johnston, FB; 1,471 yards and 10 TD's
Emmit Smith, RB; 1,576 yards and 5 TD's
Kelvin Martin, WR; 2,703 yards and 8 TD's
Now, a look at the targets Romo has played with. (Again, all stats here are ONLY the receiving stats of time played w/Romo)
Terry Glenn, WR; 1,047 yards and 6 TD's
Terrell Owens, WR; 3,587 yards and 38 TD's
Jason Witten, TE; 5,825 yards and 28 TD's
Patrick Crayton, WR; 2,385 yards and 20 TD's
Miles Austin, WR; 3,294 yards and 28 TD's
Roy Williams, WR; 1,831 yards and 5 TD's
Dez Bryant, WR; 1,489 yards and 15 TD's
 Marion Barber, RB; 1,280 yards and 6 TD's
Anyone looking at those lists would take the guys that Aikman played with over the guys that Romo played with, but when you check the statistics, Romo has had the better corps of pass-catchers. While Romo hasn't had the Michael Irvin's and Emmit Smith's on his teams, he's fared pretty well for what he's had to work with, in the crybaby circus that was Terrell Owens and the once-great-turned-bust Roy Williams.
Another case in point here is the coaching that each guy has sustained. Troy Aikman played his first five seasons under Jimmy Johnson and his sixth season under Barry Switzer. Romo has had three different coaching changes in his tenure as the Cowboys signal caller in Bill Parcells, Wade Phillips and Jason Garrett. As much as Parcells has seen success in this league, I'd have to say that Aikman had the better tandem of coaching and consistency.
So, where is the underlying greatness in all of this?
Entering his seventh season, Aikman was preparing for his third Super Bowl as a starter, having already been crowned twice on a 6-0 playoff record.
Entering his seventh season, Romo is preparing to lead his team to the playoffs for a chance at his second career playoff win.
As Bill Belichick would say "Stats are for losers, final scores are for winners". In this case, he is right. Because statistically speaking, Romo is the better quarterback, but I'm not ready to pull the trigger on saying he is better than Aikman.
Follow me on Twitter! @NFLGuy_SK
Original Story:
http://sports-kings.com/downanddistan...
THE BACKYARD
BEST OF MAXIM
RELATED ARTICLES
Tony Romo is one of the most well-known and respected quarterbacks in the NFL.  Over the past seven years, he has played in three Pro Bowls, broken ten Dallas Cowboy team records (including one of his own), and landed the #2 All-Time NFL Career Passer Rating and the #4 All-Time Yards Per Attempt.  He's also led the Cowboys to the playoffs twice.  Unfortunately, he's also developed...
Tony Romo is expected to become a father in the "next couple weeks," according to his brother-in-law Chace Crawford, and the 31-year-old Cowboys quarterback is "over -the-moon excited." In October, Romo revealed to a group of Cedar Hill High School students, that his wife, Candice Crawford, was pregnant with the couple's first child. Other than saying he...
As expected, the Dallas Cowboys and Washington Redskins have formally challenged the NFL by filing a grievance protesting the league's decision to penalize both teams for 2010 salary cap practices, a punishment that will cost the teams a combined $46 million in cap room over the next two seasons. The NFL confirmed Monday that the grievance will be heard by Professor Stephen...
Trinity Valley (Fort Worth) quarterback Austin Henyon had the privilege of participating in this weekend's Elite 11 regional camp at Cowboys Stadium. He picked up tips from Trent Dilfer and Tony Romo, and says he can't wait to bring all that knowledge back to his team and get to work with his receivers...
Take a look at some images from the Elite 11 event held in Dallas on Saturday at Dallas Cowboys Stadium in Arlington, Texas.
According to the NFL Vice President of football communications Michael Signora, the New York Giants will host the Dallas Cowboys to kickoff the 2012 season on Wednesday September 5th. This game will be a rematch of the Giants-Cowboys NFC East Championship game from the 2011 season that the Giants ended up winning.  Of course after winning that game they won the division, clinched...
Former Dallas Cowboys Fullback Tony Fiammetta has agreed to terms with the Patriots, according to league sources. As of writing, details of the contract were not available. The Patriots also released FB Lousaka Polite. This is the second fullback signed in free agency. They picked up former Broncos fullback/linebacker Spencer Larsen last week. Fiammetta, 25 was a restricted...
NFL News

Delivered to your inbox

You'll also receive Yardbarker's daily Top 10, featuring the best sports stories from around the web. Customize your newsletter to get articles on your favorite sports and teams. And the best part? It's free!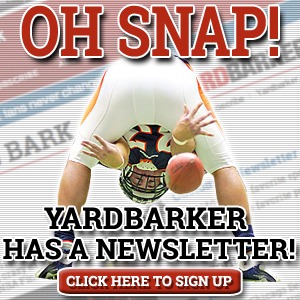 Latest Rumors
Best of Yardbarker

Today's Best Stuff

For Bloggers

Join the Yardbarker Network for more promotion, traffic, and money.

Company Info

Help

What is Yardbarker?

Yardbarker is the largest network of sports blogs and pro athlete blogs on the web. This site is the hub of the Yardbarker Network, where our editors and algorithms curate the best sports content from our network and beyond.