Found June 05, 2012 on Sports Blog Net:
[caption id="attachment_2168" align="alignleft" width="300" caption="Between his punt return skills and his willingness to play defense in 2004, Troy Brown absolutely deserves his induction into the Patriots Hall of Fame. (Jim McIsaac/Getty Images)"]
[/caption]
Troy Brown
's statistics will probably keep him out of the Pro Football Hall of Fame. Other than a few special teams accomplishments, Brown just never did enough to be considered among the best in the NFL. Still,
some
honor is definitely due to the Pro Bowler who played in five Super Bowls and retired as the Patriots' career leader in receptions. Sports writers may never recognize Brown's greatness, but Patriots fans have,
voting Brown into the Patriots Hall of Fame Monday
, according to Boston.com writer Steve Silva. Brown will be inducted as the 18th player and 19th overall member of the Hall on Saturday, Sept. 15, one day before the Patriots' home opener,
Brown's Punt Return Heroics Brown played all 15 years of his career with the Patriots, starting in 1993. Though always a competent receiver – he caught a career-best seven receiving touchdowns, including one in the playoffs, in 1997 – his best work often came on special teams. Specifically, punt returns: he led the team in punt-return yardage eight times, including his first two seasons on the team and six straight years from 1998 to 2003. Brown only scored four touchdowns on returns, but one broke a scoreless tie in the 2001-01 AFC Championship against the Steelers. Considering the Celtics won that game 24-17, one could argue Brown's special teams contribution made the difference. Brown Peaked Before Patriots' Rise Brown contributed the most offensively from 2000-2002, his eighth through 10th years in the league. He ranked second on the 2000 squad with 944 receiving yards (second-most of his career) and five touchdowns (also second-most), scored a special teams touchdown and led with 504 punt return yards. His best year came in 2001, leading the team with 1,199 yards, five receiving touchdowns, 413 punt return yards and three punt return touchdowns (one in the playoffs). He earned a Pro Bowl nod for his 2001 season, though he probably cared far more about the team-leading 89 receiving yards he put up against the Rams in Super Bowl XXXVI. Brown followed up his championship season with a 2002 in which he led the team with 890 receiving yards and 175 punt return yards, but the team missed the playoffs. None of his accomplishments after 2002 – leading the team in punt returns again in 2003, catching four touchdowns in 2006 – ever matched that three-year stretch, and Brown's talents continuously diminished until he retired in late September 2008. Had Brown entered the NFL a few years later, his best years likely would've come as the Patriots rose to prominence in the mid-2000s. Instead, they came too early: nobody picked the Patriots to beat the Rams and grab their first Lombardi Trophy, and even post-victory most considered the win a fluke. The defending champions failing to even make the playoffs the following season cemented everyone's still-low opinion of the team. The New England Patriots franchise as we know it today didn't really materialize until the team won back-to-back championships while setting a consecutive-wins record across the 2003-04 and 2004-5 seasons. After that,
everyone
respected the Patriots, and everyone feared them until the Giants denied them their 19-0 season. The team as it currently stands still basks in the after-glow of that ultra-dominant and ultra-successful stretch. And unfortunately, Brown's stats during that era just don't suggest he contributed very much beyond suiting up. Brown's Attitude Made Him a Coaching Favorite Luckily, Patriots fans can recognize when a player contributes in ways other than on the stat sheets. They showed that Monday by inducting Brown, a player who transformed his diminishing physical abilities in the mid-2000s into an even deeper commitment to Bill Belichick's coaching philosophies of knowing multiple positions and being willing to play outside your comfort zone. When injuries wracked the Patriots' defense during the 2004 season, Brown stepped in and played cornerback. He finished the season with 17 tackles and three interceptions, helping preserve the health of the precious few defensive backs Belichick still had at his disposal. Even though his best years came before the Belichick Era really began, perhaps no player – even
Tom Brady
– embodied Belichick's system the way Brown did. Brown may not have been one of the greatest receivers of all time, but he absolutely ranks among the greatest Patriots. And for that, he'll get a spot in the Hall at Patriot Place.
Original Story:
http://mgoisman.sportsblognet.com/201...
THE BACKYARD
BEST OF MAXIM
RELATED ARTICLES
Troy Brown was voted into the Patriots Hall of Fame on Monday firmly cementing the receiver as one of the greatest in franchise history. But was he the greatest of all-time? Brown holds a franchise record at the position with 557 career receptions and was an integral part to each of the Patriots three Super Bowl titles. There are a number of other former Patriot wideouts who have...
Kevin Faulk has seen limited playing time over the past two years, but the running back is still holding out hope that he could suit up for a 14th season in New England. Faulk told the Boston Herald that the Patriots haven't yet reached out about a potential return, but the 36-year-old running back is still training in the hopes of returning. "I hope so. I'm still praying...
Defensive Snap Review for the New England Patriots | Bleacher Report: Good breakdown from Frenz.
Patriots - One opposing scout offers his take on the Patriots' offseason moves - WEEI | Christopher...
Getty Images New England Patriots tight end Rob Gronkowski underwent ankle surgery almost four months ago and so far all indications are that his recovery is "going well." While Gronkowski hasn't yet participated in OTA's, he's been on the side working on his conditioning and is now walking without a limp. "Just taking it day by day," said Gronkowski. "Everything...
Back in february, the Patriots Super Bowl chances hinged squarely on the right ankle of tight end Rob Gronkowski. Unfortunately for the Patriots, that ankle didn't hold up quite as well as they had hoped in the 19-15 loss to the New York Giants. But as New England gears up for a new season and another shot at claiming the franchise's fourth Super Bowl title, Gronkowski'...
According to a team source, the Jaguars will induct running back Fred Taylor into the team's Ring of Honor during the September 30th game against the Cincinnati Bengals.
Patriots WR/DB/PR/QB said that in 2012 he expects Bill Belichick will keep him at the wide receiver position. That is until the team needs him to perform the same duties as last year.
One day after it was announced that he would be the 19th member, 18th player, of the Patriots Hall of Fame, Troy Brown expressed gratitude to the fans for whom he played for his entire 15-year career and who voted him into the Hall. "I look back on it now and I realize now how much the fans really did appreciate what I was doing when, at times, it seemed like some other people...
The fans have spoken and former New England receiver Troy Brown will be the 2012 inductee into the Patriots Hall of Fame. He will be the 18th player and 19th total member of the Hall of Fame. Brown was one of three finalists nominated by a 17-person committee in April, the other two were former free safety Fred Marion and former head coach Bill Parcells. Fans then had five weeks...
Patriots News

Delivered to your inbox

You'll also receive Yardbarker's daily Top 10, featuring the best sports stories from around the web. Customize your newsletter to get articles on your favorite sports and teams. And the best part? It's free!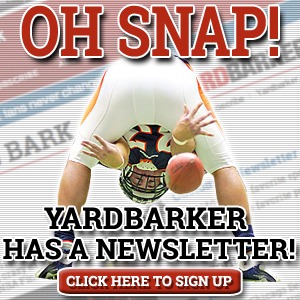 Latest Rumors
The Backyard

Today's Best Stuff

For Bloggers

Join the Yardbarker Network for more promotion, traffic, and money.

Company Info

Help

What is Yardbarker?

Yardbarker is the largest network of sports blogs and pro athlete blogs on the web. This site is the hub of the Yardbarker Network, where our editors and algorithms curate the best sports content from our network and beyond.