Found July 26, 2012 on Fox Sports Houston:
Maybe we had it wrong about Texas Tech. Maybe, because Mike Leach succeeded there for so many years, we thought Texas Tech had become something new, that it had turned that proverbial corner. We are quick to assume these kinds of things, and there are good examples of it in the Big 12. It was only nine years ago that Kansas State won the Big 12 championship, capping a 10-year run that saw the Wildcats in bowl game after bowl game and one overtime period away from playing for the 1998 national championship. The Wildcats appeared to be a national power. But then coach Bill Snyder retired, and K-State sank back to the bottom of the standings again, until Snyder unretired and the Wildcats won 10 games in 2011. It was just five years ago that Kansas went 12-1 and received a first-place vote in the final Associated Press poll. The Jayhawks announced plans to build glorious new stadium suites. But two years later coach Mark Mangino was fired and last year the Jayhawks were one of the worst teams in the country. They never built those suites. Nebraska has never quite been the same since Tom Osborne stopped coaching it. Colorado even won a share of the national championship in 1990 and looked for all the world like a national power. That is, until coach Bill McCartney left in 1994. Certainly these programs are all unique but it seems that sometimes a coach and a place just go together. The personality of a coach is just what the personality of a place needs. These things are relationships. Marriages, even. And the good ones are magical and romantic and feel like they will last forever. Bad coaches don't win, but sometimes good coaches lose. Sometimes they can't quite capture the magic. So maybe we should cool it on Tommy Tuberville at Texas Tech for a minute. He has been there for two years and has won 13 of his 25 games. But he went just 5-7 in 2011, which was Texas Tech's first losing season since 1992. The natives are concerned. They got used to thinking of themselves as the next big thing under Mike Leach. Tuberville is aware. "Just being here a couple of years, everybody said, 'You're on the hot seat,'" Tuberville said this week at Big 12 media days in Dallas. " I'd like to coach a few of these guys I recruited.... We're not there yet. I'll be the first to tell you, but we're much closer than we were three years ago." Texas Tech was 114th out of 120 in total defense last season, 120th against the run and 105th in sacks. Tuberville made a change at defensive coordinator, hiring an old-ball-coach-type named Art Kaufman who played linebacker at Arkansas-Monticello in the 70s and has spent most of his career in the south coaching linebackers, most recently at North Carolina, where he also coordinated the defense. Also, Tuberville says he's had more recruiting success the last two years than people told him he would, and so his point seems obvious: Give me a chance to make this program mine before you give it to somebody else. And this is good and fair. Except in extreme cases, coaches should not be fired until they've at least had the chance to see one recruiting class through to graduation, and the case at Texas Tech is far from extreme. This should not be a make-or-break year for Tuberville, who has proven himself to be one of the better coaches in his profession. He is 123-72 at Ole Miss, Auburn and Texas Tech. His Auburn team went undefeated in 2004. He deserves the benefit of the doubt. Tuberville is a good coach, but good coaches sometimes lose. That's not a prediction. It is just a way of saying there might have been a little magic and a little mystery to Leach's success in Lubbock, and that these things aren't so easily duplicated. Not way out there in west Texas. Not in a league that still includes Texas and Oklahoma. There was a certain peculiarity to Leach's program, with all that pirate stuff and the weird quotes and the simple offense that seemed spectacular. Teams would go out there, and that west Texas wind would start blowing and some unrecruited Texas quarterback would start throwing and that Zorro-looking mascot would be riding around and a blacked-out student section would be going a little bit crazy... and weird things would start happening. There was a strangeness and a chaos to it, and it always seemed like the Red Raiders were more comfortable in it. Maybe there was something in that peculiarity that just worked out there, something inherently Leacherous. And maybe that will be impossible to duplicate. Or maybe you don't need that. Maybe in a couple years Tuberville will have his recruiting classes all tuned up and you'll go out there and the Red Raiders will just stuff your running game and throw touchdown passes off play-action and beat you 24-17 and there will be nothing the least bit weird about it. If that happens, it probably will mean it is true that the last 10 years or so have lifted Texas Tech onto a new plateau. But if it doesn't, let's not be too quick to blame Tommy Tuberville.
Original Story:
http://www.foxsportshouston.com/07/26...
THE BACKYARD
BEST OF MAXIM
RELATED ARTICLES
All eyes are on Pullman this season as Cougar fans hope new head coach Mike Leach can turn the program around. He discusses some of the biggest changes to the program, a few emerging players to keep an eye out for, and more in this 1-on-1.
LOS ANGELES -- All eyes are on Pullman this season as Cougar fans hope new head coach Mike Leach can turn the program around. He discusses some of the biggest changes to the program, a few emerging players to keep an eye out for and more in this 1-on-1 video interview.
Fun times this week after the Pac 12 Media day. Mike Leach was comparing his WSU football players to Civil War Generals this week. Scroll thru to the 16:30 mark.
IF THIS WERE THE Las Vegas Strip, Mike Leach would have just signed a 10-year contract extension. If it were Yankee Stadium, he'd still be doffing his cap. If he played for the Detroit Red Wings, the ice would be a foot deep in octopi. Yep, the reviews are fully in and Mike Leach's debut performance at Pac-12 Media Day was a smash hit. Here's what some folks are saying ...
Did you really think I was going to make it the whole off season without a pirate joke? Yesterday it was confirmed that after his arrest for 3rd degree theft, shoplifting headphones from Wal Mart, starting defensive tackle Anthony Laurenzi has been dismissed from the team by Mike Leach. So Laurenzi becomes the 4th player to test Mike Leach's "No Tolerance" policies...
UNIVERSAL CITY, Calif. - Hear what Washington State head coach Mike Leach had to say at Pac-12 Media Day.
UNIVERSAL CITY, Calif. - Photos of Matt Barkley, Mike Leach and all of the action from Pac-12 Media Day.
Hot News for C Mike Leach
The Paul Wulff era at Washington State University brought a lot of laughs to a lot of people.  Not many of these people were in Pullman.  After a four-year tenure that saw the Cougars win just 9 of their 49 games, Wulff was let go and Mike Leach, the somewhat controversial and always entertaining coach formerly at Texas Tech starts a new period in Cougar football, hopefully one...
NFL News

Delivered to your inbox

You'll also receive Yardbarker's daily Top 10, featuring the best sports stories from around the web. Customize your newsletter to get articles on your favorite sports and teams. And the best part? It's free!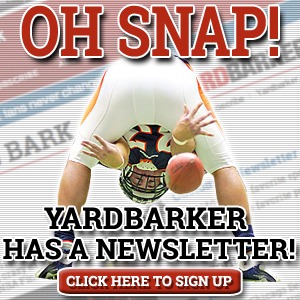 Latest Rumors
The Backyard

Today's Best Stuff

For Bloggers

Join the Yardbarker Network for more promotion, traffic, and money.

Company Info

Help

What is Yardbarker?

Yardbarker is the largest network of sports blogs and pro athlete blogs on the web. This site is the hub of the Yardbarker Network, where our editors and algorithms curate the best sports content from our network and beyond.