Found July 13, 2013 on Football and Futbol:
This is the second part of a two-part mini-series covering former Razorbacks QB, and current Raiders QB, Tyler Wilson. For a brief overview of Wilson's college career, click here and read part one. In this part, we will cover his 2012 season in-depth, using film study to analyze his game in detail. Wilson's overall numbers fall in line with the level of production required to succeed in the NFL. He is close to the average NFL QB starter in almost all of his measurable traits; at 6'2" and 215 lbs, Wilson already has the size and toughness to succeed. Despite playing behind a rickshod offensive line (a lot more on this later), Wilson would regularly shrug off hits and continue driving his team. It was interesting to me, then, that Wilson received hype for one odd negative that seemed to play a major role in his slide into the fourth round. While most casual fans probably won't notice, some NFL circles place remarkable importance on hand size. In fact, there have been a number of successful quarterbacks that were completely removed from draft boards for having hands with under a nine inch span. It makes sense logically that bigger hands are a plus, as gripping the ball in the midst of a cold December game is easier with bigger hands. However, I feel as though this arbitrary cutoff of a nine-inch hand is absurd, and may be this year's case of NFL groupthink at its finest. Yes, Wilson had the smallest hand size at the combine with a span of 8.68 inches. Is this really going to make the football impossible to throw compared to Geno Smith's 9.28" hands? Is having your quarterback's hand span an extra six-tenths of an inch worth not drafting him at all? Rather than arbitrarily measuring and comparing hand size, I believe it is much more useful to look at the numbers and the tape. Critics and fans agree that Tyler Wilson had a successful 2011 season, going 11-2 and winning a bowl game. His numbers from this season were impressive, throwing 277 balls on 438 attempts (63.2%) for 3638y, 24TD, and only 6INT. Surprisingly, Wilson's 2012 season wasn't too far off of his 2011 season, despite his team losing six more games: 249 completions on 401 attempts (62.1%) for 3387y, 21TD, and 13INT. While the interceptions are more than double in his 2012 season, I believe much of this had to do with his surrounding cast. After watching every game Tyler Wilson played in last year, I can safely say that there is a lot to love about him as a player and especially as a leader. Let's take a look at Wilson on a game-by-game basis, starting with week one. Stats courtesy of sports-reference.com Week 1 vs Jacksonville State: 19/27 (70.4%), 367 yards (13.6 yards per average), 3 TD's, 0 INT's From the first game of the season, Wilson came out firing and ready to show why he was the best QB in the nation. Despite an early sloppy fumble, Wilson regularly hit throw after throw to his receiving corps. His three touchdowns came on finesse throws: a 40 yard throw to an open receiver in stride, a rollout throw with touch, and a 50-yard bomb. Perhaps more impressive than these touchdowns, though, were the regularity that Wilson made clutch throws for first downs and big gains. I believe that his yards per throw should have actually been higher, but there were a few unfortunate big drops from receivers. It's worth noting that he had a few beautiful play action passes, too, something that should come in handy with the Raiders' strong running game. Overall, this was a very, very good debut for Wilson, with the commentators even suggesting to place him on "Heisman Watch" after his third touchdown. Week 2 vs Louisiana Monroe: 11/20 (55.0%), 196 yards (9.8 ypa), 2 TD, 1 INT This game infamously began the Razorbacks' disastrous season, as they ended up being upset in overtime. Looking at the game line and knowing the outcome, it would be easy to draw the conclusion that Wilson had a bad game, but it's important to know that Wilson only played a half of this game, and started off rather slowly. He started off with two deep throws that were underthrown, the second of which was intercepted. The next series, Wilson is drilled by a lineman thanks to his awful offensive line, but floats a beautiful pass for a first down. The same thing happens the next play, only for a touchdown. After this touchdown, the commentator mentioned Petrino's coaching style, saying that he "coaches quarterbacks very harshly and wants them to lead" and how he is "really not afraid to get into the QB's head." Almost as if hearing this, Wilson then orchestrated what was perhaps his most impressive drive of the season. When his offensive line was able to deliver and protect him for a few seconds, he was able to do the following on consecutive plays: - a 39-yard touchdown to Cobi Hamilton in stride - a sixty-yard pass play to Hamilton that travelled 40 yards in the air - drawing a defensive pass interference that saved a 30-yard touchdown pass. Reeling, the defense called a timeout. Unphased, Wilson waited for them to regather themselves before drawing them offsides for another 5 free yards. Kniles Davis ran it in and put Arkansas up 21-7. However, Wilson suffered a concussion on this drive and was unable to return. He would also miss the game against #1 Alabama. During this time, the offense struggled mightily, culminating in a shutout the next week. Despite not playing, Wilson took the press stand and called out the heart of players who had seemingly quit. He doesn't even need to play to be a leader, a great sign for an NFL QB. Week 4 vs Rutgers: 20/39 (51.3%), 419 yards (10.7 ypa), 3 TD, 2 INT Unfortunately for Wilson and Arkansas fans, the team did not seem to be fully recovered from the beatdown by Alabama. Wilson was regularly hit and under pressure this game, drives were killed by inexcusable turnovers by receivers and runningbacks, and there was hardly the same energy as there was when Wilson was healthy. If not for the stellar chemistry with Cobi Hamilton, Tyler Wilson would have been eaten alive this game. Wilson did show a knack for being able to beat the pressure and especially blitzes in this game, as he often found the hole in the defense to pick up what he could before being drilled. Unfortunately, it hardly mattered who he was throwing two, as his receivers directly accounted for a gimme TD drop (if you've seen Gruden's QB camp, this is the one where Wilson hits an open receiver softly in the numbers and he drops it) and two dropped big plays. Their lack of effort also resulted in both of Wilson's interceptions, as the receiver gave up on a fade route and let the corner pick one and had a ball bounce off of his shoulder as he fell to the ground and into the hands of a defensive back. Statistically, this was not one of his strongest games, but this game may have best showed his relentlessness when it comes to playing the game. He was regularly annihilated by an aggressive pass rush and terrible receivers and still threw for over 400 yards and kept his team in the game. Week 5 vs Texas A&M: 29/59 (49.2%), 373 yards (6.3 ypa), 1 TD, 2 INT The worst part of the early-season skid for the Razorbacks was definitely week five. Another week of the offensive line being completely unable to stop a pass rush, only this team rushed MUCH more effectively. Wilson again is undeterred by these hits as he throws completion after completion, but it is interesting to note that he started doing his hiking by immediately taking a step back. He did this throughout the season when the rush got heavy, but it started being a very regular occurrence in this game. Most of Wilson's completions are short, crisp throws, but there aren't really very many "wow" throws in this game. Even his TD throw was a short dump to Davis that he took for a TD. This game got out of hand VERY quickly, and Wilson was done in by a bad line and average play. Week 6 vs Auburn: 22/29 (75.9%), 230 yards (7.9 ypa), 0 TD, 0 INT Despite a 1-4 start, it's interesting to note that Wilson is actually leading the SEC at this point in passing yards per game. The commentators noted that Wilson was "lighting it up, but needed to find a way to turn it into wins." Again, as if Wilson was listening to the broadcast, he did just that in his most efficient game of the season. He had a number of great crisp throws, especially in the play action game. You can tell a good play action when it is difficult to tell if the ball is in the runningback's hands and if it's in the QB's hands, and Wilson disguises his throws very well, especially in this game. He was incredibly accurate and precise in this game, even entering the half completing fifteen of seventeen throws. He wasn't asked to do much in the second half as the Razorbacks coasted to a much-needed win. Week 7 vs Kentucky: 23/31 (74.2%), 372 yards (12.0 ypa), 5 TD, 0 INT With the team's confidence back up, Wilson was able to parlay a much-needed win the previous week into a downright massacre. Wilson displays his mastery of pre-snap reads on the first play of the game, motioning the runningbacks to an open spot on the defense and throwing one an easy touchdown. He repeatedly attacked the middle of the defense, a spot that analysts agree is a strength of Wilson's game. This game best showed his ability to kill a defense through pre-snap decision making and tight throws. Although his throwing motion did seem a bit weird this game, it didn't seem to matter much in terms of stats. After an easy touchdown throw and then replicating the first play for his third touchdown of the first quarter, Wilson proceeded to throw a bomb on third down. He spreads the ball around very well for the rest of the game, although none of the other TD's are particularly impressive throws. It's interesting to note that Wilson managed to go a perfect 7/7 on third downs while the game was still remotely competitive. Week 8 vs Mississippi: 24/43 (55.8%), 297 yards (6.9 ypa), 2 TD, 2 INT Perhaps the most confusing game of the 2012 season, Wilson seemed to be thrown off by something that Mississippi was doing all game long. He started off the game well, converting an early 4th and 11 and floating his first touchdown perfectly after being drilled. However, his game quickly went downhill from there, as throw after throw seemed like it should have been picked off. Wilson eventually gambled too much on a bad decision/throw right to a deep safety on his first interception, a throw that hopefully will never be replicated again. After throwing another ball that should've been picked, Wilson converted another fourth down before patiently throwing to the tight end for his second touchdown. Unfortunately, that'd be the end of Wilson's productive day. After a deep ball that should've been caught by the receiver, Wilson forced a throw into triple coverage for his second interception. What is particularly painful about this interception, though, is that Wilson forced the throw while a receiver broke open and could have had a touchdown. Coulda, woulda, shoulda, I suppose. I'm by no means a film expert, but I struggled to see what Mississippi did differently that shut Wilson down so well. Unlike many of the other games, the pocket actually stuck around long enough for Wilson to make throws. It just seemed like his fortune turned this game, as a lot of tight throws that he normally would make were much closer to (or were) interceptions. It did seem like Miss did line up with a lot of man defense, but that hadn't seemed to be a problem in any of Wilson's other games. Week 9 vs Tulsa: 21/31 (67.7%), 272 yards (8.8 ypa), 0 TD, 1 INT This game was another example of Wilson getting the crap kicked out of him all game long. Unfortunately, he wasn't able to pull out quite as much magic as he had earlier in the season. He was pressured and hit hard a lot in this game, and while he did turn it into a few big gains, it wasn't as much as it could have been. Receivers dropped many easy completions, including a flea flicker that would've changed the game, and Wilson seemed to struggle with the intense pressure for most of the game. It appeared as though a defensive lineman tipped the ball on his interception, but it was a ball that probably shouldn't have been thrown anyway. Wilson slipped on a two-point conversion attempt late in the game, but the Razorbacks were still able to pull out their fourth (and final) win of the season. Week 10 vs. South Carolina: 26/41 (63.4%), 277 yards (6.7 ypa), 2 TD, 2 INT It started to get a bit painful to watch Wilson play throughout the season, but future NFL terror Jadeveon Clowney ensured that this game would be the most brutal of all. As to be expected, Clowney was on Wilson virtually all game, leading to perhaps his most up-and-down game of the season. On the first TD drive, Wilson was able to develop a rhythm and complete nine passes in a row. He then had Clowney in his face for a while, ending the quarter by being sacked twice and throwing a pick-six directly to their safety. He wasn't able to find much of a steady rhythm in the second half, either; after bombing an interception to a cornerback, Wilson drove, scrambled, and found his tight end for his second touchdown. Week 11 vs Mississippi State: 23/29 (79.3%), 225 yards (7.5 ypa), 2 TD, 2 INT At this point in the season, Arkansas was out of the sights and minds of most college football fans. Because of this, I was actually only able to find a highlight video for this game. I noticed first and foremost that Tyler Wilson had seemed to lose just about all trust in his offensive line. What Jon Gruden referred to as "ostrich legs" seems to be occurring every time the ball is snapped, as Tyler Wilson is still forced to scramble for any completions. His two touchdown throws were tight, quick throws, over and underneath opposing coverages. This ability to accurately place touch on individual throws is key to succeeding in the NFL, as it allows for the receiver to get an extra sliver of separation. Wilson was unable to beat a tight man-on-man coverage throw on his first interception and seemed to throw wide of his receiver on the second pick, although it did seem like the receiver being jammed at the beginning of the play threw off the expected timing of the route. I wish I had more tape for this game to see the intermediate and short game that Wilson has mastered so well, but I hope this helps at least a little bit. Week 12 vs LSU: 31/52 (59.6%), 359 yards (6.9 ypa), 1 TD, 1 INT Despite being a Week 12 game in a lost season, I actually really looked forward to watching this game. LSU's tight defense would prove to be a great test for Wilson, and I feel as though he didn't disappoint. The game started with a lot of quick shallow crossing routes as Wilson patiently pushed the ball downfield. This patient march downfield even included a rare Tyler Wilson scramble of ten yards; despite being a very mobile QB in the pocket and backfield, I noticed throughout the season that he would much rather make a throw downfield than run and risk injury. While this may make him unable to run a read-option heavy offense like the Redskins or 49ers, I believe that this may actually be a positive for his longevity in the NFL. The defense seemed to stiffen up throughout the first half, as Wilson missed a bomb downfield from simply waiting too long on the throw, his team suffered from a complete inability to catch the ball, and his protection began to falter. While this led to some big hits, Wilson continued to display a great poise as he continued to make smart reads and take what the defense gave him. He continuously chose the hole in the defense despite being pressured from every direction and having to throw into very tight coverages. Once his receivers got into the game, Wilson was able to provide Arkansas with its first legitimate spark of excitement in weeks. Wilson had a great thirty-yard throw for his TD with a great catch by McKay. Wilson threw a number of excellent throws in this game, including a beautiful play action attempt late in the second half. He was continuously drilled by a number of players, including first-round pick Barkevious Mingo, and bounced back up to throw more. His rally ultimately ended up falling short, but it was a very nice effort to end the season. After watching Wilson's college game, I am convinced that he is the Raiders' quarterback of the future. He is incredibly focused on improving himself and being the best that he can be. He is a selfless team player, showing drive after drive that he is willing to be drilled in the pocket if it means a completion. He scrambles effectively and can comfortably throw a number of throws, including being surprisingly accurate on rollouts. Hopefully the Raiders, who were the second-best offensive line in the league in terms of sacks allowed, can minimize the number of hits that Wilson needs to take as a rookie. It is extremely encouraging to note that Wilson can take these hits if needed, though. He played lights out on a national championship team and became a leader on a downtrodden 4-8 mess. He became the captain and the rally point for the entire team, often carrying them on his back alone to tough out a win. Despite his radically different seasons, I was extremely impressed by Wilson's consistent college game. Averaging his stats through his twenty-five college starts (games with over twenty throws), I found that Wilson averaged 294 yards and 1.9 touchdowns a game over his 25 game college career. For comparison, Matt Flynn, the presumed Raiders starter, averaged just 159 yards and 2 touchdowns a game as a game manager for his LSU offense in college. These numbers add credence to the theory that Matt Flynn's arm may not cut it as an NFL starter away from an elite Packers offense, leading many to write off the Raiders completely. Tyler Wilson has the presence of a franchise QB and one that you can actually rally behind, and while it is unfortunate that Flynn may lose to another rookie named Wilson, it is a move that should be done by the end of the season…although hopefully much sooner. I've previously covered the potential of the Raiders offense, and I am convinced that Wilson is the piece that is needed to make it work perfectly.
Original Story:
http://www.footballandfutbol.com/tyle...
THE BACKYARD
BEST OF MAXIM
RELATED ARTICLES
What up RaiderNation? Welcome to this week's edition of My Two Cents, with your favorite ancient Raider fan, Old Timer. This week, we will talk about a topic that, quite frankly, irritates the heck out of me. Every time I turn around I hear or read somebody bad mouthing the Raiders because they "did nothing to help their pass rush [...]
  Sports culture is made up of many different things. It is one that can sweep a person up, and fill his or her life. Being a fan can consume you, just as much as being a pro-athlete can take over a person's life entirely. Sports can also be a rock that a community can surround themselves around when tragedies have occurred; an athlete can be a symbol of compassion that drives...
In what the company is calling an isolated mistake on now Oakland Raiders offensive tackle Menelik Watson's ACC Championship ring from FSU's victory over Georgia Tech, the ring actually says SEC, rather than ACC. Just got my Championship rings. Apparently I'm the only player in #Fsu history to win an SEC Championship! #Legendary pic.twitter.com/MCWmLYyKHi — Menelik Watson...
NFL News

Delivered to your inbox

You'll also receive Yardbarker's daily Top 10, featuring the best sports stories from around the web. Customize your newsletter to get articles on your favorite sports and teams. And the best part? It's free!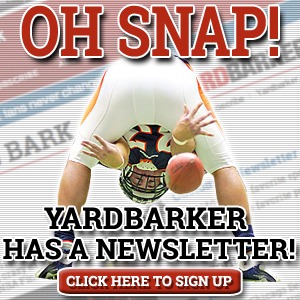 Latest Rumors
The Backyard

Today's Best Stuff

For Bloggers

Join the Yardbarker Network for more promotion, traffic, and money.

Company Info

Help

What is Yardbarker?

Yardbarker is the largest network of sports blogs and pro athlete blogs on the web. This site is the hub of the Yardbarker Network, where our editors and algorithms curate the best sports content from our network and beyond.