Found October 27, 2011 on SCACC Hoops:
Items of interest.
Inside Carolina has your primer for the Committee on Infractions hearing which will happen on Friday. It is an extensive piece covering how the committee works and what UNC can reasonably expect. As noted previously, John Blake will be on hand to defend his good name or rather what's left of it. Everett Withers will not attend nor will Jennifer Wiley who really, really can't wait for all of this to go away so she can quit seeing her name mentioned in the news so much. Representing UNC will be Chancellor Holden Thorp, AD Dick Baddour, Associate Athletics Director of Compliance Amy Herman and faculty representative Lissa Broome. The hearing is intended to only take a few hours but with Blake being present who knows. When USC went before the COI over the Reggie Bush allegations it took three days.
UNC has announced the transition timetable from Bubba Cunningham to Dick Baddour. Bubba will be in Chapel Hill on November 10th, a few days before his official start date, in an effort to get his office organized and learn where the copy paper is stored. Baddour will leave with the basketball team on November 9th for the Carrier Classic in San Diego with his last day being November 13th. Bubba will officially take over on November 14th however it is safe to assume he is in frequent contact with Baddour and well aware of the goings on at UNC.
Speaking of the Carrier Classic, UNC released pictures of the camouflage uniforms the Heels will be wearing. I am not a fan. They look like pajamas to me. However this is a game for the service men and women in our military so its all good.
Adrian over at Tobacco Road Blues has some really good preview material for the upcoming season including these outstanding player profiles. At THF we will begin pumping out our player profiles and other previews very soon.
UNC will play UNC-Pembroke on Friday night in an exhibition game. You can view the game online at Carolina All-Access for a nominal fee of around $10. I will be providing a full game wrap-up afterwards.
This article was originally published at http://tarheelfanblog.com. If you are interested in sharing your website's content with SCACCHoops.com, Contact Us.
Original Story:
http://www.scacchoops.com/tt_NewsBrea...
THE BACKYARD
BEST OF MAXIM
RELATED ARTICLES
BUSHWHACKER
An 0-6 record appears to be taking its toll on the harmony inside Miami's locker room. Commenting on Bush's statement following the team's latest loss that the team stinks, Bell said, "He stinks."
Reggie Bush created a bit of controversy on Sunday when he said the Miami Dolphins are a team that "stinks" following their 18-15 defeat against the Denver Broncos — a loss in which the Dolphins blew a 15-point lead in the final three minutes of regulation.
Miami Dolphins safety Yeremiah Bell isn't happy with running back Reggie Bush's comments claiming that "this team stinks," when referring to the Dolphins. On Wednesday Bell indicated what he thinks of Bush. "He stinks," said Bell. "That shouldn't be said around this locker room," said Bell. "We know that we're 0-6 and we're not playing the [...]
The Miami Dolphins are the laughing stock in a league which includes the Cincinnati Bengals and Oakland Raiders. In NFL terms, that is pathetic. The Dolphins are 0-6 in the 2011 regular season, and have lost nine straight games dating back to last year. they have an anemic offense, a weak defense and a lame duck head coach and general manager. Not to mention the fact...
 Numbness, thoughts of cheering for another team (I just don't like the Raiders or Forty Niners).  Constant heart palpitations. This is what it's like to watch a Dolphins team that seems to physically and mentally crumble on the field.  In the lockeroom, the team is loose and not pressing.  I find this very disturbing.  As a fan, I should have an opinion, but as an...
There is discord in the Miami Dolphins locker room. Yeremiah Bell is mad that Reggie Bush said "This team stinks" after the Dolphins' painful 18-15 loss to Tim Tebow and the Denver Broncos on Sunday. "We were up 15 points with what, five minutes left to go? And we couldn't win it? It's disgusting," Bush said at the time. Bush's candor is what disgusts...
The Miami Dolphins are through fighting with each other, and have united against a common opponent: the media. Apparently, when someone says one of his teammates stinks, he means something entirely different, which does not reflect upon the actual target of that statement. The Dolphins are as bad at rhetoric as they are at football. Yeremiah Bell said Thursday that he was quoted...
Sometimes it's impossible to keep negativity out of a locker room when a team comes up short of expectations. That's where we start our talking points for Friday: 1. The Yeremiah Bell/Reggie Bush exchange demonstrates the team unity we've been hearing about isn't all there. A week ago the Dolphins said that one of the [...]
Dolphins News

Delivered to your inbox

You'll also receive Yardbarker's daily Top 10, featuring the best sports stories from around the web. Customize your newsletter to get articles on your favorite sports and teams. And the best part? It's free!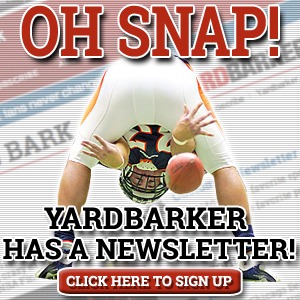 Latest Rumors
Best of Yardbarker

Today's Best Stuff

For Bloggers

Join the Yardbarker Network for more promotion, traffic, and money.

Company Info

Help

What is Yardbarker?

Yardbarker is the largest network of sports blogs and pro athlete blogs on the web. This site is the hub of the Yardbarker Network, where our editors and algorithms curate the best sports content from our network and beyond.