Found August 01, 2012 on Juan Elway:
PLAYERS:
Aaron Rodgers
,
Tom Brady
,
Josh Mcdaniels
,
Drew Brees
,
Michael Vick
,
Tony Romo
,
Miles Austin
,
Eli Manning
,
Philip Rivers
,
Peyton Manning
,
Matt Ryan
,
Robert Griffin
,
Jay Cutler
,
Brandon Marshall
,
Ben Roethlisberger
,
Carson Palmer
,
Matt Schaub
,
Andre Johnson
,
Ryan Fitzpatrick
,
Matt Cassel
,
Christian Ponder
,
Robert Griffin III
TEAMS:
Green Bay Packers
,
New England Patriots
,
New Orleans Saints
,
Philadelphia Eagles
,
Dallas Cowboys
,
New York Giants
,
San Diego Chargers
,
Atlanta Falcons
,
Chicago Bears
,
Pittsburgh Steelers
,
Oakland Raiders
,
Houston Texans
,
Buffalo Bills
,
Kansas City Chiefs
,
Minnesota Vikings
,
Washington Redskins
,
Baylor Bears
I can fly too Juan…
1 Aaron Rodgers (GB, 10) Rodgers is the top option at QB due to the high octane offense, plethora of weapons, aggressive play calling, rushing ability, and possibly the best skill set at the position.
2 Tom Brady (NE, 9) The Brady Bunch gets another cast member in the form of Brandon Lloyd. With Josh McDaniels calling the shots and Belichick's refusal to take his foot off the gas, this offense is going to be close to its 2007 version.
3 Drew Brees (NO, 6) Brees is in, so I'm in. Still, with Payton grounded for the season and the loss of Meachem, Brees could take a step back from a production standpoint.  Albeit a small one.
4 Cam Newton (CAR, 6) I keep hearing regression. Newton should only get better as a passer and who's to say he can't rush for MORE TDs? Yes Fat Tolbert is around, but this offense will live and die with Newton and his freakish abilities.
5 Matthew Stafford (DET, 5) When you throw to Megatron, you have fantasy value. Stafford has a cannon attached to his right shoulder, an pass happy offense, and a ton of young studs out wide.
6 Michael Vick (PHI, 7) Last season people debated him as the #1 overall pick. This season he is a forgotten man falling in early mocks. Yes, you will have to get a capable backup, but how many QBs can single handedly win you games?
7 Tony Romo (DAL, 5) Romo never gets any respect, but the guy has a ton of talent and elite weapons at his disposal. Dez Bryant needs to take the next step and Miles Austin needs to stay out of the trainers room for Romo to be elite this season.
8 Eli Manning (NYG, 11) From punchline to 2 time Super Bowl Champ. Manning cut down on turnovers and became a fantasy starter in 2011. With Nicks, Cruz, and Randle, this may be the best set of weapons he has ever had.
9 Philip Rivers (SD, 7) Rollin Rivers burned a ton of owners last season and their scorn is our reward. Rivers still has Norv calling the shots and might have a better WR corp than 2011.
10 Peyton Manning (DEN, 7) Peyton will be a hot topic this fantasy offseason as he has gone from a rock solid fantasy star to a high risk/high reward player. Age, neck injuries, new offense, and a year off of work may be enough to avoid him till the middle to late rounds. It could pay off big.
11 Matt Ryan (ATL, 7) Matty Ice came on strong down the stretch of 2011 when BOTH Roddy and Julio were healthy. The Falcons are looking to pass more and more, so Ryan could be one of the better values this season.
12 Robert Griffin III (WAS, 10) This still may a little high for RG3 considering he's a rookie, but this guy could be special. If he can master the offense early on, his physical talents may make him a fantasy star. Could be the Cam Newton-syndrome.
13 Jay Cutler (CHI, 6) If you wait on a QB and land Cutler as your starter in a 12 man league, I think you will be pleased. With bosom buddy Brandon Marshall in Chi-Town, the Bears passing game should get on track as long as the O-Line doesn't fall apart.
14 Josh Freeman (TB, 5) Last season was a disaster. Freeman recognized he needed to put in more work and has done so. The Bucs will install the Giants aggressive downfield attack and with the additions of V-Jax and Martin, a bounce-back season could be in store.
15 Jake Locker (TEN, 11) This pick is all about upside. Locker showed flashes in 2011 in limited duty, but he still needs to beat out Hass to get the keys to the car. With Britt, Washington, CJ, Cook, and Wright at his disposal, Locker is primed to be a breakout star in fantasy.
16 Ben Roethlisberger (PIT, 4) I'm not real high on Big Ben this season, with a new offense and Mike Wallace holding out it looks like it could be a rough start. But, Ben is Ben, Wallace will hopefully sign, and he should be a strong QB2.
17 Carson Palmer (OAK, 5) Was decent at times despite missing training camp and the preseason. Has a ton of talent at WR and is a nice backup fantasy QB with upside.
18 Matt Schaub (HOU, 8 ) The Texans have become a run first offense and Schaub not only injury prone, but Andre Johnson can't stay on the field either. Schaub is backup fodder in 2012.
19 Joe Flacco (BAL, 8 ) You like 3,600 yards passing a season? Flacco's done it 3 years in a row. If Torrey Smith steps up and the play calling improves, then maybe Flacco can finally have 'that' season.
20 Ryan Fitzpatrick (BUF, 8 ) Fitzpatrick started off strong, but defenses started to figure him out and an injury may have slowed him as well. Still needs another weapon, but defense should be better and give the offense more opportunities.
21 Andy Dalton (CIN, 8 ) Has A.J. Green and Gresham, but as talented as they are, they are young and so is the rest of the corps. Dalton was poised and solid as a rock in his rookie season, but we could see some regression here.
22 Alex Smith (SF, 9) Smith may never be a fantasy stud, but found his niche with Harbaugh calling the shots. Will have another year with Harbaugh under his belt and Moss/Mario added, he should be a solid QB2.
23 Andrew Luck (IND, 4) If there was ever a pro-ready QB, it's Luck. He has decent weapons and will most likely live in garbage time.
24 Sam Bradford (STL, 9) Bradford will be working in a new offense for the third straight year, has limited weapons, a shaky O-Line, and may still have lingering effects from his ankle injury. Still, he has elite qualities.
25 Matt Cassel (KC, 7) Cassel is not a really good NFL QB, but does have a solid O-Line and plenty of weapons.
26 Matt Flynn (SEA, 11) I can't see a scenario where Flynn doesn't win the QB job, but the Hawks like to run the ball and play tough defense. They may choose to open it up more with a good WR corp and Flynn behind center.
27 Christian Ponder (MIN, 11) Ponder showed some promise, but also hit the wall last season. Didn't help that the Vikings had nothing outside of Harvin. They have improved in that area and Ponder has mobility and poise on his side.
28 Brandon Weeden (CLE, 10) Has juice in his arm, but limited weapons at his disposal. Should be pro ready with age on his side and this offense is on the rise.
Top 200 Rankings
Strength Of Schedule
Original Story:
http://www.juanelway.com/2012-qb-rank...
THE BACKYARD
BEST OF MAXIM
RELATED ARTICLES
GREEN BAY, Wis. -- With the Packers' first preseason game just one week away, quarterback Aaron Rodgers on Thursday held his weekly press conference with the media. The NFL's reigning Most Valuable Player talked about watching players he's gotten to know get cut from the team, which wide receivers have impressed him the most and more.Five question-and-answer highlights...
With constant comparisons to his NFL MVP older brother Aaron Rodgers, Jordan is content to rely on the Vanderbilt name before his own. Rodgers discusses Commodore football and his expectations for the upcoming season.
The Associated Press has released their NFL Pro32 Power Rankings. The AP uses a 12-member panel that votes by giving 32 points for first place and 1 point for 32nd-place. The Green Bay Packers are ranked No. 1 with 374 points followed by the Patriots (369 points) and the defending Super Bowl champ Giants (362 points). RANK TEAM 2011 Record Points 1 Green Bay Packers...
It's almost unfair at times. It's third-and-11. There's nobody open, the 2.5-second clock has gone off and Aaron Rodgers is running out of time. Then — zing! We take two slices out of Wednesday's practice to examine Rodgers' greatness. Plus, the rookie spotlight falls on Jerel Worthy.
We have officially posted our rankings of the Top 30 Quarterbacks for fantasy football 2012. No surprise here… but Aaron Rodgers of the Pack starts our rankings at the top of the heap. We could have extended the list past 30, but if you are seriously concerned about the preseason rankings of whoever is going [...]
While the AP Top 25 may help determine the fates of college football's powerhouses, the new AP poll ranking every NFL team each week is likely no more than a conversation starter. That doesn't mean that New England fans who see their Patriots entering the season behind the Packers aren't going to be ticked, though. The AP has released its Pro32 NFL power rankings, and...
NFL News

Delivered to your inbox

You'll also receive Yardbarker's daily Top 10, featuring the best sports stories from around the web. Customize your newsletter to get articles on your favorite sports and teams. And the best part? It's free!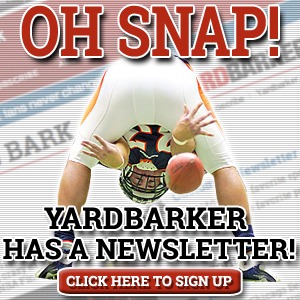 Latest Rumors
The Backyard

Today's Best Stuff

For Bloggers

Join the Yardbarker Network for more promotion, traffic, and money.

Company Info

Help

What is Yardbarker?

Yardbarker is the largest network of sports blogs and pro athlete blogs on the web. This site is the hub of the Yardbarker Network, where our editors and algorithms curate the best sports content from our network and beyond.