Found October 30, 2012 on Purple Jesus Diaries:
As has been evident that past five days or so, the last game the Minnesota Vikings played was certainly one for the urinal cakes. They got throttled by the Tampa Bay Buccaneers on national television, and wasted a perfectly awesome Purple Jesus run for no good reason. If that doesn't piss you off, it should, and clearly, it "pissed" this following Vikings fan off, too. The Twit pic comes from some rando called @TriggaMike63 (solid handle, bro), who snapped a shop of this dinkle donkle in full glory. There are so many things to TRULY appreciate about this shot, so let's break it down: - The two ladies who posed for the picture. One got into the frame pretty nicely, and is looking like she's trying to throw up the "rock on" fingers, which I whole heartily agree with. Going to piss yourself, amigo? Do it with conviction! That's so rock and roll. The other lady looks like she might be hot too, but it's hard to tell since we only see her sexy, wavy hair and what looks like a cowboy hat or a fedora, neither of which really is appropriate, but both of which are allowed to slide since she's sitting in front of a guy who literally has urine all over his crotch. - Look at how the programs are still laying on the backs of several of the chairs. This tells me one of two things. First, this picture was possibly taken at an uncrowded part of the stadium, higher up, later on in the game when moral was super low, OR! ... This game was taken somewhere, REALLY EARLY in the game since no one had grabbed their program yet, and this guy peed all over himself all ready. Obviously, the latter is a much more exciting prospect. - Let's talk about this guy. First, check out his get up. He's not even wearing Vikings colors. Just a wind breaker, and some drab work pants. Maybe just strolled in from the factory job that night to take in some NFL, decided to screw the bathroom lines at half time, and released his bladder right on seat 10. So free! - Also, is the guy passed out? Napping? Looking at the camera? Watching the game? I can't tell, but I do know he doesn't give a ****. Dude, the guy has piss from his waist band to his knee caps, and he's sitting there spread eagle, giving zero EFFs to anyone watching. I freak out and try to friction-dry a couple of pee drops on my work pants during the day when I leave the bathroom. I couldn't imagine having the balls to just walk with my drenched pelvis all thrust out like I own the place. - It has to smell pretty bad, right? - Miller Lite pee. Ew. Either way, congrats Vikings fan, you are awesome. I'm sure if asked you'd be all like, "No, my dude-friend spilled a beer-skie on my crotch-spot, so I had to nab this Miller Lite from the beer guy on the go! I totally didn't wet myself!" but of course no one would believe you. I hope you at least offered to buy those ladies a nice Mike's Hard Lemonade for their inconvenience. And by the looks of this picture, I'm sure you did. Via [follow]
Original Story:
http://www.purplejesusdiaries.com/201...
THE BACKYARD
BEST OF MAXIM
RELATED ARTICLES
What is this I don't even. From the intel that I can gather, the above picture IS in fact Minnesota Vikings running back, Adrian Peterson, aka, Purple Jesus, apparently dressed up as the Incredible Hulk for a team Halloween party thrown Monday night. Want to know the scariest thing about this outfit? He didn't even have to wear fake muscles! Purple Jesus tweeted...
EDEN PRAIRIE, Minn. Adrian Peterson is a beast on the football field, one of the best and toughest running backs in the NFL. This week he turned himself into a beast off the field.For the Minnesota Vikings' Halloween party, Peterson dressed as the Hulk and then tweeted a picture that would make Dr. David Banner proud. And when Peterson is involved, there's no need for any...
EDEN PRAIRIE, Minn. As he's become a very public advocate for gay marriage rights, Chris Kluwe has attracted a lot of attention for his political activism off the field this season.Now, Kluwe is starting to become a focus for his on-field performances, and not in the way he would like. Kluwe, the Minnesota Vikings eighth-year punter, has struggled in 2012, especially in recent...
EDEN PRAIRIE, Minn. The Minnesota Vikings are well versed in handling injury situations in the defensive backfield and tried to improve the depth coming into this season. After losing cornerback Chris Cook to a broken arm last week, the depth will be tested. Rookie Josh Robinson has spent much of his time as the team's third corner and A.J. Jefferson, acquired before the season...
The Vikings brought in a punter for a workout Tuesday, which could be a message to Chris Kluwe that he needs to perform better.
Christian Ponder continues to regress. When the season started out it looked like the Vikings had a new and improved Christian Ponder, through the first six games of the year Ponder was completing 69 percent of his passes and had thrown only four interceptions.However, Ponder's previous two games, vs. the Cardinals and Buccaneers, he has only completed 52 percent of his passes...
Vikings punter Chris Kluwe defended his outside interests and said they don't get in the way of his punting. He is one of the most outspoken athletes on Minnesota' s gay marriage amendment issue, but he said his time spent promoting that and working other interests doesn't interfere with his ability to punt in a "children's game."
As the season reaches the half way point, a lot of people are wondering if the Minnesota Viking's are the real deal. They are 5-3 coming off a loss to the Tampa Bay Buccaneers. No one expected the Viking's to be doing this good in the 2012-13 season, beating out teams like the San Francisco 49ers, Detroit Lions (at Detroit), and the Arizona Cardinals, but what do the Vikings...
EDEN PRAIRIE, Minn. The Minnesota Vikings understand the tease with Seattle Seahawks receiver Sidney Rice very well from his first four years in the league. In the past two years, Seattle has learned quickly that Rice can be one of the NFL's best wide receivers, when healthy. That's been the rub for Rice. The talented, 6-foot-4 receiver has played in 16 games only once...
*PPPPPPPPPFFFFFTFTFTFTFTFTFFTFTFTTFTFTTFTTFBALLOONDEFLATINGSOUND* Well dudes, it was a good run. After taking the weekend to use my feather pillow and 750 thread count sheets to soak up all the flowing tears and other uncontrollable bodily fluids that come out of me after a Vikings loss, I think I'm prepared to discuss this game and make some general statements about the team...
The Minnesota Vikings and Seattle Seahawks didn't end the first half of the season how they wanted. Both are hoping the second half starts on a positive note Sunday. The Vikings will try to rebound from their most lopsided loss of the year and hand a third consecutive defeat to the Seahawks, who seek their best start at home since 2005. This game features the NFL's top...
The top two running backs in the league will be on the same field Sunday. But the comparisons between Adrian Peterson and Marshawn Lynch go far beyond this season's yardage totals. See how similar they are and what the Vikings had to say about Lynch.
NFL News

Delivered to your inbox

You'll also receive Yardbarker's daily Top 10, featuring the best sports stories from around the web. Customize your newsletter to get articles on your favorite sports and teams. And the best part? It's free!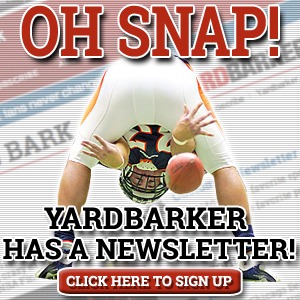 Latest Rumors
The Backyard

Today's Best Stuff

For Bloggers

Join the Yardbarker Network for more promotion, traffic, and money.

Company Info

Help

What is Yardbarker?

Yardbarker is the largest network of sports blogs and pro athlete blogs on the web. This site is the hub of the Yardbarker Network, where our editors and algorithms curate the best sports content from our network and beyond.