Found April 30, 2012 on Fox Sports North:
EDEN PRAIRIE, Minn. The Minnesota Vikings' staff knew coaching the North team in the Senior Bowl would provide it with advantages heading into the draft evaluation period and offer it unique insight into many of the players on hand. Every team has representatives at the Senior Bowl and conducts interviews, but Minnesota got a closer look at players on the North team, coaching them on a daily basis, working with them in meeting rooms and, of course, doing their own interviews. The Vikings liked what they saw in Notre Dame safety Harrison Smith. In fact, they liked Smith so much, they stopped talking to him. "We feel like we knew enough about him," Minnesota coach Leslie Frazier said. "Of course, you don't want to tip your hand on certain guys. It worked out perfectly in his case because we knew that there were some other teams later in that first round for sure or early in the second round that had their eyes on him." Seeing the first round unfold and knowing other teams might have interest in Smith, who was considered the draft's second-best safety, the Vikings took action. General manager Rick Spielman started making calls to teams drafting in the 20s and found a trade partner in the Baltimore Ravens. Spielman sent the Vikings' 35th overall pick in the second round and an additional fourth-rounder to Baltimore for the right to select Smith with the 29th pick in the first round. Whether Minnesota's smokescreen with other teams actually worked will never be known, but the Vikings got the guy they wanted. Smith will be penciled into the starting lineup at free safety and provide a big boost to a secondary that struggled immensely last season. Including No. 4 overall pick Matt Kalil, Minnesota left the first day of the draft with two likely starters. Asked if he entered the first round with visions on finishing the night with a Kalil-Smith combination, Spielman only offered, "You can say that was a fair vision." And it all started at the Senior Bowl. "In the meetings, how he handled himself there, his ability to be able to retain information that the coaches were giving him, and then, of course, what he did on the field," Frazier said. "He did a great job in practice when it came to getting into position to make plays. His leadership was another part of it. He showed some leadership in the short time that we were there. A lot of things that we were looking for and hoping to find in the safeties, we were seeing some of those things in the Senior Bowl." With that knowledge, Minnesota refused the temptation to talk with Smith until calling him on draft night. The Vikings didn't meet with him at the Combine, and he wasn't part of their annual "Top 30" visits, in which they bring several draft prospects to the team facilities at Winter Park. Smith, 23, didn't know what to make of the silence from Minnesota. "I had no idea what was going on, to be honest," he said. "I didn't know what was going on behind the scenes. I thought I showed them who I was at the Senior Bowl. I was just kind of waiting to see what was going to happen." In the end, he showed everything he needed to at the Senior Bowl. "That's kind of an experience that you can't really put a price on just because the Combine and pro day, that really isn't football," Smith said. "The Senior Bowl, you get to come in and go to meetings with the coaches, go to practice with the coaches. They see how you work, how you pick things up and how you take the teaching. So I think that's kind of priceless." The communication will pick up now that Smith is with the Vikings. Frazier said he will start alongside safety Jamarca Sanford and have an immediate chance to contribute. The Vikings were 26th in the league against the pass last year and started three different free safeties, mainly due to injury, next to Sanford. Smith has the speed to handle the deep middle of the field in Minnesota's Cover 2 system and has experience guarding tight ends, two key skills with increased tight end production in the NFL. "You're trying to find a guy that can execute out in space, and Harrison is one of those guys that can," Frazier said. "He can match up on a tight end out in space, and it's hard to find a guy like that and you need that. Even in our division, you see what the tight ends are doing they're flexing them out. These guys are not attached to the formation that often. But he has the ability to match up at times with tight ends." Smith's versatility could be seen during his days at Notre Dame. Before settling in at free safety, he had played games at inside linebacker and both outside linebacker positions. "He's pretty good close to the line of scrimmage," Frazier said. "Some of that has to do with the fact he played linebacker before, but he's a very good deep safety when it comes to being in the middle of the field or being half-field coverage. I think his junior year, he had seven picks and he got those playing deep. So the fact that he can play in the box or play deep, it's hard to find those guys." "I always saw myself as a safety," Smith said. Turns out, so did the Vikings. Follow Brian Hall on Twitter.
Original Story:
http://www.foxsportsnorth.com/04/30/1...
THE BACKYARD
BEST OF MAXIM
RELATED ARTICLES
EDEN PRAIRIE, Minn. The Minnesota Vikings have released backup running back Caleb King after he was arrested and jailed Saturday for allegedly fracturing a 22-year-old males skull in a fight at a mutual friends party. Anoka County prosecutors spokesman David Cossi said King, 24, was released from jail Tuesday with no charges, though the case remains under investigation.Vikings...
The progress that had been made regarding the construction of a new stadium for the Minnesota Vikings hit a new roadblock Tuesday, as the Minnesota GOP presented a new bill which differed significantly from the one that had been proposed by Democratic governor Mark Dayton, the city of Minneapolis, and the Vikings. The new proposal called for a smaller amount of public funding for...
ST. PAUL, Minn. (AP) -- The drive to reach a Minnesota Vikings stadium deal has taken a step backward at the state Capitol. Democratic Gov. Mark Dayton has sharply rebuked GOP lawmakers for not taking the stadium debate seriously amid word Republicans are working out a deal to authorize a roofless stadium. The altered proposal surfaced Tuesday and drew a rushed press conference...
MINNEAPOLIS (AP) -- The attorney for a woman charged in a fatal hit-and-run accident in Minneapolis says prosecutors tried to make an example of her because she and her husband, a former Minnesota Vikings player, are public figures. Defense attorney Eric Nelson used his closing argument Tuesday to accuse prosecutors of rushing to judge Amy Senser. The jury is now deliberating vehicular...
NFL running back Caleb King was dumped by the Minnesota Vikings Tuesday and facing the prospect of assault charges for allegedly attacking a man who said he looked like Eddie Murphy. King is accused of dragging 22-year-old Andrew Hayek from a car and beating him so savagely he fractured his skull, the Pioneer Press reported. King, however, denies assaulting Hayek and says he injured...
Minnesota Vikings running back Caleb King was released from jail on Tuesday after being arrested for allegedly beating a 22-year-old man, the Minneapolis Star-Tribune reported, and King was cut by the Vikings later on Tuesday. King was arrested early Saturday after he allegedly beat Andrew Hayek, leaving Hayek with a fractured skull and reports of brain injury. King has not yet...
Brett Favre will have to testify in court about sexually suggestive text messages. A Manhattan Supreme Court judge in early April refused to dismiss a lawsuit filed against the New York Jets and Favre by two massage therapists. Christina Scavo and Shannon O'Toole contend they were subjected to sexual harassment and job discrimination. They are seeking unspecified damages from...
 The NFL Draft is complete and every franchise is looking forward to having their new rookies come to training camp. Everyone is waiting to see who will be stars and who will be busts. Every team has a different draft strategy, with some picking talented players, and other picking talented athletes. Although talented players seem to be safer, talented athletes usually have higher...
Minnesota Vikings new general manager Rick Spielman conducted his first draft having the final say on the team's picks and certainly enjoyed the experience. There was a constant smile on Spielman's face in his post-pick press conferences. Coach Leslie Frazier described him as "giddy" after Minnesota traded with the Cleveland Browns to swap the third and fourth...
NFL News

Delivered to your inbox

You'll also receive Yardbarker's daily Top 10, featuring the best sports stories from around the web. Customize your newsletter to get articles on your favorite sports and teams. And the best part? It's free!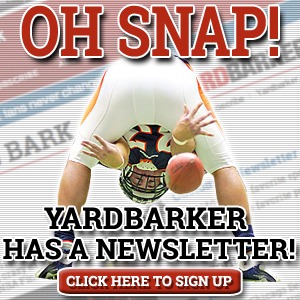 Latest Rumors
The Backyard

Today's Best Stuff

For Bloggers

Join the Yardbarker Network for more promotion, traffic, and money.

Company Info

Help

What is Yardbarker?

Yardbarker is the largest network of sports blogs and pro athlete blogs on the web. This site is the hub of the Yardbarker Network, where our editors and algorithms curate the best sports content from our network and beyond.