Found October 19, 2012 on Fox Sports North:
PLAYERS:
Christian Ponder
,
Geoff Schwartz
,
Brandon Fusco
,
Matt Kalil
,
Charlie Johnson
,
John Sullivan
,
Phil Loadholt
,
Leslie Frazier
,
Anthony Herrera
,
Donovan McNabb
TEAMS:
Minnesota Vikings
,
Washington Redskins
EDEN PRAIRIE, Minn. Minnesota Vikings offensive line coach Jeff Davidson almost seemed to be foreshadowing last week's game against the Washington Redskins a week ago when he talked about how the team's offensive line was still a work in progress.Minnesota's offensive line, rebuilt heavily during the offseason, had fared well this season, giving up just four sacks and pacing one of the league's top rushing attacks during a three-game win streak. Rightly so, the quintet was gaining recognition for the solid performances.Davidson was pleased with the line's progress, but did throw a bit of cold water on the hype."I don't think we've quite gelled well enough yet," Davidson said last week. "I think we've got a long way to go. I think our players are taking that same mentality, too. We're moving in the right direction, which is a good thing."And then last week, the line struggled at times against an inspired Washington defense, which ranks 32nd in the league against the pass. The Redskins tallied four sacks, and helped contribute to three turnovers by Christian Ponder and several poor throws resulting from not setting his feet.Perhaps resulting from the issues, the Vikings made a change along the offensive line for the first time all season, giving veteran lineman Geoff Schwartz some snaps at right guard in place of second-year player Brandon Fusco. The line of left tackle Matt Kalil, left guard Charlie Johnson, center John Sullivan, Fusco, and right tackle Phil Loadholt had played all but three snaps together the first five weeks of the season.Schwartz played 11 snaps in place of Fusco and coach Leslie Frazier and offensive coordinator Bill Musgrave said they will continue to rotate Schwartz in at times."We want to be able to do that periodically," Frazier said. "We felt like that was a good game to do it. It worked out pretty good. I think he had 11 snaps. We got some good game-action tape that we weren't able to get in the preseason to evaluate him and we'll see where it goes from there."Schwartz, a four-year veteran, signed with Minnesota in the offseason believing he could re-establish himself as a starter in the league after missing all of last season due to hip surgery. A former 16-game starter in Carolina, Schwartz reunited with Davidson, who was his position coach with the Panthers.Signed to a one-year contract, Schwartz is happy for more playing time, but he hasn't been told how much he will play going forward."I'd been down for so long, I was glad to just finally get back on the field," Schwartz said. "That was more of a concern for me than not playing right away. I was just happy to get back on the field, and I thought my second series was better than the first one, so going forward, I have things to work on."The team has high hopes for Fusco, too. A sixth-round draft pick last year, he earned the starting right guard job, which was vacated after the team released veteran Anthony Herrera in the offseason. But Fusco has struggled at times, and coaches want to see more confidence out of the second-year player out of small school Slippery Rock."Just clean up on technique," Fusco said about what he needs to improve. "I just have to continue to work and watch the film, study more. It's sometimes I'm playing like it's a guessing game out there. I have to be more confident out there and just play my game, be aggressive and just do what I can do best."Last week was the second time this season Minnesota had allowed four sacks in a game, but it's still a stark contrast from last year when quarterbacks Donovan McNabb and Christian Ponder were running from pressure regularly.Last season, the Vikings allowed 49 sacks, tied for the fifth-highest total in the league. This season with the line changes also including the drafting of Matt Kalil and moving Charlie Johnson to left guard Minnesota has given up 13 sacks in the first six games, tied for 15th in the league.By comparison, this week's opponent, Arizona, hasallowed a league-high 28 sacks. NFC North foe Green Bay has allowed 23.Ponder has noticed the difference and is feeling more comfortable staying in the pocket."There's still that internal clock in your head that goes off, but I have the confidence to get to those third and fourth reads," Ponder said. "Watching on film, the pocket is huge a lot of the time and they're doing such a tremendous job."Having players in the right spots has been beneficial, but Sullivan also credits the communication along the line and the work put in during the offseason."We have an incredible time in meeting rooms where we're discussing things with Jeff and getting everybody on the same page," Sullivan said. "That way we can go out and we can anticipate the calls that are going to be made. It still falls on the center to make them, but at the same time, just through talking through things off the field, Charlie or Brandon or Phil or Matt knows where I'm going with the call before I even make it."The work might not be done, but Davidson sees the positive progression."I think we're constantly striving to get better each day and that to me is what's helped us, just the work ethic we've created," Davidson said. "And it's on the players, it's not something I've done. It's the players and the way they've gone about their business. They come out here, put their hard hats on each day and try to get better." Follow Brian Hall on Twitter.
Original Story:
http://www.foxsportsnorth.com/10/19/1...
THE BACKYARD
BEST OF MAXIM
RELATED ARTICLES
NO IFS ANDS OR BUTTS
Minnesota Vikings quarterback Christian Ponder had a little rookie hazing prank up his sleeve on Thursday. Ponder tweeted the photo you see above and said he found the items in teammate Matt Kalil's locker. He added, "I hope you're okay bud."Preparation H and Tucks are medications used to treat hemorrhoids. Kalil, a rookie offensive tackle who was drafted fourth overall in...
Can the NFL round off these fines or what? How bout just make it an even $16K? Minnesota Vikings rookie safety Harrison Smith is gaining quite a reputation in his early career. He shoved an official the week before and was ejected. He also got hit for $21,000 in the preseason for an illegal hit against a San Diego player. Now, we have the good ole horse-collar tackle on league darling...
It appears a high profile pairing between an NFL quarterback and an attractive ESPN personality is the real deal, after speculation over the past few days that said stars were an item. The possibility that Minnesota Vikings second-year quarterback Christian Ponder and ESPN sideline reporter/host Samantha Steele was originally addressed by Busted Coverage earlier this [...]
EDEN PRAIRIE, Minn. Minnesota Vikings coach Leslie Frazier knows his team has avoided the major injuries that have occurred around the league, and he was thankful again Friday as it appears Adrian Peterson, Jared Allen and Jerome Simpson will all be ready Sunday when Minnesota hosts the Arizona Cardinals. The Vikings have benefited from a relatively healthy roster all season as...
EDEN PRAIRIE, Minn. Jared Allen and Brian Robison, the Minnesota Vikings' pass-rushing defensive ends, insist they don't look at Sunday's game against the Arizona Cardinals any differently than any other game.Allen says he's always excited to play. Robison says they "always salivate" at the thought of getting after opposing quarterbacks, no matter the team...
EDEN PRAIRIE, Minn. Rookie safety Harrison Smith has added a physical edge to the Minnesota Vikings defense, but he's also gaining a reputation for some rough play.A league spokesman confirmed Friday that the NFL fined Smith 15,750 this week for a horse-collar tackle on Washington Redskins quarterback Robert Griffin III in last Sunday's 38-26 loss to the Redskins. It'...
The former Vikings player identified by the NFL as a ''whistleblower'' in the Saints bounty case says the league is lying about his statements. Jimmy Kennedy released a statement Friday saying that the NFL called him to ask about a bounty program, and he told them that he did not know anything about it. Kennedy, a former defensive lineman for Minnesota, says his...
Brian Robison has a matchup that would appear ideal for him Sunday, but he knows the Cardinals' struggles could turn around quickly if the Vikings don't get them in the right situations. Robison talked about the pass protection, the quarterback change and one thing that has been limiting him.
EDEN PRAIRIE, Minn. The Minnesota Vikings and Arizona Cardinals are two of the surprise teams in the NFC this season, with both teams near the top of their respective divisions. They've had success in similar ways, starting with strong defenses. But both teams are coming off losses which have momentarily changed the outlook of their seasons. Minnesota (4-2) is trying to prove...
Before the season began, back when we were still polishing the dust of our crystal balls, did any of us see either the Vikings or the Cardinals having 4-2 records heading into Week 7?Come on now, don't lie.I admit before the season began I made some jokes about Minnesota in my Fantasy Football team preview. I wish I could take them back. Really, I do.But the fact is the Vikings...
For the past few days, some of our Interweb bloggy peers have been speculating that the recent Twitter activity between Minnesota Vikings QB Christian Ponder and ESPN college football reporter Samantha Steele made it seem like they had something going on. Like, maybe they were sexting like the cool kids do. And it turns out they do have something going on, because Ponder is an open...
Brought to You by Aaron Marcotte (@MoreThanFantasy) of TradeDebate.com Check out the blog: marcottesfantasy.tumblr.com The biggest bye week of the season is here. For those in survivor pools, this makes for a tough week. To date, I've used DET, CIN, DAL, ATL, PIT and NYJ respectively each week. This week I'm going with my first spread pick: the Minnesota Vikings. Vikings...
NFL News

Delivered to your inbox

You'll also receive Yardbarker's daily Top 10, featuring the best sports stories from around the web. Customize your newsletter to get articles on your favorite sports and teams. And the best part? It's free!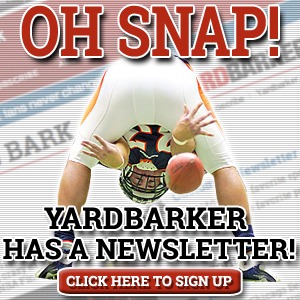 Latest Rumors
The Backyard

Today's Best Stuff

For Bloggers

Join the Yardbarker Network for more promotion, traffic, and money.

Company Info

Help

What is Yardbarker?

Yardbarker is the largest network of sports blogs and pro athlete blogs on the web. This site is the hub of the Yardbarker Network, where our editors and algorithms curate the best sports content from our network and beyond.