Found August 18, 2012 on Fox Sports North:
MINNEAPOLIS On Friday night, Audie Cole sprinted 50 yards.Audie Cole never sprints 50 yards. Never in one game. Never that fast. Audie Cole is a linebacker. That is not his job.Cole's job is to stop. It's to reverse. It's to push and to hold. In the span of a game, Cole makes hundreds of tiny movements that barely register in the fluid progression of each play. He makes mistakes that are never accounted for and plays that help without being noticed. But on Friday night, with the Vikings leading the Bills 22-14 with 3:37 remaining in the game, Audie Cole got noticed.This time, Cole did more than stop. He did more than hold. He got a good read on a Tyler Thigpen pass, caught it and ran it 20 yards into the end zone for a touchdown. And then, on the next play, he did it again, this time for 30 yards on a bad Brad Smith pass. One linebacker, two quarterbacks, and suddenly the Vikings were on their way to a 36-14 rout.Cole, the Vikings' seventh-round pick, was the 210th man selected in the 2012 NFL draft. He had a solid four-year career at North Carolina State, but he's hardly been the stuff of preseason chatter in Minnesota. He's still earning his chance to make the Vikings' roster, and he'll be the first to say that what happened on Friday night is the stuff of a linebacker's dreams."You're sitting the night before, you're thinking about doing stuff like that," Cole said. "I'm just trying to make the team, and I hope that helps the cause.""That's what you dream about. That's what you hope happens. You want to be making plays. You want the ball in your hands."Cole started his NFL career with a sack of 49ers third-string quarterback Scott Tolzien on Aug. 10. It was an impressive beginning for a player who never had more than 5.5 sacks in a season in college, and the Vikings staff took note. Then, on Friday, he pushed the bar even higher, but amid the postgame hype over his late-game theatrics, Cole provided a dose of tongue-in-cheek realism.How many times have you scored a touchdown off an interception, Audie?"Counting today? Two."Cole is more than happy to bask in the glory of his 12 points at least for the evening. And let him. Yes, even though it was a preseason game. Against the Bills' third team. As the clock ticked down. When the game was out of reach. Despite all that, let Audie Cole enjoy this, because he too knows how insignificant it all might be.Talking to Cole, it doesn't take long for him to get away from the pick sixes. The questions move too easily into what this means, into his hopes for making the team and where he needs to improve. Two instants that relied so much on luck and timing (and a bit more luck), and suddenly we're imbuing them with meaning. We're wondering if they can justify more time for the rookie, if he might have more of an impact than expected. Luckily, though, Cole knows what the touchdowns might mean for him. They can't hurt, he said, but he was quick to point out the other myriad parts of his job that he needs to work on, the things that a linebacker gets paid to do."I've got to pick it up on special teams and just keep it going," Cole said. "I made a lot of mistakes out there tonight, and everyone just saw two good plays. I made five bad ones. I've got to correct those and keep going."But as Cole tempers, head coach Leslie Frazier ponders. There's no need to redefine Cole's expectations based on one night, but Frazier has a good point in noting what they might have revealed in the rookie. Just moments after extolling the virtues of practice and pragmatism for a young team, Frazier pointed out that success can't come without big plays. Working hard and making those plays don't have to be at odds. They can complement each other, and the coach took stock in those two interceptions, in the crazy and the lucky and the freakishness of it all."You don't discount that, because you have to take advantage of your opportunities," Frazier said. "When those opportunities present themselves, you're looking for guys who can make plays. What it does is it makes you think about putting them in other situations where they can compete as well. You want to see guys make plays. That's what our business is all about. You can draw up Xs and Os all day long, but if you don't have playmakers, you're whistling in the wind."If you don't have playmakers, you don't have momentum. You don't have the morale and excitement that can keep a young team afloat. You don't have the celebrations like the one that occurred after that second touchdown, when nearly the entire Vikings team rushed into the sidelines to celebrate with Cole.On Friday, Cole was a surprise. There was no way to say that oh, yes, we thought he'd do that at some point, no way to even explain how it happened. No one expected it to happen, and no one will demand that it happens again. What the Vikings will demand is that Cole work at his game. They'll demand that he earn his spot through the kind of sweaty repetition that could never have prepared him for what happened on Friday.Those plays will be hard to forget. They're the kind of crazy dj vu that makes you blink and wonder if you're losing your mind. They're exciting, but they won't alter the course of Audie Cole's career.Like he said, though, they can't hurt.Follow Joan Niesen on Twitter.
Original Story:
http://www.foxsportsnorth.com/08/18/1...
THE BACKYARD
BEST OF MAXIM
RELATED ARTICLES
The Minnesota Vikings aren't wasting any time making 1st-round pick Harrison Smith a focal point of their defensive strategy. Said Leslie Frazier: "We're counting on him to be the starter. That's why we drafted him where we did." Smith started at free safety on Friday and was impressive in his 28 snaps, recording two tackles and knocking down a pass. It sounds as though...
MANKATO, Minn. Look around training camp in Mankato or a Sunday home game at the Metrodome and there are still reminders of the hard-charging, fun-loving attitude Jared Allen brought to the Minnesota Vikings in 2008. Allen's fans wear shirts with the four-time Pro Bowl selection's No. 69 printed on them. But unlike with other players' apparel, Allen's nameplate...
GET HIGH
Vikings WR Jerome Simpson may be with a new team this season, but he's back to his old tricks … namely, jumping over defenders in ridiculous fashion. We all remember Simpson pulling off the play of last season with his incredible front flip over a Cardinals defender into the endzone. Well, in the first quarter of tonight's Vikings-Bills game, Simpson turned Buffalo FS Jairus...
Minnesota Vikings 4th-round pick Jarius Wright has impressed coaches with his football knowledge, according to the St. Paul Pioneer Press. Receivers coach George Stewart stated that Wright's route-running is still a work in progress, but he caught the attention of coaches with his ability to absorb the playbook and understand their various formations. This is an encouraging sign...
Rookie safety Harrison Smith was one of two first round selections made by the Minnesota Vikings in the 2012 NFL draft.  He was a four year starter at Notre Dame and is looking to make an immediate impact in a very weak Vikings' secondary. Smith is a big safety as he is six foot two inches and 213 lbs.  However, he is a smart and athletic safety as well and will be vying for...
Two rookies, Blair Walsh and Audie Cole, stood out and set Vikings preseason records with their performances Friday night.
According to the Star Tribune, Vikings quarterback Christian Ponder has been frequently targeting tight end Kyle Rudolph in training camp.Fantasy Spin:Rudolph could be this season's breakout player at the position. He's currently a steal as a late-rounder in mock drafts.
Minnesota Vikings wide receiver Jerome Simpson has flipped for a touchdown, flopped, and hurdled folks. Last night? Buffalo Bills safety Jairus Byrd got the Olympic like treatment. Why not click... Full story at Bob's Blitz ~ http://www.bobsblitz.com
Anyone reading this article, or any on Footballnation.com for that matter, shouldn't have to be reminded that football is a contact sport.  However, it looks as though that's exactly what the Minnesota Vikings organization seems to be overlooking when it comes to their top running back, Adrian Peterson.  Minnesota Star Tribune sports reporter Dan Wiederer broke the news...
Christian Ponder threw a first-quarter touchdown pass in a sharp three-possession appearance and the Minnesota Vikings breezed to a 36-14 victory Friday night over the Buffalo Bills, who saw a decent performance from backup quarterback candidate Vince Young. Young's competitor for the No. 2 spot behind Ryan Fitzpatrick is former Vikings draft pick Tyler Thigpen, who threw an...
ESPN recently dispatched Ed Werder to Mississippi to check on how Brett Favre is handling his second summer of retirement and Brett's new job as Oak Grove High School offensive coordinator. Things seem to be going pretty good. Favre's offense put a 64-6 spanking on Sumrall. According to MaxPreps, things got ugly in the 2nd quarter when the offense exploded for 34 unanswered...
NFL News

Delivered to your inbox

You'll also receive Yardbarker's daily Top 10, featuring the best sports stories from around the web. Customize your newsletter to get articles on your favorite sports and teams. And the best part? It's free!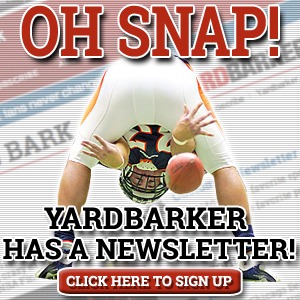 Latest Rumors
The Backyard

Today's Best Stuff

For Bloggers

Join the Yardbarker Network for more promotion, traffic, and money.

Company Info

Help

What is Yardbarker?

Yardbarker is the largest network of sports blogs and pro athlete blogs on the web. This site is the hub of the Yardbarker Network, where our editors and algorithms curate the best sports content from our network and beyond.