Found August 08, 2012 on Fox Sports North:
MANKATO, Minn. Rookie safety Harrison Smith wasn't handed a starting spot by the Minnesota Vikings entering training camp despite being the 29th overall pick in April's draft and a talented player at a position of need.Smith is having to earn his way in his first NFL training camp and he's showing he's not going to back down from the challenge or his veteran teammates.The 6-foot-2 safety from Notre Dame has started receiving more snaps with the starting unit in practice this week and has had two run-ins with Minnesota star receiver Percy Harvin. The second one, in Wednesday's afternoon practice, ended up resulting in the first skirmish of Vikings' training camp. Smith downplayed the incident and denied he was trying to make a point as a rookie newcomer."I don't really think that implies to coming in here," Smith said of showing he won't back down. "I just think that applies to life. I don't think I was standing my ground. It's just football. That stuff happens."But Smith is also showing he plays the game with an edge. For the second time in two days, Harvin had words with the rookie. The first incident came Tuesday when Harvin beat Smith inside for a touchdown reception and was taken to the ground by Smith during the catch. Harvin, an emotional player in his own right, popped up excitedly and stared at Smith offering a few words.Tuesday, Harvin caught another pass in the middle and was met by Smith. A skirmish started and receiver Jerome Simpson came in as well, pushing Smith before things could be broken up. Training camp skirmishes are nothing new, but Minnesota had avoided them through a week and a half of practicing in pads in the afternoon heat.With their first preseason game two days away, it's not a surprise tempers finally flared."It's the game of football, it's not really a passive sport," Smith said. "It's an aggressive sport played by aggressive people. So, that's what happens."Smith is showing an aggressive side, especially since the pads went on. The Vikings traded back into the first round of April's draft after taking left tackle Matt Kalil with the No. 4 overall pick. With Smith still on the board at No. 29, Minnesota felt he could be the answer at safety after having several players rotate through the positions in the past few years. Smith was believed to be an all-around safety, able to help in run and pass defense. Through the first two weeks of training camp, defensive coordinator Alan Williams felt Smith had shown what he can do against the pass. Getting a chance to work with the starting unit more in the past three days, he's been showing his physical side."I saw it in our OTAs and it's beginning to show up a little bit more with the pads on," coach Leslie Frazier said. "We need that. We need that from him. We need a physical, tough safety of his size and his range. He seems like a guy who can provide that."And a day after commenting about how the players have avoided going after each other, Smith was right in the middle of Wednesday's skirmish."He hasn't blinked," Frazier said of Smith earning first-team reps. "He's kind of fit in. We wanted to see how he'd respond being in there with Kevin (Williams) and those guys, and so far he's responded well. We're going to give him some opportunities on Friday night, but he hasn't shrunk back. He's stepped up and done well when he's been with the first team."He's had to earn those first-team snaps, just the way his coaches want and the way Smith expected. Jamarca Sanford and Mistral Raymond ended last season as the starters and had taken the reps with the starting unit for the first two weeks of camp.Smith is having to prove himself, but Williams likes what he sees in the versatile rookie."Right now he is better at everything than I really thought," Williams said. "He's a tall guy, and usually tall guys are a little bit leggy and may not be quick-footed. But right now he's excelling at the pass coverage. We put him on tight end and he's been extremely effective. We'll wait to see how he does in the run game, we haven't had any opportunities, which is one of the things I was talking about in terms of the reps are limited. We have to put him in some other opportunities to see how he supports the run and what he does there. It may be the first preseason game until we really know when everything is live."When games go live, it might just fit into Smith's aggressiveness. He's been like most rookies at camp, going along quietly, working and learning, until this week, when he's shown more of an edge in his demeanor.Working against players like Harvin only fuels Smith."He's an unbelievable athlete, unbelievable player, got a lot of speed, great hands," Smith said. "Having to go against guys like that and maybe getting beat every now and again, kind of lights a fire that I've got to get better and better every day. There's no better way to do that than going against guys like Percy."Smith and the Vikings are ready to go against someone other than teammates too. After two weeks, Minnesota is ready for its first preseason game Friday at San Francisco when Smith can really let loose."Definitely, after a while you kind of get sick of competing against each other," Smith said. "We're supposed to be teammates. So, you want to hit somebody, but you don't really have a choice." Follow Brian Hall on Twitter.
Original Story:
http://www.foxsportsnorth.com/08/08/1...
THE BACKYARD
BEST OF MAXIM
RELATED ARTICLES
One player that needs to step up big is quarterback Christian Ponder. Ponder, who had a less than stellar first season as a rookie, needs to step up this year and avoid a sophomore slump, not that he could really get much worse. The way he and many Vikings' fans need to view the Ponder situation is that he can only go up from last year. Ponder showed flashes of brilliance, but...
MANKATO, Minn. New Minnesota Vikings defensive coordinator Alan Williams has tried to not come in with any hard opinions on his new players, instead using training camp and the upcoming preseason games to evaluate his defense.Minnesota opens the preseason Friday on the road against the San Francisco 49ers, but cornerback Chris Cook is already making an impression on his new coordinator...
Ding Ding: The training camp wars continue as Minnesota Vikings' receiver Percy Harvin's jawing with rookie safety Harrison Smith got heated enough that the pair had to be separated. The players were running through drills without pads and Smith trying to live up to his number one pick status played Harvin aggressively as he worked his way upfield. To read this and other NFL...
MANKATO, Minn. One year ago, Christian Ponder was a wide-eyed rookie trying to absorb as much as he could in his first training camp with the Minnesota Vikings. Ponder, the 12th overall pick in the 2011 draft, wasn't concerned about earning a starting spot. Minnesota had brought in veteran Donovan McNabb to give the rookie time to develop after an offseason cut short by the...
MANKATO, Minn. Minnesota Vikings running back Adrian Peterson's last month has been filled with intense training sessions, legal issues and a surprise trip to the hospital. Through it all, Peterson has continued to grind through his rehab from knee surgery and is hoping he can finally focus on being with his teammates and eventually practicing with them as well. On Monday...
Some players taken in the late rounds of the NFL draft are available there because of off-the-field concerns. The extra baggage Brandon Fusco brought to the Minnesota Vikings was his alma mater. Slippery Rock University is no slouch. The Rock, as the program is informally known, has annually been a top-tier team in the Pennsylvania State Athletic Conference, with a handful of NCAA...
The Minnesota Vikings will be without offensive lineman Geoff Schwartz for four to six weeks, a relatively short recovery period for a sports hernia surgery. Schwartz had the procedure Tuesday in Philadelphia. Coach Leslie Frazier said the team might be able to get him back by the regular season opener Sept. 9. Schwartz was competing with Brandon Fusco for the starting right guard...
PAINT THE FENCE
Just came across this photo on Reddit under the title "Feuding Neighbors." I'd say so. Originally posted in r/minnesota by u/twentyfifthhour. A commenter at Reddit had a great suggestion: I can't be the only one thinking it'd be the greatest crime ever to go out in the middle of the night, say once a week, and paint purple over 2 more fence posts. See how long...
The Minnesota Vikings are set to take on the San Francisco 49ers on Friday at Candlestick Stadium in San Francisco on Friday night.  This will be their first game since their 17-13 loss to the Chicago Bears to end the season on New Years day. One player that needs to step up big is quarterback Christian Ponder.  Ponder, who had a less than stellar first season as a rookie, needs...
Rookie kicker Blair Walsh showed just how powerful his leg is at the end of Tuesday's practice. Plus, Kevin Williams isn't done yet, as the second half of last season showed, and the Vikings dealt with a number of minor injuries, as well as two not-so-minor surgeries.
The Minnesota Vikings have spent two weeks working in the intense sun of Mankato, Minn. The players have been in pads for the warm afternoon practices for a week and a half. After a mild skirmish with receiver Percy Harvin on Wednesday, rookie safety Harrison Smith admitted the Vikings are looking for someone to hit other than teammates. Minnesota finally will get the chance Friday...
Antoine Winfield says age is overrated and he is planning as big a role as ever in the Vikings defense. It's a bit of a reversal from his statement in May.
Vikings News

Delivered to your inbox

You'll also receive Yardbarker's daily Top 10, featuring the best sports stories from around the web. Customize your newsletter to get articles on your favorite sports and teams. And the best part? It's free!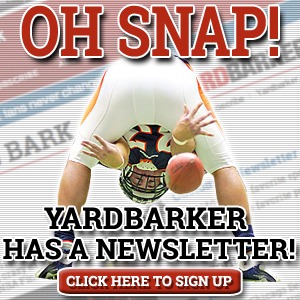 Latest Rumors
The Backyard

Today's Best Stuff

For Bloggers

Join the Yardbarker Network for more promotion, traffic, and money.

Company Info

Help

What is Yardbarker?

Yardbarker is the largest network of sports blogs and pro athlete blogs on the web. This site is the hub of the Yardbarker Network, where our editors and algorithms curate the best sports content from our network and beyond.