Found October 24, 2011 on Fox Sports:
Nervous energy stirred Christian Ponder awake at 5:30 a.m. Sunday at the Vikings' downtown Minneapolis hotel. The rookie quarterback fell back asleep but was up again at 6:15. The 3:15 p.m. kickoff at the Metrodome could not come soon enough for Ponder, the 23-year-old first-round draft pick, to assume command of the reeling Vikings against the undefeated and defending Super Bowl champion Green Bay Packers. He made up for his lack of shuteye with an eye-opening debut that started with a record flourish but ended with him standing on the sideline as the Packers drained the clock for a 33-27 victory that branded Ponder 0-1 as an NFL starter and plunged the Vikings to 1-6 on the season. In between, Ponder flashed playmaking ability Minnesota desperately needed after sputtering through five losses in six games under banished starter Donovan McNabb. He made mistakes, too, telegraphing a pair of interceptions to veteran cornerback Charles Woodson. And Ponder ran for his life at times as the Packers collapsed the pocket behind the Vikings' battered offensive line and taunted him to beat them downfield. He finished a rather inefficient 13 for 32 for 219 yards, with two touchdowns, two interceptions and a 59.2 rating. Paltry compared to Green Bay superstar Aaron Rodgers (24 of 30, 335 yards, three touchdowns, 146.5 rating). Contrasting Ponder to the reigning Super Bowl MVP is hardly fair and balanced reporting. Ponder provided a jolt of electricity to the Vikings and their fatalistic fans yearning for a long-term solution to a position the team perpetually has tried to fill with stopgap solutions. "He's young, energetic, very confident, and he's only going to get better," said right tackle Phil Loadholt. On his first play from scrimmage, Ponder rolled out left, baited Pro Bowl cornerback Tramon Williams toward the line and calmly floated a deep ball down the sideline to Michael Jenkins for a 72-yard strike - the longest completion by a rookie Vikings quarterback. Replay determined Jenkins stepped out of bounds at the 1-yard line, so Ponder had to stop receiving backslaps on the sideline and return to the field, where he hit tight end Visanthe Shiancoe two plays later for his first career touchdown pass. "The first play? I was just excited to complete the first ball, and think it was a touchdown," Ponder recounted. "It was a great play by (Jenkins). One-for-one for a touchdown was exciting, but at least two-for-two for a touchdown was good enough." Ponder added a second touchdown pass to Jenkins to pull Minnesota within six points midway through the fourth quarter. He also rushed four times for 31 yards, a robust 7.8 yards a run. "People don't give him credit for his legs and what he can do outside the pocket. That's huge for us," said Jenkins, who caught three passes from Ponder for a career-high 111 yards. "He showed a lot of poise and battled hard to the end. He played with a lot of heart." The coronation included positive reviews from his opponents. "I think he's got a bright future," said Rodgers. "I like the way he plays. He moves around really well, and he made some plays with his feet. He made some great plays there in the fourth quarter, finding guys on the back side moving around. I think their offense moved the ball well." The Vikings actually outgained Green Bay, 435 yards to 421. "I was very impressed with him," said Packers coach Mike McCarthy. "You knew he was a good athlete and can move. To come out to his left and make a throw on a double move, that alone tells you a lot about his ability. I thought he was very composed for his first start." Dressed casually in blue jeans, with a gray sweater over a mauve dress shirt, Ponder strolled to his first postgame news conference and coolly answered two dozen questions, slipping a hand towel out from behind the podium to dab away sweat from his brow. He was quick to assume responsibility for the loss with his turnovers and lament defeat. "The ultimate deciding factor is whether you get the win or not. We didn't get the win, and the loss is on my shoulders, so I'm not happy about it," Ponder said. "I did some OK things. I did some bad things, and I just have to learn from it." Ponder's third-quarter interceptions led to a pair of Packers field goals, which provided the margin of defeat. He said Woodson undercut both routes, including Shiancoe's crossing pattern on the second pick, something Ponder saw the veteran do while studying film last week. "I should have picked that up and threw the ball over his head," Ponder said. "Again, a learning experience." After a productive first half, he misfired on his first six attempts of the third quarter and absorbed some wicked hits by pass rushers. But he revealed tree bark for skin when Frazier approached him on the sideline after the quarterback's second interception. "I wanted to talk with him and just encourage him. I just sensed that I didn't need to," Frazier said. "I sensed that he was already moving on past that play, which is a good quality you have to have in our league even if you're a great quarterback." Ponder said two of his friends from Florida State drove up for the game and joined his father, David, at the Metrodome. "I think it's good, just getting that four-quarter experience under the belt," he said. "Obviously, I had a lull there in the third quarter that I have to learn from and not let happen again. But the more experience, the better." Follow Brian Murphy on twitter.com/BmurphPiPress
Original Story:
http://msn.foxsports.com/nfl/story/Vi...
THE BACKYARD
BEST OF MAXIM
NFL News

Delivered to your inbox

You'll also receive Yardbarker's daily Top 10, featuring the best sports stories from around the web. Customize your newsletter to get articles on your favorite sports and teams. And the best part? It's free!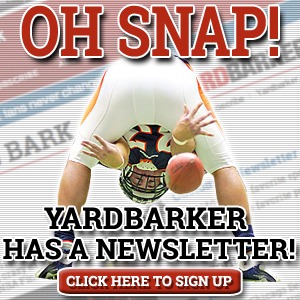 Latest Rumors
The Backyard

Today's Best Stuff

For Bloggers

Join the Yardbarker Network for more promotion, traffic, and money.

Company Info

Help

What is Yardbarker?

Yardbarker is the largest network of sports blogs and pro athlete blogs on the web. This site is the hub of the Yardbarker Network, where our editors and algorithms curate the best sports content from our network and beyond.