Found December 13, 2011 on Awful Announcing:
PLAYERS:
Phil Simms
,
Marcellus Wiley
,
Chris Berman
,
Aaron Rodgers
,
Al Michaels
,
Daryl Johnston
,
Brian Billick
,
Joe Buck
,
Tim Mccarver
,
Jon Gruden
,
Dan Dierdorf
TEAMS:
Green Bay Packers
Dick Stockton has the lead in the awards that bear his name, but there's still plenty of voting left in the 2011 Dickies.  Phil Simms turned in an absolutely epic performance in Green Bay's blowout victory over Oakland this week, and it was tough to only limit him to four nominees.  Enjoy Phil's pearls of wisdom and the rest of your Week 14 nominees...

1) "Mike McCarthy...I said he's a genius. And you know why? Because he doesn't try to be a genius." - Phil Simms (via DevsFan30)
2) "You hate when your balls get tipped around" - Marcellus Wiley (via jbteller)
3) "This is a very important game." - Chris Berman. He was talking about the Jaguars-Buccaneers game. (via JoshuaBatelli)
4) "Aaron Rodgers can make that ball spin so much that it almost wobbles" - Phil Simms (via yerger)
5) "Tom is pretty good at challenges. He's lost his last six though" - Al Michaels (via ThreeRiversBlog)
6) "How about the second yard statistics from this game?" - Jim Mora showing the second quarter stats (via ShutdownLine)
7) "You know, coach Cowher he hands out compliments like manhole covers." - Phil Simms (via kylejgood)
8) "Gimme 50 shares of Tebow" - Daryl Johnston (via BKibbs)
9) "It was a good hustle penalty there by the Raiders." - Phil Simms (via AA)
10) "He combines the combination of speed and power." - Brian Billick (via Chad1320)
11) "Joe Buck and Tim McCarver are the gold standard of baseball broadcasts." - Dick Stockton (via JoshButters)  
12) "That's a tight hole and a big man right there" - Brian Billick (via jessegennigen/prwillard2)
13) "He might go to the pro bowl before this season's over" - Jon Gruden (via mgwPSU)
14) "Doug "Prematurely" Baldwin" - Chris Berman (via JagsFan93)
15) "These Skittles, I gotta find out what's in these things." - Jon Gruden (via AA)
16) "It's amazing how you figure those yardages out so fast John...I'm really...(awkward pause) amazed." - Dick Stockton (via abashuk)
17) "He's a guy who would chew a guy's leg off to win a game." - Dan Dierdorf (via bjgunts)
Vote For Your Week 14 Dickies Nominees! (vote for up to five)
Vote For Your Week 14 Dickies Nominees!
The winners will come Wednesday so make sure you vote early and often and check back for the full NFL Week 15 announcing sked later this week!
Like Awful Announcing on Facebook
Follow Awful Announcing on Twitter

Original Story:
http://www.awfulannouncing.com/2011-a...
THE BACKYARD
BEST OF MAXIM
RELATED ARTICLES
The Denver Broncos have won six straight games and will host the New England Patriots at Sports Authority Field @ Mile this week.  And after fighting with NBC and the NFL to keep the game from being flexed to Sunday Night Football, CBS will be broadcasting the game. Chances are, you're going to get the game, too: The red represents where the game will be shown across the country...
Whether it was the Polo Grounds, where Charlie Conerly was the quarterback, or Yankee Stadium, where Y.A. Tittle called signals, or Giants Stadium during the Phil Simms era, the Giants have largely enjoyed a tangible home-field advantage that was intimidating for opponents and inspiring to the home team. So...
CBS' Phil Simms broke a bit of news during Sunday's telecast when he revealed Raiders running back Darren McFadden's "mid-foot sprain" was a Lisfranc injury. That helps explain why McFadden hasn't been seen since mid-October. The Raiders haven't said much about his injury all along, and Hue Jackson didn't see what the big deal was.…
Packers News

Delivered to your inbox

You'll also receive Yardbarker's daily Top 10, featuring the best sports stories from around the web. Customize your newsletter to get articles on your favorite sports and teams. And the best part? It's free!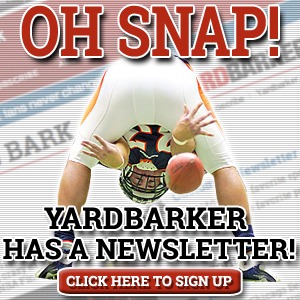 Latest Rumors
The Backyard

Today's Best Stuff

For Bloggers

Join the Yardbarker Network for more promotion, traffic, and money.

Company Info

Help

What is Yardbarker?

Yardbarker is the largest network of sports blogs and pro athlete blogs on the web. This site is the hub of the Yardbarker Network, where our editors and algorithms curate the best sports content from our network and beyond.