Found December 17, 2011 on Fox Sports Ohio:
PLAYERS:
Seneca Wallace
,
Pat Shurmur
,
Mike Holmgren
,
Eric Mangini
,
Tim Couch
,
Peyton Hillis
,
Colt McCoy
,
Ben Roethlisberger
,
Owen Marecic
,
Mohamed Massaquoi
,
Scott Fujita
,
Kellen Winslow
,
Ken Whisenhunt
,
Chansi Stuckey
,
Brad Maynard
,
James Harrison
,
Cameron Jordan
,
T.J. Ward
,
Artis Hicks
,
Montario Hardesty
,
Joe Haden
,
Larry Fitzgerald
TEAMS:
Cleveland Browns
,
Pittsburgh Steelers
,
Tampa Bay Buccaneers
,
Arizona Cardinals
,
New Orleans Saints
,
Kent State Golden Flashes
Seneca Wallace is one day closer to making his first start since re-signing with the Browns in February, knowing at the time he would be second on the depth chart to Colt McCoy.Barring a miraculous recovery from a concussion suffered last Thursday by McCoy, Wallace will start against the Cardinals on Sunday in Arizona. It would be his first start since the fifth game of 2010. McCoy has not taken a snap in practice this week.Coincidentally, Wallace will be starting against one of the teams he is most familiar with having played seven seasons in Seattle. He started against the Cardinals in a game in 2008 and completed 24 of 43 passes for 250 yards with two touchdowns and two interceptions in a game the Seahawks lost, 34-21.Wallace also knows the offense Pat Shurmur is coaching because it is the one the Seahawks ran when Browns president Mike Holmgren coached Seattle. Wallace said he knows it better than the one he tried to adjust to last year when Brian Daboll was offensive coordinator and Eric Mangini was head coach.Wallace was 1-3 as a starter last year. McCoy is 4-9 in 2011. If McCoy does not start it would mean for 10 consecutive seasons no Browns quarterback was able to start 16 games. The last to go from start to finish was Tim Couch in 2001."Mentally and physically I think Colt is going through a tough time right now," running back Peyton Hillis said Thursday. "But he's a tough young man. He approaches this game with a lot of passion and a lot of heart. My heart goes out to him."Joshua Cribbs caught 23 passes last season. He caught almost half that total, 11, in the four games Wallace started."I don't think we'll miss a beat," Cribbs said. "I think Seneca is very capable of stepping in and keeping the ball rolling. He's focused. He knows what he has to do and does a good job at it."He has a calm attitude and we love him. We know he has the ability to get the job done. We're going to rally around him if he's the starter this week."Cribbs did not want to compare Wallace and McCoy because he was concerned he would come off sounding as though he prefers one over the other.--Seneca Wallace could make his first start of the season Sunday when the Browns play the suddenly hot Cardinals in Arizona.Wallace was in the game for two plays last week in the 14-3 loss to the Steelers while team doctors and trainers examined Colt McCoy on the sideline after McCoy was flattened by a vicious helmet-to-facemask hit by Steelers linebacker James Harrison.McCoy re-entered the game with 4:18 to play and finished it, but afterward in the locker room began displaying concussion symptoms. McCoy was sent home Monday and Wednesday without practicing. Wallace practiced with the first team both days.The Browns are usually very cautious with concussed players and figure to be especially so in this case because the league and players union is concerned the Browns might not have examined McCoy thoroughly enough after the hit by Harrison. Team president Mike Holmgren on Wednesday said no one on the Browns sideline saw the hit."No one alerted anybody to this," Holmgren said. "It seems inconceivable, but no one did."McCoy talked about the play in the locker room after the game and said he was more concerned about his left hand, which was injured on the same play.Joe Sheehan, the Browns head trainer, cleared McCoy to return to the game in Heinz Field. The time between when McCoy was hit by Harrison and when he ran back onto the field was three minutes, 50 seconds in real time. The Browns do not permit reporters to talk to Sheehan or team doctors.Players in the locker room Wednesday speculated McCoy told the training staff he was fine instead of complaining about a headache in the same game in which Steelers quarterback Ben Roethlisberger returned after spraining his ankle."His hand was treated and he was communicated with about how he was feeling," coach Pat Shurmur said. "In the midst of that communication, it was determined his hand was fine. He was deemed ready to play." Joshua Cribbs knows what it is like to be knocked out cold by Harrison. Harrison KO-ed Cribbs with a helmet-to-helmet hit in Pittsburgh last year. Cribbs did not return in Pittsburgh but played the next week against the Saints. He caught one pass for 10 yards and also returned three kicks and three punts."When I had a concussion last year I wanted to go back in despite not remembering the hit and things of that nature," Cribbs said. "When guys want to win so bad, that competition, that desire to win, that will in them wants to keep playing."Somebody else has to tell you, 'No you can't.' Sometimes I feel like we can be overprotective. I feel like our training staff is one of the best at getting guys back healthy."At least five other players have had concussions this season. Tight end Benjamin Watson sustained his third (one was in preseason) of the year and fullback Owen Marecic his second in Pittsburgh. Watson did not miss a game. Marecic was inactive for the Cincinnati game one week after being concussed playing Jacksonville. Neither practiced Wednesday.Mohamed Massaquoi was concussed playing Seattle and was inactive the next week in San Francisco. He played ineffectively in Houston and sat the next game against the Rams.Moore did not miss a game after sustaining a concussion in preseason.Scott Fujita sustained a concussion in Oakland and missed the next game against Seattle.SERIES HISTORY: 49th regular-season meeting. Browns lead series, 33-12-3. The Browns have beaten the Cardinals three times in their last five meetings, but in the expansion era the Cardinals have a 2-1 edge.NOTES, QUOTES--The Browns and Cardinals last played in 2007. The game was memorable for the Browns for a couple of reasons, neither of them good.Arizona beat the Browns in Glendale, 27-21. The season is remembered for losing in Cincinnati two weeks later, but the loss to the Cardinals was just as costly. It just came earlier in the season.It was the end of this game that led to a rule change in the NFL. Kellen Winslow caught a pass in the end zone from Derek Anderson on the final play, but he was forced out of bounds while the ball was in the air and the pass was ruled incomplete. At that time a force-out was a judgment call. Now the wide receiver has to get both feet in bounds, regardless of where he might be hit by the defender.--Cardinals head coach Ken Whisenhunt was the Browns special teams coach in 1999.--The Browns and Cardinals have played three tie games. The Browns haven't tied any other team more than twice. The last tie game they played was 33-33 in 1964 when the Cardinals were in St. Louis.--QB Seneca Wallace has one career start against the Cardinals. He was 24 of 43 for 250 yards with two touchdowns and two interceptions in 2008 while starting for the Seahawks. Arizona won, 34-21.--Cardinals WR Chansi Stuckey caught 40 passes with the Browns last year, which was first among the wide receivers. He has three catches for Arizona in 2011.BY THE NUMBERS: 0 -- Touchbacks for P Brad Maynard this season. He has placed 24 punts inside the 20.QUOTE TO NOTE: "He tried to put me out of the game when I was on his team, with a red jersey on." -- Joshua Cribbs, former teammate of James Harrison at Kent State, on Harrison's helmet-to-helmet hit on QB Colt McCoy.STRATEGY AND PERSONNELWith the season officially over as far as any playoff hopes are concerned, it might be time to start looking at players that have spent most of the season on the bench.Specifically, coach Pat Shurmur might take a hard look at rookie TE Jordan Cameron. Cameron has one catch for seven yards.Starting tight end Benjamin Watson sustained his third concussion of the season, including one in training camp, last week in Pittsburgh. Watson did not practice Wednesday.PLAYER NOTES--QB Colt McCoy was sent home Thursday to rest, the fourth straight day he has been sent home.--S T.J. Ward did not practice Thursday because of a foot injury. He was limited Wednesday after missing five games with the foot injury.--TE Benjamin Watson did not practice because he has a concussion.--FB Owen Marecic did not practice Thursday because of a concussion.--OL Artis Hicks did not practice because of a shoulder injury.GAME PLAN: Scheme-wise the Browns won't have to change much if Seneca Wallace starts at quarterback against the Cardinals. He played in the same offense in Seattle and knows it well.Peyton Hillis and Montario Hardesty are both healthy so the Browns might finally be able to play some ball-control offense. That would work against the Cardinals to keep Arizona from grinding out the clock by handing off to Beanie Wells.MATCHUPS TO WATCH: Browns CB Joe Haden vs. Cardinals WR Larry Fitzgerald -- The Browns plan to have Haden follow Fitzgerald wherever he goes. It will be a challenge for the Browns' top cornerback. Fitzgerald has 62 catches for 1,092 yards and seven touchdowns. Browns RB Peyton Hillis vs. Cardinals LB Paris Lemon -- Lemon leads the Cardinals with 82 tackles. Hillis has to be bullish and break tackles to be successful.
Original Story:
http://www.foxsportsohio.com/12/17/11...
THE BACKYARD
BEST OF MAXIM
RELATED ARTICLES
Is there anything Seneca Wallace can do on Sunday to start the last two games of the year?
A battle of backup quarterbacks in the desert -- Seneca Wallace v. John Skelton.
Cleveland Browns quarterback Colt McCoy will not play against the Arizona Cardinals this Sunday, but sources say the former Texas Longhorn is very close to be recovered from his concussion suffered last Thursday against the Pittsburgh Steelers. A league source told ESPN that McCoy is expected to pass a concussion test later this week and should be prepared to play against the Baltimore...
Despite not making the trip to Arizona this weekend, Cleveland Browns quarterback Colt McCoy is said to be nearly recovered from the concussion he suffered two Thursday nights ago against the Steelers, a league source told ESPN NFL Insider Adam Schefter.
Cleveland Browns quarterback Colt McCoy was sent home for the fourth time this week Friday as he continues to recover from a concussion.
The Cleveland Browns are limping to the finish line of the season, as has been the case with so many of their teams from the past. And just like those teams, the starting quarterback at the beginning of the season might not be able to finish the year. The team currently sits at 4-9, heading into Arizona on Sunday to take on the surging Cardinals, who still have a shot at making...
The NFL has denied James Harrison's appeal of a one-game suspension for a helmet-to-helmet hit on Cleveland quarterback Colt McCoy, and the Pittsburgh Steelers linebacker will sit out Monday night's game against San Francisco. The ruling was made by NFL-NFLPA on-field appeals officer Ted Cottrell and announced Friday. Harrison was suspended Tuesday because of the hit to...
Cleveland is different. There's no other way to put it, and there is nothing Mike Holmgren can do about it but win. Just win baby. The Colt McCoy concussion fiasco is a big deal. It wouldn't be anywhere else because nowhere else is Cleveland, and coming off defensive and combative steers the issue toward what he begged the scribes to ignore. The media has nothing else to write...
Lost in the deserved hype and hoopla regarding the Browns see no evil/hear no evil/speak no evil handling of Colt McCoy's concussion is the fact that two other Browns players suffered concussions during last Thursday's game against the Steelers. One of them won't be playing again this season. Tight end Benjamin Watson officially has been…
NFL News

Delivered to your inbox

You'll also receive Yardbarker's daily Top 10, featuring the best sports stories from around the web. Customize your newsletter to get articles on your favorite sports and teams. And the best part? It's free!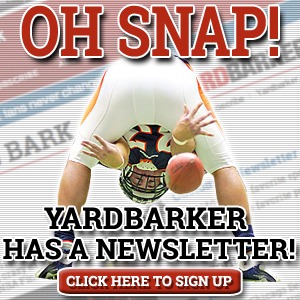 Latest Rumors
The Backyard

Today's Best Stuff

For Bloggers

Join the Yardbarker Network for more promotion, traffic, and money.

Company Info

Help

What is Yardbarker?

Yardbarker is the largest network of sports blogs and pro athlete blogs on the web. This site is the hub of the Yardbarker Network, where our editors and algorithms curate the best sports content from our network and beyond.