Found May 12, 2012 on Eagles Addict:
Was Philadelphia Eagles quarterback Michael Vick inadvertently disrespected by Redskins rookie Robert Griffin III?  Apparently some Eagles fans feel that is the case after an RG3 interview with the DC press took place at the end of April. A mini "Twitter-ruption" (okay, maybe it wasn't that bad, but I did say "mini") took place recently amongst some Eagles fans who felt their star QB Vick was slighted by the new savior of the Redskins. "Just saying man, just sayin" Photo: sports.yahoo.com This is the text of the tweet, that was being re-tweeted around,  that supposedly quoted RG3 when he was asked his thoughts on being compared to Michael Vick: "That's an honor but I'm a throwing QB who runs really fast." Now, that could certainly be perceived as a slight when taken in the context of: "Hey RG3, what do you think about being compared to Michael Vick?"  And his first and only answer was "That's an honor but I'm a throwing QB who runs really fast." In that context, one
Original Story:
http://eaglesaddict.com/http:/www.eag...
THE BACKYARD
BEST OF MAXIM
RELATED ARTICLES
The Novacare Complex was abuzz on Saturday as the rookies currently on the roster of the Philadelphia Eagles another invited participants  took part in the first day of rookie camp. It's a crash course in all-things NFL and all-things Eagles, including terminology, so this weekend will only begin to scratch the surface of determining the talent who will best help the Eagles in...
The Philadelphia Eagles announced on Friday that they signed undrafted rookie free agent Jacory Harris. The signing takes place just in time for Harris to join Philadelphia's rookie camp this weekend. The signing puts the team's roster at 90, the maximum for NFL rosters at this state of the offseason. Harris (6-4, 195) was a three-year starter at Miami (Florida), receiving the...
It didn't take Mychal Kendricks long into his first practice to figure out exactly what his new coaches were trying to do. ''I think the whole thing here is to make us feel uncomfortable,'' the new Eagles linebacker said, ''to see how much we can handle in a short amount of time.'' Welcome to the NFL, rookie. Kendricks and 33 other rookies are...
The beauty of things for both the Eagles and the entire NFL right now is that we're on a regular schedule of off-season activities... which actually means we're officially in Season 2012-13...Okay. Realization achieved.  Now what?44 athletes have been invited to the Eagles rookie camp.The latest arrival is QB Jacory Harris from the U. of Miami, and he's here to help...
Photo: rantsports.com In an effort for continued growth here at Eagles Addict, I'm proud to announce that a new writer will be joining myself and Ron Pasceri — his name is Jasen Shen. Jasen is a knowledgable and level-headed Eagles fan and will bring his own flavor of analysis and opinion to the site.  Don't let his left-coast residence fool you, he "bleeds green" from...
Per an official release from the team: The Philadelphia Eagles today announced they have signed rookie free agent QB Jacory Harris.  A three-year starter at Miami (FL), Harris (6-4, 195) compiled 8,826 passing yards and 70 touchdowns, while adding five rushing scores.  He finished his career ranked second in school history in both yards and touchdowns, behind Ken Dorsey (9,486...
In early July 2011, Vince Young was waived by the Tennessee Titans and promptly picked up by the Philadelphia Eagles, who agreed to a one-year contract with Young. Young played in only 6 games that season for Philadelphia, getting off to a very rough 1-2 start. At present, Young is without a team, which seems a little preposterous at this point in his career. He has, however, worked...
You aren't officially apart of Twitter until you're involved in some Twitter beef. Giants DE Osi Umenyiora joined the social networking site almost two weeks ago. He threw a shot at Eagles RB LeSean McCoy. This continues an ongoing beef that started months ago with McCoy calling Umenyiora "soft" and Umenyiora responded by referring to McCoy as [...]
The person was Robert Griffin III, the phenomenon was RG3. If you used the number it sounded like a sports car. If you used the Roman numerals it looked like an event. Either way, it was the truth. You may have heard the news Griffin III is trademarking both of those symbols. People have been hocking RG3 stuff all over Washington, D.C. since the Redskins took the former Baylor...
It's all about the terminology.. we've all heard that before... but it's especially true regarding any new team member in an NFL organization...As if the terminology and demands of the massive playbooks aren't enough, the outdated references to pop culture by well-meaning special teams coordinator Bobby April assure the players attending Eagles rookie camp at the...
A segment on the NFL Network last week asked the question, "What if Andrew Luck entered the 2011 NFL Draft?" Luck chose to remain for another year at Stanford in hopes of leading the Cardinal to a national title. The Cliff Notes version of the story is that the Carolina Panthers would have drafted Luck over Cam Newton. The Denver Broncos would then have drafted Newton...
TMZ has reported that on Saturday afternoon, Philadelphia Eagles wide receiver DeSean Jackson was pulled over on his way to his own charity event Friday morning. Sources told TMZ that Jackson was going to a Philadelphia church when a state trooper pulled him over. Apparently, Jackson was rudely treated by the trooper who may have recognized Jackson. The TMZ story states that Jackson...
NFL News

Delivered to your inbox

You'll also receive Yardbarker's daily Top 10, featuring the best sports stories from around the web. Customize your newsletter to get articles on your favorite sports and teams. And the best part? It's free!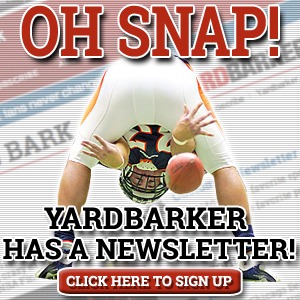 Latest Rumors
Best of Yardbarker

Today's Best Stuff

For Bloggers

Join the Yardbarker Network for more promotion, traffic, and money.

Company Info

Help

What is Yardbarker?

Yardbarker is the largest network of sports blogs and pro athlete blogs on the web. This site is the hub of the Yardbarker Network, where our editors and algorithms curate the best sports content from our network and beyond.