Found October 29, 2012 on Fox Sports South:
PLAYERS:
Sean Weatherspoon
,
Mike Smith
,
Akeem Dent
,
Robert McClain
,
Christopher Owens
,
Dominique Franks
,
Michael Vick
,
Thomas Dimitroff
,
Asante Samuel
,
Peyton Manning
,
Corey Peters
TEAMS:
Atlanta Falcons
,
Philadelphia Eagles
FLOWERY BRANCH, Ga. Entering Sunday's game with Dallas, the status of Atlanta Falcons' leading tackler Sean Weatherspoon, who suffered an ankle injury in Sunday's 30-17 win over Philadelphia and did not return to the game, remains unknown, as head coach Mike Smith did not offer an update on Monday. Atlanta (7-0) will host Dallas (3-4), owner of the league's No. 7 offense in an NFC matchup that carries more significance for the Cowboys, who stand 1 games behind Minnesota and Green Bay, each 5-3, in the wildcard race. Weatherspoon, the Falcons' first-round pick in 2011, is one of the defense's most important players. Until he left the field with 9:08 remaining in the fourth quarter, Weatherspoon had played every defensive snap for the Falcons this season. He was removed from the field on a cart and replaced by fellow linebacker Akeem Dent. "Sean is in the training room and we'll have a more concrete idea of where he's at after practice (on Wednesday)," Smith said. "He did sustain an ankle injury in the ballgame." The NFL does not mandate that teams issue injury reports until Wednesday when their games are on Sunday and Smith often will not update a player's injury until he must. In allowing 270 yards to the Eagles, the Falcons are coming off their best defensive performance of the season. They used the bye week to their advantage, coming up with a number of new packages and personnel groupings. Against the Eagles, they chose to play nickel more than 90 percent of the game. One of the surprising stories is that of nickelback Robert McClain, who was waived both by Carolina and Jacksonville last season and signed by the Falcons to a futures contract in January. He won a spot in camp and has beaten out both Christopher Owens and Dominique Franks at two different times, no less to win the starting nickel spot. The former UConn Husky, a seventh-round pick in 2010, played 57 snaps on Sunday, which represents 90 percent of the defense's plays and McClain's most this season in a game. McClain finished third on the Falcons on Sunday with six solo tackles. He also had a quarterback hurry when he came on a blitz and delivered a hard shot to the Eagles' Michael Vick to force an incomplete pass. McClain also recorded a pass defended. Smith said McClain's unusually high number of snaps was more a result of the fact that the Falcons wanted to use its nickel defense most often against the Eagles, but it's also true that if the Falcons have to make a decision as to their 11th player on the field between McClain and Dent, a linebacker who plays in the base defense, that they seemed to err on the side of McClain, who has played better. "It was a game-plan-thing and Robert's been playing good football for us," Smith said, "but first and foremost when we're going to determine what personnel groupings we put out, that's a game-plan decision. We wanted to match our sub (package) against certain personnel groupings. There was only two personnel groupings that we weren't going to play in our sub defense and I thought Robert did a nice job. He's been very solid for us at the nickel corner, the inside corner." General manager Thomas Dimitroff said he has been pleasantly surprised by the high ceiling that McClain, a more thickly built corner at 5-foot-9, 195 pounds, has shown. In Week 2 against Denver, starting left corner Asante Samuel had to come out of the game because of an injury and missed two plays. In one of those two plays, McClain came up with an interception when the Broncos' Peyton Manning went at him. "We all kind of had a feel about him, but I like when the lights are on, he's not fazed," Dimitroff said. "He's kind of a stockier, stout guy -- knock on wood -- that's durability. He's got ball skills we all know how incredibility important that is. He's got nice speed. He's going to be a good addition." The nickel spot is one in which the Falcons have struggled during Smith and Dimitroff's tenure with a revolving door of players and a weakness on the field that elite teams like New Orleans and Green Bay in their Super Bowl-winning seasons have picked on against the Falcons. "Time and again, we bring them in like that, especially at that position," Dimitroff said. "You get a lot of those corners who are forever going to be 4s and 5s (reserves) and often times you're thinking, Ok, they're solid 4s and 5s,' but normally those guys aren't going to be seeing your field regularly. Where once in a while, you get a guy who comes in and you're thinking about the back end of your roster and you realize the upside is potentially much more in the 3-to-2 area (nickel or starting corner). You never know." In one other defensive note, Smith said the coaching staff made an intentional decision to work defensive tackle Corey Peters back in slowly. Peters, who missed the first six games with a foot injury that also caused him to sit out the entire offseason, played only 20 snaps (32 percent of the plays). Smith said the Falcons had him on a "snap pitch count" of between 15 and 25 plays.
Original Story:
http://www.foxsportssouth.com/10/29/1...
THE BACKYARD
BEST OF MAXIM
RELATED ARTICLES
By: Rich Bergeron The Atlanta Falcons (7-0) are for real this season, rattling off seven straight wins to remain the only undefeated team left in the NFL going into November. The New England Patriots flirted with the chance to cap a perfect season with a Super Bowl win a few years ago and saw their hopes dashed in just seconds by Eli Manning's New York Giants offense. To avoid...
SILENT TREATMENT
The former Eagles CB claims his old coach ignored him following Sunday's game, but it was Samuel who got in the final jab during his postgame press conference.
Who are the 2012 Atlanta Falcons?  After watching seven games, the best I can come up with is: "awesomely undefeated." Drew Davis upsetting fantasy football teams everywhere. I have seen stifling and opportunistic defenses only a week before seeing the same players struggle to stop a nosebleed.  Or even an offense that has averaged over 28 points a game but...
The Falcons loomed as the only unbeaten team remaining in the NFL, but they entered Sunday's game at Philadelphia as an underdog. Perception lurked greater than reality: The Eagles as NFC heavyweight, having gained a berth to the conference championship game five times in head coach Andy Reid's first 13 seasons; the Falcons as pretender, having gone 0-3 in the playoffs in...
Matt Ryan threw touchdown passes on Atlanta's first three possessions against Philadelphia and new defensive coordinator Todd Bowles, and the Falcons remained the NFL's only unbeaten team with a 30-17 victory over the Eagles on Sunday. The Falcons improved to 7-0 for the first time in franchise history while the Eagles (3-4) lost after a bye for the first time in 14 games...
Matt Ryan's homecoming could not have gone much better. A product of Philadelphia's William Penn Charter School, "Matty Ice" led the Atlanta...
Asante Samuel Glowing Post Game Bitter sweet to say the least, Asante Samuel was driven out of town at the start of the season and was all smiles post-game after huge win in Philly. The Falcons gave up only a seventh-round draft pick to acquire the once dominant Eagles corner. In the video above, Samuel's throws gas on the soon-to-be Andy Reid firing, does he go to far?
Everyone must stand alone. For anyone who watched the Philadelphia Eagles' third straight loss on Sunday against the Atlanta Falcons,  it was clear that the game was lost overwhelmingly because of the pitiful showing by the team's defense. However, on Monday, the headlines surrounding the game were dominated by talk of benching quarterback Mike Vick. The Eagles' offense was...
PHILADELPHIA - The Atlanta Falcons had to work too hard and too long for some of their earlier victories, and they didn't want the same thing to happen again. So they scored early and often and rolled to a 30-17 victory over the Philadelphia Eagles on Sunday at rainy, windy Lincoln Financial Field to remain the NFL's only undefeated team. The Eagles had changed defensive...
You've got to give Moonbeam credit (begrudgingly)... He's said all along the 2012 Eagles were deficient on both the defensive and the offensive lines, and at the safety positions... and last Sunday, he was proven correct.  The Eagles (3-4) were beaten and worn down off the snap on both sides of the ball, albeit by a very good Falcons team that is for real at 7-0.....
NFL News

Delivered to your inbox

You'll also receive Yardbarker's daily Top 10, featuring the best sports stories from around the web. Customize your newsletter to get articles on your favorite sports and teams. And the best part? It's free!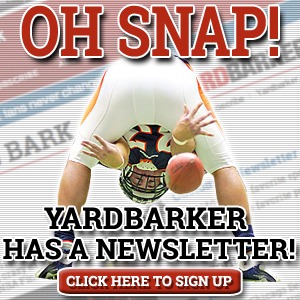 Latest Rumors
The Backyard

Today's Best Stuff

For Bloggers

Join the Yardbarker Network for more promotion, traffic, and money.

Company Info

Help

What is Yardbarker?

Yardbarker is the largest network of sports blogs and pro athlete blogs on the web. This site is the hub of the Yardbarker Network, where our editors and algorithms curate the best sports content from our network and beyond.