Found October 09, 2012 on Fox Sports:
PLAYERS:
Matt Cassel
,
Cedric Benson
,
Santonio Holmes
,
James Starks
,
Alex Green
,
Danny Amendola
,
Ryan Williams
,
Beanie Wells
,
LaRod Stephens-Howling
,
Alfonso Smith
,
Jimmy Graham
,
Greg Jennings
,
Matt Hasselbeck
,
Chris Johnson
,
Robert Griffin III
TEAMS:
Kansas City Chiefs
,
Green Bay Packers
,
New York Jets
,
St. Louis Rams
,
Arizona Cardinals
,
New Orleans Saints
,
Tennessee Titans
,
Washington Redskins
,
Louisville Cardinals
Robert Griffin III, Matt Cassel Two starting quarterbacks suffered head injuries in Week 5 and did not finish their team's games. RG3 was injured in third quarter of the team's loss to Atlanta after taking a hit near the sidelines. Cassel was hit in the fourth quarter in Kansas City's loss to Baltimore and has already been ruled out for Week 6. However, the Redskins hope Griffin will be available, pending completion of the NFL concussion protocol, and, unfortunately, the team is receiving scrutiny for how the Redskins began the league-mandated rules. When a player is a diagnosed with a concussion, they are immediately removed from the remainder of the game and that information must be reported in a timely fashion. Following Griffin's collision, the team reported their rookie quarterback was "shaken up" despite the concussion diagnosis. While the description is not as vague as the "above the shoulders" injury reported by the University of Arkansas in regard to their concussed players, the NFL is looking into whether Washington accurately followed the rules. Despite the mismanaged initiation of the protocol, Griffin can still play in Week 6 if he continues to progress and meet the remaining criteria for returning to play following a concussion. League rules state a player will not be allowed to return to action until he has displayed a normal neurological exam when compared to preseason baselines exams and been cleared by the team's medical staff as well as an independent neurological consultant. The player must be asymptomatic at rest and following exertional based activities. Early reports out of Washington suggest Griffin is well on his way to meeting each of these requirements and should be available for the team's upcoming game against the Vikings. However, Griffin's style of play makes him prone to further injury and the effects of concussions are cumulative, meaning another head injury would likely be more significant. Keep eye on Griffin's status throughout the week as he methodically clears the medical hurdles required to return to play. Cedric Benson The Packers will be without the services of Benson for at least eight weeks after further testing revealed he suffered a Lisfranc injury to his left foot. I detailed the Lisfranc injury when discussing Santonio Holmes in last week's column, but remember the Lisfranc ligament sits at the base of the second metatarsal and is the linchpin of the midfoot. A sprained Lisfranc ligament can be extremely limiting, and if there is a tear or any associated bone damage, surgery would be necessary. Benson will visit with several specialists before deciding his course of treatment but he's still slated to miss considerable time. While Benson will be missed, the Packers did fantasy owners a favor by identifying the issue and making it public. Last season, a Lisfranc sprain cost Oakland's Darren McFadden a majority of the season, yet the team would not give specifics, leaving fantasy owners to wonder about McFadden's status on a weekly basis. We know Benson will miss at least two months and that James Starks and the emerging Alex Green will fill the spot. Green seems like the safer option since Starks has missed five straight games with a painful toe injury. Danny Amendola After a dislocated elbow and torn triceps injury prematurely ended his 2011 season, the Rams receiver will once again miss significant time after suffering another unusual injury. Amendola dislocated his collarbone in St. Louis' Thursday night win over Arizona. We frequently discuss the acromioclavicular (AC) joint when discussing the collarbone, but Amendola's injury was on the opposite end of the bone at the junction where the collarbone meets the sternum. The joint here is referred to as the sternoclavicular (SC) articulation and, with the help of a small cartilage disk, allows the clavicle to move in multiple planes. However, SC joint injuries can be extremely problematic. The trachea and several major blood vessels are located directly behind the clavicle and can be compromised if the collarbone dislocates backward or posteriorly. Amendola did in fact suffer a posterior dislocation, but the St. Louis medical staff acted swiftly, sedating the receiver and relocating the joint. He is expected to miss between four and eight weeks, but I would bet on it being closer to eight than four. For the collarbone to dislocate posteriorly, major ligament damage must occur. He will need time for these ligaments to heal to have full range and pain free motion at the shoulder. Ryan Williams Amendola's injury was extremely rare but so too was the injury suffered by the Cardinals' running back in the same game. Williams suffered a fracture coracoid process and will miss the remainder of the season following surgery to repair the break. The coracoid is a tiny hook-like process that is part of the scapula and serves as a major attachment site for ligaments and muscles. Several of these ligaments attach to the acromion and the clavicle, stabilizing the shoulder and protecting the neighboring neurovascular structures. It is easy to see why a broken coracoid must be immediately addressed and Williams will spend the next several months rehabbing the area. With Beanie Wells out until late November recovering from turf toe, LaRod Stephens-Howling, Williams Powell and Alfonso Smith will split carries at running back. Smith seems like the most likely to get a bulk of the carries with Stephens-Howling (hip flexor) and Powell (concussion) with injury concerns of their own. TURF BURNS Jimmy Graham: Graham suffered an ankle injury in New Orleans' first win of the season and was limited to one catch. He left the stadium in a walking boot but could avoid missing time as the Saints are conveniently on a bye week during Week 6. Greg Jennings: Jennings remains shelved with a groin strain. The team said it would be more cautious after he aggravated the injury. Since the first injury cost him one week, I'd anticipate him missing at least one more week to insure the area nears 100 percent. Jake Locker: The Titan have already committed to Matt Hasselbeck for Week 6 as Locker's injured shoulder continues to heal. Hakeem Nicks: The foot and knee injuries suffered by the receiver continue to be an issue and his availability for Week 6 remains bleak. With a stingy San Francisco defense on tap, it would be wise to look elsewhere. Javon Ringer: Ringer won't be able to take advantage of a struggling Chris Johnson as he will miss the next four to six weeks recovering from a medial collateral ligament (MCL) sprain in his left knee. Jamie Harper will move up the Tennessee depth chart. Jeff Stotts is a Certified Athletic Trainer, MAT, PES and the Injury Analyst for RotoWire. Follow @RotoWireATC on Twitter. Get a FREE RotoWire 10-day trial (no credit card required) at RotoWire.com .
Original Story:
http://msn.foxsports.com/fantasy/foot...
THE BACKYARD
BEST OF MAXIM
RELATED ARTICLES
Washington Redskins quarterback Robert Griffin III left Sunday's game against the Atlanta Falcons in the third quarter after being hit in the helmet on a sack. The Redskins announced that Griffin was ''shaken up'' and said his return to the game was ''questionable.'' The Heisman Trophy winner and No. 2 overall pick in this year's draft was...
Kansas City Chiefs quarterback Matt Cassel left Sunday's game in the fourth quarter with an undisclosed injury. Cassel, who has been under fire in Kansas City because of turnovers and inconsistent play, earlier fumbled away the ball at the Baltimore Ravens' 1-yard line and left the game with the Chiefs trailing 9-3 amidst boos and chants of "Brady, Brady." With...
Kansas City Chiefs quarterback Matt Cassel will have to pass all the tests in the NFL's protocol for concussions before he'll be allowed back on the field, leaving his prognosis for this week very much up in the air.. Cassel suffered a concussion in the fourth quarter of Sunday's game against the Baltimore Ravens. If he is unable to go this week, Brady Quinn would get...
According to Mike Florio of ProFootballTalk.com, Kansas City Chiefs quarterback Matt Cassel suffered a concussion during today's loss to the Ravens. Cassel will now have to pass a bunch of tests before he'll be allowed to practice this week.  
Coach Mike Shanahan says Robert Griffin III (concussion) is "feeling good," and experiencing no headaches or dizziness.According to Shanahan, Griffin will go through "exertion testing" on Tuesday, and will return to practice on Wednesday if he passes. Although no concussion can be responsibly considered "minor," it appears Griffin has escaped with relatively few symptoms...
Redskins quarterback Robert Griffin III was practicing Wednesday after suffering a mild concussion Sunday and is expected to start against the Vikings.
A teammate says Robert Griffin III ''seems to be doing well'' a day after suffering a concussion in the Washington Redskins' loss to the Atlanta Falcons. Backup quarterback Kirk Cousins said he and Griffin attended a mandatory meeting for rookies Monday morning. Cousins said Griffin looked fine and was ''in good spirits.'' Griffin was knocked...
Washington Redskins QB Robert Griffin III had to be taken to the locker room after the below massive hit by Sean Weatherspoon which you can see HERE. As soon as he went into the locker room you could just feel the wind go out of the sails of Redskins' nation. However, just minutes later in the game Kirk Cousins who came in to play QB threw a 77-yard TD pass to Santana Moss to...
SHOW SOME CLASS
Chiefs offensive lineman Eric Winston was furious that the fans cheered Matt Cassel's injury against the Ravens. See what he had to say about it here.
LANDOVER, Md. (AP) -- Michael Turner ran 13 yards for the go-ahead score with 2:46 to play, and the Atlanta Falcons knocked Robert Griffin III out of the game Sunday in a 24-17 win over the Washington Redskins. The Falcons are 5-0 for the first time in franchise history. Matt Ryan completed 34 of 52 passes for 345 yards as Atlanta handed Washington its eighth consecutive home loss...
When the Tampa Bay Buccaneers take the field on Sunday against the Kansas City Chiefs, they may be facing a former first-round quarterback that has started a game in nearly three years. After suffering a concussion against the Baltimore Ravens on Sunday, quarterback Matt Cassel is unlikely to play against the Bucs. "Some individuals recover faster than others," Chiefs...
NFL News

Delivered to your inbox

You'll also receive Yardbarker's daily Top 10, featuring the best sports stories from around the web. Customize your newsletter to get articles on your favorite sports and teams. And the best part? It's free!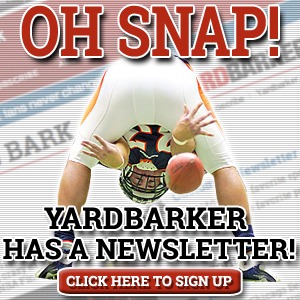 Latest Rumors
The Backyard

Today's Best Stuff

For Bloggers

Join the Yardbarker Network for more promotion, traffic, and money.

Company Info

Help

What is Yardbarker?

Yardbarker is the largest network of sports blogs and pro athlete blogs on the web. This site is the hub of the Yardbarker Network, where our editors and algorithms curate the best sports content from our network and beyond.