Found October 13, 2012 on 60 Max Power O:
Typically these previews consist of two parts, the first detailing how the Falcons upcoming opponent could beat them, and the second consisting of what the Falcons can do to counter that. But this week, I just couldn't really find enough material to write up how the Oakland Raiders could beat the Falcons this week.
Not to say it's not possible, but it really is just a repeat of what I've said the past two weeks with the potential gameplans of the Carolina Panthers and Washington Redskins. The Raiders will rely on a ground attack to keep the explosive Falcons offense sidelined, and try to generate some big plays offensively, as well as create turnovers on defense and try to get a boost on special teams. Not exactly a ground-breaking formula, as it's going to become the norm for most teams that play the Falcons this year.
But as the Panthers, Redskins, and Raiders all try to adopt the same gameplan/formula for beating the Falcons, unfortunately for the Raiders they are the weakest team of the three. And thus, it will be hardest for them to execute such a plan. See, in the cases of both Carolina and Washington, they had a couple of playmakers on either side of the ball that if things went their way they could really challenge the Falcons. And to a certain extent, things did go both teams' ways, which is why the Falcons had to come from behind in both games to pull out the victory.
But I don't expect the Raiders to get such luck. While Darren McFadden presents a challenge to the Falcons defense, I don't think he presents as much as DeAngelo Williams, Jonathan Stewart, and Alfred Morris did. The Raiders run a zone-blocking scheme similar to what the Redskins have, but they are not quite as good upfront, and McFadden has not quite gotten the hang of the Greg Knapp offense. Outside a 64-yard run against the Steelers in Week 3, McFadden is averaging 2.4 yards on his other 57 carries. That run, and another are the only gains he's had of the year longer than 10 yards. Morris has been one of the better runners after contact in the league this year, while McFadden is more of a finesse, speed guy. I don't expect Falcons defenders to have as much trouble getting him down as they did against Morris.
The Raiders are hoping that their run game comes alive this weekend against Atlanta. McFadden and Mike Goodson are explosive runners, and the Raiders will need each to break a few long runs against the Falcons if they want to be able to keep pace with the Falcons offense. Because frankly, the Raiders secondary is atrocious. Mike Huff will once again be playing out of position at corner where he will likely be lined up against Roddy White for most of the day. On the other side of the field, Pat Lee will lock horns with Julio Jones. Joselio Hanson in the slot will face Harry Douglas, and the Raiders will hope that a combo of Matt Giordano, Rolando McClain, Philip Wheeler, and Tyvon Branch can handle Tony Gonzalez. It's just a matchup nightmare for what is collectively one of the league's weakest secondaries. I suspect multiple Falcons receivers will have big games.
The Falcons front won't be facing a player like Charles Johnson or Ryan Kerrigan this week. The Raiders have struggled to find a pass rush this season. Matt Shaughnessy is not a bad player, but I wouldn't really say he's dramatically better player than Kroy Biermann. He's not a guy that can take over a game. Tommy Kelly and Richard Seymour are showing their age this year, and neither are 100% this week. Barring someone like Lamarr Houston or Desmond Bryant just suddenly coming alive and going off, Matt Ryan should have plenty of time to find his likely to be open receivers.
The Falcons are a bit nicked up on defense themselves with starters Jonathan Babineaux (groin), Stephen Nicholas (ankle), and William Moore (hip) not completely healthy. But Vance Walker is a capable run defender, arguably the best in the unit, so even if Babs isn't 100% the Falcons shouldn't be getting pushed around by the likes of Cooper Carlisle and Mike Brisiel inside. Akeem Dent is coming off a bad game against Washington, but hopefully he'll recommit himself and get better this week if he's called upon for a larger role with Nicholas beat up.
Besides Goodson and McFadden, Denarius Moore is the only explosive threat the Raiders sport. Darrius Heyward-Bey is coming off a concussion and will see his first action since Week 3. Dunta Robinson is playing some of his best football, and Asante Samuel is still Asante Samuel. I don't see the Falcons secondary having issues containing the Raiders passing attack. Against Carolina and Washington, the Falcons defenders had to worry about the legs of both Cam Newton and Robert Griffin. That won't be the case with Carson Palmer. Palmer is a passer that likes to take shots downfield. It can be feast or famine with the Raiders offense, and I'm expecting that it will be beneficial to the Falcons defense to create several turnovers on Sunday. They haven't had the success there in recent weeks like they did early in the season, and this is the perfect opportunity to get back on track.
John Abraham should help contribute there. I'm sure the Predator is licking his chops to face rookie right tackle Willie Smith on Sunday. This could be a big game for Abraham, as well as other Falcons pass rushers to pad their stat totals.
What it boils down basically is the fact that the Raiders will have to be nearly perfect, and get a lot of help from the Falcons. The Falcons haven't played their best football the past two weeks, but in the case of Carolina and Washington they were two teams good enough to make that possible. I just don't see the same thing happening with Oakland coming to Atlanta. Unless Dennis Allen and his cronies have really cooked up something during their bye week, you're likely to see an outcome of this game reminiscent of the Falcons beatdowns of AFC West teams like Kansas City and San Diego.
But in the end, this is why they play the games and things often don't go according to plan. Things did go according to plan for the Steelers in Week 3, as they had several uncharacteristic mistakes (4 fumbles, 2 lost), and gave up a couple of big plays: the 64-yard touchdown run by McFadden, and a 51-yard kickoff return by Goodson that set up another touchdown. The Raiders generated 10 points off the Steleers turnovers. If the Falcons have a similarly sloppy game with some uncharacteristic mistakes, they could be in another nail-biter much like they have been the past two weeks. And if it's close late, then it really becomes anybody's game.
But if I was a betting man, I don't see that happening. I expect the Falcons to commit to stopping the run, stacking the box against McFadden, and I don't see the Raiders front creating any bigger running lanes than they have thus far this year. Offensively, the Falcons should attack the porous Raiders secondary, and should find success generating some big passing plays early. The Falcons should be able to build a substantial lead early in the game, take McFadden and the running game completely out of it. And then start to work the ground game to shorten the game, where Turner should be able to tally up some yardage in the second half of the game. With the Raiders resolved to throwing the ball to try and get back into the game, I expect Abraham & Co. to create pressure and force multiple turnovers in this game.
Be sure to check out other great articles at FalcFans.com.
Original Story:
http://www.60maxpowero.com/patriots/c...
THE BACKYARD
BEST OF MAXIM
RELATED ARTICLES
The Atlanta Falcons are off to a 6-0 start in 2012.  After squeezing out another last second win against the Oakland Raiders the Falcons will head into their bye week with the best record in the NFL.  Contrary to my preseason prediction that Atlanta wouldn't even make the playoffs, the Falcons appear to be a team on a mission; possibly a team of destiny.Matt Ryan has had tremendous...
Today, the Falcons announced their injury report for this weekend's home game against the Oakland Raiders. Tight end Michael Palmer (shoulder) and running back Antone Smith (hamstring) were both declared out for the game, as neither player practiced this week. Palmer will miss his third consecutive game after suffering his shoulder injury in the first quarter of the team's Week...
Five games into his 16th NFL season, Atlanta Falcons tight end Tony Gonzalez feels reborn on the football field. It's not so much that Gonzalez leads the league with 39 catches. When the year began, Gonzalez was already the NFL's No. 2-career leading receiver. What's making this season special for Gonzalez is the versatility of Atlanta's offense. With quarterback...
Atlanta Falcons defensive tackle Corey Peters, who appeared pretty spry while jumping rope with children at a community function Tuesday, hopes that he can return quickly as his six-week stint on the reserve/non-football injury list is about to end. Peters suffered a stress fracture while working out before the Falcons' offseason training program started. "It was a little...
HEAD GAMES
Sometimes you need a little bit of luck in the National Football League and it appears that Atlanta Falcons wide receiver Harry Douglas has that luck. Watch as Douglas catches this Matt Ryan pass that deflects off the helmet of Oakland Raiders Joselio Hanson's helmet: (Courtesy of Cosby Sweaters)
Atlanta running back Michael Turner had a tough game Sunday against the Raiders. He finished with 33 yards on 11 carries.Fantasy Spin:Turner failed to score a touchdown on Sunday, the first time he's gone without a score since Week 1. Turner and the Falcons will be on bye next week before returning to action in Week 8 at Philadelphia.
Matt Bryant kicked his second game-winning field goal in three weeks, a 55-yarder with 1 second remaining, and the Atlanta Falcons remained unbeaten with a sloppy 23-20 victory over the Oakland Raiders on Sunday. Overcoming Matt Ryan's three interceptions, the Falcons (6-0) extended the best start in franchise history. But it wasn't easy against the pesky Raiders (1-4)....
ATLANTA Tony Gonzalez has been in Willie Smith's shoes, and he's glad those days are over. No more watching game film to figure out how to slow down the NFL's active sack leader. No more John Abraham-induced nightmares off the edge. After all, Abraham, one of the league's premier sack specialists, is now Gonzalez's teammate on the undefeated Falcons. &quot...
ATLANTA (AP) -- Matt Bryant kicked his second game-winning field goal in three weeks, a 55-yarder with 1 second remaining, and the Atlanta Falcons remained unbeaten with a sloppy 23-20 victory over the Oakland Raiders on Sunday. Overcoming Matt Ryan's three interceptions, the Falcons (6-0) extended the best start in franchise history. But it wasn't easy against the pesky...
Your 2012 Atlanta Falcons have perfected something my Fantasy Football team has never done before: winning while playing poorly.  The Falcons needed a fumble recovery brought back to the two yard line, a defensive touchdown and three sacks by John Abraham to overcome an ineffective offense and arm-tackling defense in the 23-20 win over the Raiders. Ray Edwards finally making...
Coming in to Sunday's match up between the 5-0 Atlanta Falcons and the 1-3 Oakland Raiders, most people analyzing the game across the country figured it might be a lopsided affair with the Falcons easily getting past the Raiders.Oakland played well, well enough to give themselves a chance on the road at the Georgia Dome in Atlanta, but in the end; could not muster enough pressure...
ATLANTA – Matt Bryant's 55-yard field goal with one second to play capped another dramatic comeback in the Georgia Dome and kept the Falcons unbeaten heading into their bye week with a 23-20 victory over the Oakland Raiders. Falcons quarterback Matt Ryan, who was picked off three times in the first half, authored another game-winning drive, just two weeks after doing the...
Falcons News

Delivered to your inbox

You'll also receive Yardbarker's daily Top 10, featuring the best sports stories from around the web. Customize your newsletter to get articles on your favorite sports and teams. And the best part? It's free!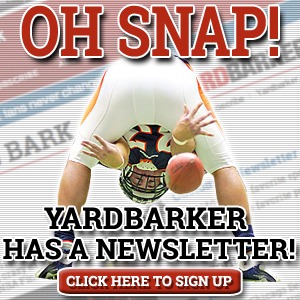 Latest Rumors
Best of Yardbarker

Today's Best Stuff

For Bloggers

Join the Yardbarker Network for more promotion, traffic, and money.

Company Info

Help

What is Yardbarker?

Yardbarker is the largest network of sports blogs and pro athlete blogs on the web. This site is the hub of the Yardbarker Network, where our editors and algorithms curate the best sports content from our network and beyond.