Found October 24, 2012 on isportsweb.com:
With both my fantasy matchup and my reputation on the line, I nervously watched the closing minutes of the Giants-Redskins game. I picked wideout Victor Cruz to be the NFL's number one fantasy WR last week, and inside the two-minute warning, Cruz had only six grabs for 54 yards.  Thankfully, Eli Manning found that extra gear he has for those situations, and he found Victor for a 77-yard touchdown strike that had me standing up doing the salsa in a crowded restaurant. Whether it's on the first play or the last, fantasy points are fantasy points, and I'll take every last one.  I'm sure countless matchups were won on Matthew Stafford's all-but-garbage-time touchdown to Ryan Broyles on Monday night. Even more were lost when Calvin Johnson mustered only 34 yards receiving in the same game. It's now past midseason for those of us who play a 13-week regular season.  Anything can still happen, and a late playoff run isn't out of the question- don't give up yet. Don't forget to follow me on twitter @ScottPeceny and send me a fantasy football tweet for a chance to get in next week's column. Quarterback 1. Aaron Rodgers, Green Bay Packers Rodgers is the best fantasy quarterback in the league, and maybe the best quarterback in the league period.  Facing a below-average Jacksonville pass defense, Rodgers has himself a day. 2. Drew Brees, New Orleans Saints Brees has officially found his game folks.  He threw for 313 yards and four TDs in the first half last week, and while I don't expect him to quite duplicate that this week against a pretty good Denver defense, he's a top choice every single week. 3. Ben Roethlisberger, Pittsburgh Steelers Playing a Washington defense that is fourth-worst against opposing fantasy quarterbacks, I like Big Ben to post big numbers. 4. Peyton Manning, Denver Broncos Peyton is great, the New Orleans secondary isn't.  It's simple math really. 5. Robert Griffin III, Washington Redskins RGIII is just a beast.  Even facing a solid Steeler defense, I expect Griffin to perform on an elite level as he has done all season. 6. Tom Brady, New England Patriots St. Louis has a good secondary, but that didn't stop Aaron Rodgers from hanging 342 yards and three TDs on them last week.  Brady may not be that good, but he'll be good. 7. Andrew Luck, Indianapolis Colts The Colts have been playing better football lately, in large part because of their rookie QB.  Against a terrible Tennessee defense, start Luck with confidence. 8. Philip Rivers, San Diego Chargers I know Rivers has given the ball away with great effectiveness this year, but Cleveland is really bad. 9. Michael Vick, Philadelphia Eagles In his last game, against Detroit, Vick seemed to break out of the funk that had been plaguing him this season, throwing for more than 300 yards and two TDs.  He's not the elite status he once was, but I believe he is startable week-to-week. 10. Sam Bradford, St. Louis Rams Bradford has been inconsistent this year, but he has performed well against the bad defenses he has faced.  He faces another one of those in New England this week. Running Back 1. Adrian Peterson, Minnesota Vikings With Arian Foster on a bye, Peterson takes over the role as king back in the NFL.  Even against a decent Tampa Bay run defense, AP should have no problem going for 100 yards and a touch. 2. Matt Forte, Chicago Bears Forte hasn't scored since week one, and although he has put together good yardage totals, his lack of TDs has hampered his success.  Against the lowly Panthers, I expect a coming out party. 3. Darren McFadden, Oakland Raiders Facing a weak Kansas City run defense, if head coach Dennis Allen had a brain, he'd feed DMC the rock all day long.  But McFadden still has to do something with it, which he hasn't done yet this year.  This is a make-or-break game for DMC; I think he makes it. 4. Lesean McCoy, Philadelphia Eagles Like Michael Vick, McCoy has struggled at times this season.  In crucial games like the one the Eagles play against Atlanta this week, stars show up to play.  McCoy is that star. 5. Jamaal Charles, Kansas City Chiefs Charles has rushed for 233 yards in a game this season, and 3 yards in a game this season.  It has undoubtedly been a roller coaster so far for Charles, but he gets plenty of touches in both the running and passing game, so against Oakland, he's a good bet. 6. Ahmad Bradshaw, New York Giants Bradshaw now has touchdowns in each of his last three weeks.  Ride the streak. 7. Frank Gore, San Francisco 49ers Gore tore up a stout Seattle run defense last week, and has a better matchup this week against Arizona. 8. Chris Johnson, Tennessee Titans Johnson went berserk last week, racking up over 200 total yards and two scores.  While he likely won't do it again this week, he has produced in three of his last four now and Indy isn't exactly the Steel Curtain. 9. Ryan Mathews, San Diego Chargers Mathews owners have been waiting for him to break out in 2012 to no avail.  Against a Cleveland team that the Chargers should throttle, expect lots of touches and lots of yards for Mathews. 10. Stevan Ridley, New England Patriots Ridley let me down last week when I ranked him in the top five, so naturally, he owes me.  Against a middling St. Louis defense, he'll rebound. 11. Alfred Morris, Washington Redskins 12. Darren Sproles, New Orleans Saints 13. Willis McGahee, Denver Broncos 14. Reggie Bush, Miami Dolphins 15. Alex Green, Green Bay Packers 16. Michael Turner, Atlanta Falcons 17. Marshawn Lynch, Seattle Seahawks 18. Trent Richardson, Cleveland Browns 19. Felix Jones, Dallas Cowboys 20. Doug Martin, Tampa Bay Buccaneers Wide Receiver Again, keep in mind all these rankings are based upon half-PPR leagues. 1. Vincent Jackson, Tampa Bay Buccaneers This was a tough decision.  With so many guys playing on an elite level, I chose V Jax as the big dog this week because he's been scorching hot and his quarterback has consistently fed him the ball.  Don't expect another 216 yard game, but he should find the end zone for a fourth straight week. 2. Brandon Marshall, Chicago Bears Another guy who is simply on a tear, Marshall has averaged a TD and more than 100 yards in his last three.  I don't see anything changing against Carolina. 3. Victor Cruz, New York Giants Eli Manning and Victor Cruz are feeling it right now; expect more salsa this Sunday in Dallas.  My only concern here is that Dallas contained Cruz in their first meeting. 4. Reggie Wayne, Indianapolis Colts I mentioned his quarterback already, and Wayne should reap the benefits of a good matchup just like his QB will. 5. Julio Jones, Atlanta Falcons Jones has been stellar on the road this year, and with Roddy White opposite him, Philly can't afford to give Jones the Asomugha treatment. 6. Marques Colston, New Orleans Saints At this point, no matchup scares me with Colston.  Even facing Champ Bailey, he's a must-start. 7. Calvin Johnson, Detroit Lions Megatron has been disappointing so far in 2012.  With his talent, I can't see it happening for much longer. 8. Percy Harvin, Minnesota Vikings Against a rough Tampa secondary, I'd have Harvin much higher if it weren't for his struggling QB. 9. Demaryius Thomas, Denver Broncos Thomas and his QB Peyton Manning have had a good rapport thus far in 2012.  Coming off their bye week, expect them to be even more in-sync. 10. Antonio Brown, Pittsburgh Steelers See Roethlisberger, Ben. 11. Wes Welker, New England Patriots 12. Roddy White, Atlanta Falcons 13. Mike Wallace, Pittsburgh Steelers 14. Dwayne Bowe, Kansas City Chiefs 15. Jordy Nelson, Green Bay Packers 16. Larry Fitzgerald, Arizona Cardinals 17. Dez Bryant, Dallas Cowboys 18. Eric Decker, Denver Broncos 19. James Jones, Green Bay Packers 20. Brandon Gibson, St Louis Rams 21. Kenny Britt, Tennessee Titans 22. Jeremy Maclin, Philadelphia Eagles 23. Malcolm Floyd, San Diego Chargers 24. Hakeem Nicks, New York Giants 25. Josh Gordon, Cleveland Browns Tight End 1. Tony Gonzalez, Atlanta Falcons He's been the premier TE in the league this year.  I don't expect anything to change after the veteran got a week of rest on the bye. 2. Rob Gronkowski, New England Patriots He scored twice last week, proving he's one of the best red zone threats in the NFL. 3. Heath Miller, Pittsburgh Steelers Miller has been Roethlisberger's favorite red zone target this year, and has scored four TDs.  Did I mention the Steelers play the Redskins??? 4. Jason Witten, Dallas Cowboys Even though Witten only tallied 44 yards last week, he still notched six catches.  Romo keeps throwing his way, and Witten tends to show up for big divisional games like this one against the Giants. 5. Jacob Tamme, Denver Broncos Like Demaryius Thomas, Tamme will benefit from his QB's elite play as well as this matchup against New Orleans. 6. Antonio Gates, San Diego Chargers Is he back?  Gates caught two TDs last week, but had done nothing up until that point.  I have to believe he will start producing. 7. Vernon Davis, San Francisco 49ers It will take another goose-egg from Vernon for me to start doubting him.  With his athleticism, he's still almost a must-start in my mind. 8. Aaron Hernandez, New England Patriots He's done fine since returning from his injury, and although Gronk got the TDs last week, it's only a matter of time before Hernandez gets a score of his own. 9. Kyle Rudolph, Minnesota Vikings Rudolph's zero-catch performance last week worries me, but with how many touchdowns he has caught this season, he still belongs in the top 10, and in your lineup. 10. Dustin Keller, New York Jets Keller appears to be healthy, and his 7/93/1 line last week shows his potential.  If his quarterback can get him the ball, he'll produce, but that's a big 'if'.   Follow me on twitter @ScottPeceny    
Original Story:
http://feedproxy.google.com/~r/isport...
THE BACKYARD
BEST OF MAXIM
RELATED ARTICLES
NO CLASS
The reigning NFL MVP says a college professor laughing at his chances of making it to the NFL put a chip on his shoulder that helped him become who he is today.
Green Bay Packers fans can thank one of Aaron Rodgers' college professors at Cal for helping to provide them with arguably the best quarterback in the NFL. The job of a college professor is to educate and prepare their students for the future, not try to discourage them from fulfilling their lifelong goals. On his weekly radio appearance with ESPN Milwaukee on Tuesday (via SportsRapport...
GREEN BAY, Wis. -- Aaron Rodgers is back to playing like an MVP. After a slow start this season, Rodgers has thrown nine touchdown passes and no interceptions in the past two games to lead the Packers to consecutive wins for the first time this year.In his weekly meeting with the media, Rodgers talked about injuries, the struggling running game and how this season is starting to...
The Good, The Bad, and The Ugly Packers 30 @ St. Louis 20   10/21/2012   By Eric Judd   @ericjuddTSHQ   The Good Aaron Rodgers, MVP #2? THUMBS UP!   Aaron Rodgers. Can we all agree that Aaron Rodgers is, head and shoulders, better than any other Quarterback in the NFL? When he is on his game, he is unstoppable. Completely. No matter the opponent, Rodgers will beat them. One...
Lethal weapons produce the most impact.  Some of the impact is noticeable.  Other times the impact is subtle but just as forceful. While the most lethal weapons in the NFL need a little help from their friends, they are pretty darn great all by themselves.  Whether they sling the ball, run the ball, kick the ball or strip the ball, all the action is hardly every met by an opposite...
NFL MVP Aaron Rodgers and National League MVP Ryan Braun own a restaurant together in Brookfield, Wis., and now the Packers and Brewers stars are teaming up for something more significant in their community. Brookfield, a western suburb of Milwaukee, is the site of the Azana Salon & Spa, where three employees were killed and four other women were wounded Sunday by a gunman who...
Last week: 14 (+1) Record: 4-3 The Packers have looked awfully impressive over the past 2 weeks and Aaron Rodgers is playing out of his mind, but they're still the favorite to be this year's team that goes from a 1st round bye to out of the playoffs, though New England and Baltimore made strong [...]
Quarterback: Aaron Rodgers, Green Bay PackersThe Packers welcome the Jacksonville Jaguars to Lambeau Field on Sunday. Currently, Jacksonville is ranked 24th against the pass and worth mentioning, 28th against the run, but no one can run the ball in Green Bay.  Aaron Rodgers will carve them up like a pumpkin this Sunday. Rodgers has tossed 16 touchdowns in only four games and I don't...
It was another exciting week in the NFC North as the Packers, Vikings, and Bears all earned victories while the Lions fell to the cellar. Aaron Rodgers and the Green Bay Packers passing game is back, but the rushing attack is goneThe Packers defeated the St. Louis Rams 30-20 on Sunday with Rodgers completing 30 of 37 passes for 342 yards and three passing touchdowns, but the Packers...
  Miami has been playing to empty football stadiums all season and the apathy from the Hurricane fans is well documented. Remember the mid-September game against Bethune-Cookman? Embarrassing. However, you'll still get the bandwagon group to show up for the Florida State game. And they'll bring the beer bong boob-equin. And they'll get drunk. And they'll pee with Florida...
Where to Put 'em is the Fantasy Football Nerd's look at the best and worst matchups for Week 8 of the 2012 NFL season. Decisions are based upon the FFN rankings and matchup analysis. Given the known conditions, these matchups are the ones to watch and/or avoid. This list does not generally include the elite players that you are going to start regardless of matchup. You...
Packers News

Delivered to your inbox

You'll also receive Yardbarker's daily Top 10, featuring the best sports stories from around the web. Customize your newsletter to get articles on your favorite sports and teams. And the best part? It's free!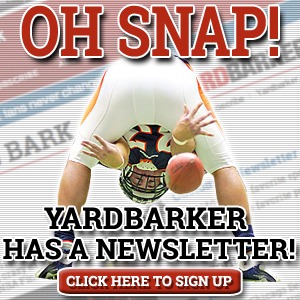 Latest Rumors
The Backyard

Today's Best Stuff

For Bloggers

Join the Yardbarker Network for more promotion, traffic, and money.

Company Info

Help

What is Yardbarker?

Yardbarker is the largest network of sports blogs and pro athlete blogs on the web. This site is the hub of the Yardbarker Network, where our editors and algorithms curate the best sports content from our network and beyond.