Found October 24, 2012 on RotoAsk:
PLAYERS:
Sam Bradford
,
Danny Amendola
,
Tom Brady
,
Willis McGahee
,
Reggie Bush
,
Vick Ballard
,
Donald Brown
,
Darrius Heyward-Bey
,
Brandon Stokley
,
Jason Witten
,
Dustin Keller
,
Matthew Stafford
,
Jay Cutler
,
Mark Sanchez
,
Shonn Greene
,
Mikel Leshoure
,
Doug Martin
,
Kenny Britt
,
Chris Johnson
,
Jamie Harper
TEAMS:
St. Louis Rams
,
New England Patriots
,
San Diego Chargers
,
Denver Broncos
,
Miami Dolphins
,
Indianapolis Colts
,
Oakland Raiders
,
Dallas Cowboys
,
New York Jets
,
Detroit Lions
,
Chicago Bears
,
Tennessee Titans
,
Boise State Broncos
Week 8 Sit 'Em & Start 'Em for the 2012-2013 Fantasy Football season by Koopafantasy. Have questions? Find me on Twitter: @Blackie_Mike Start 'em: (STL) Sam Bradford vs. (NE) – There are only four teams on bye this week, and even fewer of them have good quarterbacks, but if you find yourself needing a QB to plug in this week hoping for some big numbers, Bradford might be the guy. He is not a consistent starter, and tends to struggle without Danny Amendola, but has the chance for a 18+ fantasy point game trying to chase Tom Brady. I am hoping for 275 yards and 2 TDs, possibly more. Weedon has impressed me so far this season, and has a chance to throw his first three touchdown game at home against the Chargers. (CLE) Brandon Weedon vs. (SD) – Weedon might be an even better start than Sam Bradford in week eight. The Chargers haven't been as bad against the pass this year as the Patriots, but he has played better, looking better with each week it seems. HE has thrown for 300+ yards twice, and 250+ on another two occasions. Against the Chargers, Weedon should have a chance to hit somewhere between that range, while throwing 2-3 touchdowns. Trent Richardson might not be playing, which might also force him to throw a bit more. (DEN) Willis McGahee vs. (NO) – The Broncos and Saints games has the makings of a high scoring game, and I'm counting on it being one. Brees and Manning are of course must starts, but I also think McGahee will be able to eat up yards all game long between passing plays. He is a big strong runner who should be able to break through the struggling New Orleans defense. Reggie Bush is going into a great matchup against the division rival Jets. He is also fresh, coming off a bye week. (MIA) Reggie Bush vs. (NYJ) – Bush had a rough game before the Dolphins bye week, rushing for only 39 yards against the Rams. But here we are two weeks later, and the Dolphins are playing against the division rival Jets, one of the worst rush defenses in the league. I am looking for Reggie to have at least 100 yards all purpose, if not on the ground alone. (IND) Vick Ballard vs. (TEN) – Ballard was big disappointment in week six, was okay in week seven, and will be even better in week eight, or so I think. The Titans rush defense has been gashed all year, most recently by C.J. Spiller and Fred Jackson; in week eight, with Donald Brown likely still sidelined, Ballard just might have his score his first touchdown of the season. (OAK) Darrius Heyward-Bey vs. (KC) – I haven't had the best luck in choosing Raiders so far this season, but I'm trying again here with Heyward-Bey against the Chiefs. The Chiefs have not given up tons of yards to opponents but they have given up 13 passing TDs, so Darrius definitely has a chance of cashing in. Stokley already has three (3) TDs in 2012, and has a great chance for another one against the Saints. (DEN) Brandon Stokley vs. (NO) – As mentioned before, in what should be a high scoring game against the Saints, look for Bronco players to have some valuable games, players such as Brandon Stokely who has three touchdowns already this year. (DAL) Jason Witten vs. (NYG) – Witten, dealing with the Spleen to start the year, and routinely finding himself as a blocker, has only had one big game to speak of, but that could change this coming weekend against the rival Giants. The Cowboys played the Giants in week one when Witten would have been in his worst condition of the season, so he should be able to have a much better game against them this time around. (NYJ) Dustin Keller vs. (MIA) – Keller came back in a big way in week seven with seven catches for 93 yards a touchdown. Keller has always been a favorite target of Sanchez's, and gets a good matchup in week eight against the Miami Dolphins secondary. If you are looking for a tight end this week, and someone who might be useful the rest of the season, Keller is the guy.   Sit 'em: Stafford could struggle again this weekend, trying to avoid the another swarming defence from Seattle. (DET) Matthew Stafford vs. (SEA) – Man has Stafford even been a disappointment this year, I really thought he and Calvin would be money in the bank in 2012, but that has not been the case. While there is still time to turn things around, that just might have to wait a week, as the Lions get the Seahawks this weekend. The Lions are at home, and are really in need of a win, but I just don't see Stafford throwing for more than 2 TDs, and am really unsure of what kind of yardage total he might put up. (CHI) Jay Cutler vs. (CAR) – Unless this game turns into a shootout, which a seriously doubt, I think the more likely situation is that Matt Forte and Michael Bush will have great games while Jay Cutler throws for about 200 yards and a touchdown. I would rather be starting Weedon or Bradford; I might even consider Mark Sanchez vs. Miami. Greene has a terrible history against the Dolphins, who are employing one of the best rush defenses in the league. (NYJ) Shonn Greene vs. (MIA) – I had to do this one; I am a Miami Dolphins fan, they have a great run defense, and I think Shonn Greene sucks. (DET) Mikel Leshoure vs. (SEA) – Like his QB Stafford, Mikel Leshoure is going to have a tough matchup against the Seahawks this coming weekend, he is going to have a very hard time trying to improve upon his 8-point effort from last week. (TB) Doug Martin vs. (MIN) – Martin is coming off a solid week against the Saints, but is going to have a much harder time against the Vikings on Thursday Night Football on the road. Minnesota has been surprisingly good this year and if playing with a lead, can seriously limit the amount of damage an opposing running back to inflict (TEN) Kenny Britt vs. (IND) – I thought Britt would be a big factor as a fantasy starter much sooner, but with only one touchdown on the season, has been a serious disappointment. The week the Titans get another soft rush defense in the Indianapolis Colts, so we just might see another game with lots of Chris Johnson and Jamie Harper, with limited doses of Hasselbeck and his receivers. Against a stingy Falcons defense, I think DeSean takes a week off from the end zone. (PHI) DeSean Jackson vs. (ATL) – The Falcons are among the best in the league so far in defending against passing touchdowns, having only allowed six so far this season. Also, I am not a fan of DeSean Jackson and his style of being great one week then lame the next; this week I am counting on him leaning toward the lame side. (ARI) Andre Roberts vs. (SF) – Roberts had his second big game of the season, reminding people why the hurried to scoop him off the waiver wire a few weeks ago. Like their first time around thought, I think Roberts follows up his big outing with one equally as uninspiring. His opponent, the '49ers, have only allowed six passing touchdowns all season, and a league low 173 yards per game in the air.
Original Story:
http://rotoask.com/fantasy-football/w...
THE BACKYARD
BEST OF MAXIM
RELATED ARTICLES
The Patriots secondary has been the brunt of recent coverage jokes, and rightfully so. The Pats have given up 290 yards of offense through the air per game, ranking them as the fourth-worst team in the NFL in that category. The three teams beneath them are the Saints, Buccaneers and Redskins, who have a combined record of 7-12. Yet, with all of their defensive woes, New England sits...
Things are moving quickly for Sam Bradford and the St. Louis Rams as they deal with a change of continents and time zones. Now their bodies just have to catch up in time for the annual NFL game in London on Sunday against the New England Patriots. The Rams (3-4) arrived at Heathrow airport early Tuesday morning, and a few hours later they were on a wet field in Regent's Park...
LONDON (AP) Things are moving quickly for Sam Bradford and the St. Louis Rams as they deal with a change of continents and time zones. Now their bodies just have to catch up in time for the annual NFL game in London on Sunday against the New England Patriots. The Rams (3-4) arrived at Heathrow airport early Tuesday morning, and a few hours later they were on a wet field in Regent...
The Patriots are scheduled to be the road team on Sunday against the Rams, but they won't be playing in St. Louis. Instead, they'll be playing in London. Playing overseas takes more preparation since the flight is considerably longer and teams frequently leave the United States earlier than usual. The Patriots played in London against Tampa Bay back in 2009 -- winning 35...
Hopefully you listened to most our sleeper picks last week, and ignored the Kendall Wright advice. Yea, he was a big disappointment despite a great match up as he only had 3 catches for 19 yards. Hopefully all the sleepers will exceed expectations this week! This week there are 4 teams on bye, Baltimore, Buffalo, Cincinnati and Houston. That along with the fact that many big name...
ESPN.com"We talked about it last week, and he told me that he was going to be out there today doing some stuff, and I was a little surprised," quarterback Sam Bradford said Wednesday morning on a conference call. "Just from the initial reports, I thought it was going to be quite a bit longer for him to get back on the field. But any time you get him back out there, I think...
It's Week 8 in the NFL, which means that we are on the brink of the halfway point of the season. This is the time where we ought to have a pretty good handle on who is hot and who is not. But it has been an unusual year with lots of old faces in strange places and rookies running the show in their place.Is it mediocrity, parity, or something out of the Twilight Zone? Perhaps...
At the end of Tim Shields' latest Anatomy of a Play feature, Tim Ryan remarks of Sam Bradford's pinpoint throw to Lance Kendricks: "A great throw will beat great coverage every time." Unfortunately, those words foretold the Rams' doom against Aaron Rodgers, who when on is as good as any passer to ever play the game.  Rodgers has found his ON switch the...
New England vs. St. Louis Sunday, 1:00 p.m. ET, at Wembley Stadium, London, England - TV: CBS; DirecTV: 711 *TV announcers: Jim Nantz, Phil Simms *Keys to the game: The Rams moved the pocket, highlighting the underrated athleticism of QB Sam Bradford, to keep him clear of Clay Matthews last week. A mishmash of niche receivers and a diminished role for RB Steven Jackson is causing...
NFL News

Delivered to your inbox

You'll also receive Yardbarker's daily Top 10, featuring the best sports stories from around the web. Customize your newsletter to get articles on your favorite sports and teams. And the best part? It's free!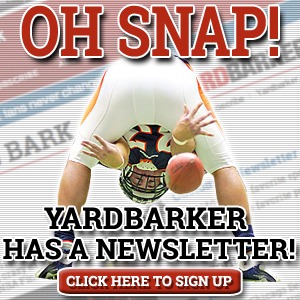 Latest Rumors
The Backyard

Today's Best Stuff

For Bloggers

Join the Yardbarker Network for more promotion, traffic, and money.

Company Info

Help

What is Yardbarker?

Yardbarker is the largest network of sports blogs and pro athlete blogs on the web. This site is the hub of the Yardbarker Network, where our editors and algorithms curate the best sports content from our network and beyond.