Found December 12, 2012 on RotoAsk:
PLAYERS:
Cam Newton
,
Josh Freeman
,
Eli Manning
,
C.J. Spiller
,
Fred Jackson
,
Bryce Brown
,
LeSean McCoy
,
Danario Alexander
,
Josh Gordon
,
Mike Williams
,
Vincent Jackson
,
Dennis Pitta
,
Tony Romo
,
Frank Gore
,
Mikel Leshoure
,
DeAngelo Williams
,
Angelo Williams
,
Kenny Britt
,
Darrelle Revis
,
Antonio Brown
,
Brandon Pettigrew
,
Robert Griffin III
TEAMS:
San Diego Chargers
,
Tampa Bay Buccaneers
,
New Orleans Saints
,
New York Giants
,
Buffalo Bills
,
Philadelphia Eagles
,
Cleveland Browns
,
Baltimore Ravens
,
Dallas Cowboys
,
San Francisco 49ers
,
Detroit Lions
,
Carolina Panthers
,
Minnesota Vikings
,
Tennessee Titans
,
New York Jets
,
Seattle Seahawks
,
Pittsburgh Steelers
,
Washington Redskins
  Start 'em: (CAR) Cam Newton vs. (SD) – Newton has been amazing for fantasy owners lately including scoring three touchdowns in week fourteen in a win over the Falcons, and should be able do something similar this coming weekend against the Chargers. The Chargers just allowed Big Ben, returning from substantial injuries to throw for almost 300 yards and three touchdowns; I am expecting Newton to account for another three touchdowns in week fifteen. Freeman put up 420 yards and three touchdowns when he faced the Saints earlier this season (TB) Josh Freeman vs. (NO) – With less than 200 yards and two touchdowns last week against the struggling Eagles secondary, Freeman was quite the disappointment for those who started him, but should be much better against the Saints. The Saints were just ripped by Eli Manning and the Giants for four touchdowns and Freeman did put up 420 yards and three touchdowns against them earlier this season. (KC) Jamaal Charles vs. (OAK) – Charles would have left week fourteen after the first couple plays and still satisfied fantasy owners as he took the a handoff on the opening possession 80 yards for a touchdown. Before the game was over he had doubled his yardage to finish with 165 total yards. He only has four touchdowns on the season but is amassing tons of yards; against the Raiders, one of the worst teams in the NFL at the moment Charles might be able to replicate the performance. (BUF) C.J. Spiller vs. (SEA) – Fred Jackson has been confirmed as out for the season so it will be Spiller getting a full workload the rest of the season, and with such a dynamic skill set is a must start the rest of way despite his matchup. Spiller is easily the best offensive weapon the Bills have and they would be wise to use him as much as possible. Brown may have left a sour taste in fantasy owners mouths, but should still be started the rest of the way (PHI) Bryce Brown vs. (CIN) – Brown was a massive bust for fantasy owners last week after being a fantasy gold mine the two weeks prior; don't give up on him yet though. Brown has very nice matchups against the Bengals, Redskins and Giants over the final three weeks and with LeSean McCoy unlikely to play again this season should see healthy workloads in each game. (SD) Danario Alexander vs. (TB) – After watching Danario score a pair of beauty touchdowns this past weekend against the Steelers, I won't even be thinking of taking him out of my lineup the rest of the way. I had the pleasure of picking him up in several leagues and reaped the rewards once again in week fourteen and am expecting more in week fifteen against the Buccaneers secondary. Gordon is coming off a season high 12 targets and has a great matchup against the Redskins (CLE) Josh Gordon vs. (WAS) – Despite only 86 yards last week Gordon saw a season high 12 targets, which bodes very well for anyone who want s to employ him in the next week or so. Against the Redskins Gordon has the potential for another 100-yard game with a score like he had just two weeks ago. (TB) Mike Williams vs. (NO) – Vincent Jackson is a must start nearly every week and should be able to tear it up against the Saints, but don't forget about Mike Williams whom has touchdowns in back-to-back weeks and seven on the season. I am not expecting a homerun effort from Williams but I do think he can reel in 5 catches for 60 yards and a score. (BAL) Dennis Pitta vs. (DEN) – Pitta is never a slam dunk as he is yet to have a back-to-back touchdown games this season and has a yardage high of 73, but he still has a very nice matchup against the Broncos this coming Sunday and could help out the many fantasy owners out there struggling to find a good tight end each week.   Sit 'em: (DAL) Tony Romo vs. (PIT) – Last week I suggested sitting Rivers against the Steelers, a decision that proved to be wrong as he threw three touchdowns, but I am still very hesitant about Tony Romo in week fifteen. Not only are the Steelers a very tough defense, but also Dez Bryant might not be able to play due to a finger injury. Early reports stated Dez was possibly done for the season while newer ones state that Dez thinks he will play (athletes always say that). Even if Bryant does play how effective will he be with a seriously injured hand? This is shaping up to be a very tough game for Romo. RGIII was helped off the field last weekend and might not be able to help your fantasy team in week fifteen. (WAS) Robert Griffin III vs. (CLE) – At the moment it is not even sure if RGIII will be able to play come Sunday against the browns after suffering a knee sprain in an exciting week fourteen win over the Ravens. While he will likely be the talk of the football world, it should be an open and shut close in the fantasy world; sit him. Much of Griffin's effectiveness comes from his mobility and ability to run, a sprained knee might affect him there. Also, the Browns are terrible against the run so the Redskins should be able to find success running the ball. Finally, I would not be surprised if he was straight up unable to play or sat by the coach. Gore has another 1000-yard season under his belt but will be hard pressed to add many more yards against the Patriots. (SF) Frank Gore vs. (NE) – Back to back touchdown games and another 1000-yards season under the belt for one of my favorite running back Gore; congratulations! Now that is out of the way, time to get on the bench… The Patriots have been one of the best teams in fantasy against running backs, a mix of their improved defense and stellar offense that keeps other teams throwing to keep up.  Despite Gore's impressive play in 2012 I am not expecting much from him on Sunday. (DET) Mikel Leshoure vs. (ARZ) – While he does have close to 700 yards rushing to go along with his seven touchdowns over his eleven games this season, I have some worries about Leshoure this coming weekend. First off, his 3.7 yards per carry is rather weak, while three of his seven touchdowns came in one game. This coming weekend he plays a terrible team with a decent defense in the Cardinals, and while not a terrible matchup obviously, I just think Leshoure has been a little underwhelming on the field and might struggle to gain yards (again, 3.7 ypc). (CAR) DeAngelo Williams vs. (SD) – With over 100 total yards and a touchdown last week in the Panthers win over the Falcons, Williams was a nice play for small amount of owners who started him and might be a popular waiver add through the week. While he might be worth the waiver pick up I am not looking to add him to my starting line up. The Chargers do have a banged up defense at the moment but are still better against the run than the pass; I see Cam Newton doing most of the damage in this one while Williams is left with a stat line closer to 12 carries for 50-60 yards. (TEN) Kenny Britt vs. (NYJ) – Even without Darrelle Revis the New York Jets are winning games lately and it can still be credited to the play of the defense. Cromartie has proved himself to be a shutdown corner at times, using his big body to disrupt the opposing teams top wide out. For the Titans that wide out is Kenny Britt, who is coming off his first 100-yard game of the season. I expect Britt to end up below 100 again without a touchdown in against the Jets. I would seriously consider sitting Johnson against a stellar Seahawks secondary (BUF) Stevie Johnson vs. (SEA) – The Seahawks have one of the best secondary units in the league and Johnson can't seem to grab a touchdown while getting good yardage at the same time. Since the first three weeks of the season when Johnson scored 11, 11, and 12 points respectively, he has only broken double-digits twice. I would not be looking for Johnson even meet those numbers against the Seahawks. (IND) T.Y. Hilton vs. (HOU) – The Houston have struggled against the pass a bit lately, and have been decimated twice by elite quarterbacks (Rodgers, Brady), but Luck is not an elite quarterback yet; case in point, last week. Luck was only able to throw one touchdown with two interceptions against the Titans last week and won't be given an inch against a divisional opponent that is coming off an embarrassing loss and trying to secure the #1 seed in the conference. (PIT) Antonio Brown vs. (DAL) – Brown had one of the rare touchdowns of his career last week against the Chargers, catching a 1-yard pass from Roethlisberger in the fourth quarter. Despite the touchdown, Brown still did not surpass ten fantasy points, something he has only done ONCE this season. Do not start Brown this week unless you are happy with what he has been giving you until this point. (DET) Brandon Pettigrew vs. (ARZ) – I had trouble finding a tight end that struck me as someone people might want to avoid, so instead I will just remind people that Lions TE Brandon Pettigrew injured his ankle last weekend and is unlikely to play against the Cardinals. Make sure you find a replacement if you have been starting Pettigrew.
Original Story:
http://rotoask.com/fantasy-football/w...
THE BACKYARD
BEST OF MAXIM
RELATED ARTICLES
Isaac Newton once wrote "For every action, there is a reaction." and no quarterback has had a bigger reaction from fans or foes than Carolina Panthers quarterback Cam Newton. Even after winning the Heisman Trophy in 2010 and NCAA Football Championship in 2011. Newton has been compared to everything from Jamarcus Russell to Ben Roethlisberger, but Cam Newton is Cam Newton and...
The Atlanta Falcons went down to the Carolina Panthers on Sunday, 30-20. One of the most spectacular plays came from spohmore QB Cam Newton. Newton had a rocky start to his second year in the NFL but has come on as of late. This 72-yard touchdown was surely a sweet reminder that Cam Newton shouldn't [...]
Quarterback Cam Newton and the Panthers offense are finally in a groove. Too bad for Carolina it's a case of too little, too late. At 4-9, Carolina's playoff aspirations evaporated several weeks ago, but Newton's vastly improved play in recent weeks gives promise that his stellar rookie season with the Panthers in 2011 was far from a fluke. After a rough start this...
At 4-9, the Carolina Panthers' season looks far different now than most fans would have imagined in August.  Coming off a 2011 season that was full of improvement and optimism, the sky was the limit for the Panthers.  Cam Newton, a rookie quarterback, was the team's most valuable player, and he proved to be the centerpiece of the organization moving forward.  The Panthers...
Cam Newton and the Panthers controlled every aspect of the game this past Sunday.Newton had quite possibly his best game as a pro.He threw for 287 yards and two touchdowns while adding another 116 yards on the ground with another touchdown. Cam led his Panthers to their first victory over the Falcons since 2009 and showed Panthers fans that they do have a reason to be excited for...
There are only so many chances you can give a team, especially if that team is the Atlanta Falcons. One week after holding off a late push from the New Orleans Saints, the Falcons went on the road looking to send a message against the lowly Carolina Panthers. Instead, the Panthers drubbed the Falcons, with Cam Newton running wild over a defenseless Atlanta defense. The Falcons lost...
After struggling to score points and move the chains for much of the season, the Carolina Panthers' offense has suddenly hit its stride. Too bad it's too late in the year to make a difference. At 4-9 the Panthers won't be playing in the postseason, which makes Carolina's 30-20 win over the Atlanta Falcons on Sunday a little bittersweet. ''This shows what...
The Carolina Panthers DE Greg Hardy promised "payback" and "punishment" for the Atlanta Falcons last week, and that's eactly what they did. The Falcons beat them in a 30-28 come-from-behind victory that had the Panthers feeling "disrespected." Hardy remembers all too well seeing Falcons QB Matt Ryan cursing at the Panthers sideline after that...
The Carolina Panthers won't be making the playoffs this year, but Cam Newton and Company sure are acting like these are the playoffs.With their beat-down of the Falcons Sunday at Bank of America Stadium in Charlotte complete, the Panthers are playing their best football of the season.Here are five things we learned from Sunday's 30-20 victory by Carolina over Atlanta:1. Superman...
Broncos def. Raiders: The Broncos just never seem to be able to completely blow away a crappy opponent. The Raiders are awful, I expected much more out of Manning. Panthers def. Falcons: The Falcons have quickly become very mediocre as 11 win teams go. I know Cam Newton has really heated up at the end of the season, but this defense can't allow a quarterback to pick them...
A Rabbit Punch has two meanings, both of which describe the nature of the article. 1. A series of fast punches. 2. An illegal punch to the back of the head between the skull and the first vertebrate that can cause permanent damage to the nerves or death. Cam Newton dominated as the Carolina Panthers defeated the Falcons. Wins like this one over the first place Falcons are keeping...
NFL News

Delivered to your inbox

You'll also receive Yardbarker's daily Top 10, featuring the best sports stories from around the web. Customize your newsletter to get articles on your favorite sports and teams. And the best part? It's free!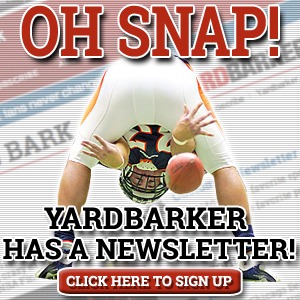 Latest Rumors
Best of Yardbarker

Today's Best Stuff

For Bloggers

Join the Yardbarker Network for more promotion, traffic, and money.

Company Info

Help

What is Yardbarker?

Yardbarker is the largest network of sports blogs and pro athlete blogs on the web. This site is the hub of the Yardbarker Network, where our editors and algorithms curate the best sports content from our network and beyond.