Found April 01, 2013 on Kissing Suzy Kolber:
If you're checking in with us on a Monday morning, you're likely here for our weekly savaging of Peter King's column. It's been a fixture on this site for almost as long as it's existed. I'm sure for some readers it's the only reason they check in with KSK. But after years and years of vitriol, mockery and abuse, perhaps it's time to make amends. We're sorry, Peter King. You might not be the strongest writer in the world, and that's okay. Writing is actually a vastly overrated part of being a reporter. A lot of great reporters are awful writers. Their chief function is obtaining privileged information and presenting a fair, nuanced view of events to readers, not dazzling people with biting prose and clever structure. It's also entirely possible to be a good writer and a terrible reporter. In many instances, they are wildly different skill sets. You have a tendency to go way off-topic in long stretches of your writing. This makes some resentful because most people are not given such leeway in their own work. It comes off as supremely indulgent. Perhaps it is. But some would argue you've earned the right to be indulgent. You did the hard, long work of building an audience and sucking up to the right people. Yes, you're a suck up. One of the biggest there is. For most folks, there's a huge stigma to being a brown-noser and a careerist, but you and I know those are the people who will never get to know the bliss of the Acela Quiet Car. You know, a lot of writers who claim to be unfiltered and brash are really quite calculating in their behavior. They'll assail targets so long as they know there won't be major blowback for their views. They offer strong opinions only if they know they are popular ones. Sometimes they work out outrage they don't even have because they know trashing a target is good for business. But you? You offer no strong opinions at all. You're careful not to offend any but the most vulnerable targets. That is refreshing. I don't need to wonder the hidden motivations of a writer. Yours are right there on the surface. I can't defend you stealing a foul ball from a child at a baseball game and bragging about it in your column. That was pretty ****** of you. Here's the thing, though: all people have their moments of **********. I've had more than a few of my own. This site once threatened to post pictures of your daughter if you didn't stop harping endlessly about your family life in your football column. Even if the pictures of Mary Beth were innocent photos she posted on Facebook, it's not cool to even pretend to mess with someone's family. We're sorry for that. You showed public resentment to us in the past and that's understandable. We've been pretty mean to you over the years. It doesn't matter if you don't forgive us. We felt compelled to offer this apology anyway. As a token of our sincerity, we're taking this week off from mocking your column. So go enjoy Opening Day, big guy. Here's hoping that first Allegash at noon tastes as nutmeggy as you hope it does. PLAY BALL! The post We're Sorry, Peter King appeared first on Kissing Suzy Kolber.
Original Story:
http://kissingsuzykolber.uproxx.com/2...
THE BACKYARD
BEST OF MAXIM
RELATED ARTICLES
Cyclist Peter Sagan apologized after being criticized for pinching the rear of a girl on the podium following his second-place finish in the Tour of Flanders in Belgium on Sunday. Sagan finished second to winner Fabian Cancellara, who received a peck on the cheek from the trophy ladies after the race. That's when Sagan reached over to pinch blond "podium girl" Maya. After...
According to Peter King of Sports Illustrated, it's "inevitable" that CB Darrelle Revis ends up on the Buccaneers at some point this offseason. King adds that Jets owner Woody Johnson is "categorically against" extending Revis' contract beyond this season. Roy Cummings of the Tampa Tribune expects to see talks between the Jets and Buccaneers regarding a trade for Revis...
We've entered the second wave of free agency and two particularly well-respected veteran defensive players are still seeking jobs. So good, in fact, that both were considered the best defensive player in football at different points in the last five years. Yep, 2008 defensive player of the year James Harrison is still sitting around on the open market without a lot of buzz...
HA HA WE TOTALLY APRIL FOOLS'D YA, DIDN'T WE!? When last we left year-long fatass, Peter King, he was acting like the Ravens signing Elvis Dumervil had anything to do with John Elway snubbing Baltimore in the draft 30 years ago. PK also said everyone in Jacksonville is gonna go buy Brad Meester jerseys because he readily accepted less money since he's old and almost out of...
NFL News

Delivered to your inbox

You'll also receive Yardbarker's daily Top 10, featuring the best sports stories from around the web. Customize your newsletter to get articles on your favorite sports and teams. And the best part? It's free!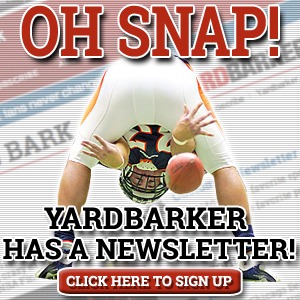 Latest Rumors
Best of Yardbarker

Today's Best Stuff

For Bloggers

Join the Yardbarker Network for more promotion, traffic, and money.

Company Info

Help

What is Yardbarker?

Yardbarker is the largest network of sports blogs and pro athlete blogs on the web. This site is the hub of the Yardbarker Network, where our editors and algorithms curate the best sports content from our network and beyond.