Found July 17, 2012 on Boston's Bettah:
Wes Welker and the New England Patriots could not come to an agreement on a contract by Monday's 4 PM deadline
The only two members of the New England Patriots organization that will never leave until they retire are Bill Belichick and Tom Brady.
The Patriots proved this again on Monday afternoon.
Monday was the day that a deal with franchise tagged player Wes Welker was supposed to come to a long-term deal, that the two sides were going to come to some kind of agreement and Wes Welker would remain in Foxboro for seemingly the rest of his career. It might not have been what Welker necessarily wanted or maybe a little bit more than what the Patriots wanted to pay, but Welker had certainly earned a contract with his play over the past five seasons and the Patriots wanted him around because he was one of quarterback Tom Brady's favorite targets.
Nope. The two sides couldn't agree on a contract, the Patriots wouldn't budge. Wes Welker will play under the $9.5 million franchise tag.
I would like to pretend as a fan that I was surprised that it came to this, but I'm not. Once the Patriots get a value in their head about what a player is worth, they don't budge. No one (except Tom Brady and Bill Belichick) are bigger than the team. Just because one player has given the team production over the years, doesn't make them un-replaceable, the Patriots always believe they will find the next guy to take that guys spot.
No long term deal for Welker? Expected. Am I angry? Not really. While Welker is one of my favorite Patriots, I have become numb to the Patriot way and how they conduct business. I trust in everything the Patriots do and find it almost impossible to question anything they do. Five Super Bowl appearances, one 16-0 regular season, and three Super Bowl championships will do that to you as a fan.
The bigger question becomes whether or not they will get a deal done next off-season. More than likely, the Patriots will not apply the franchise tag to Welker and let him become an unrestricted free-agent. The question whether or not the Patriots give him what he wants or he takes the Patriots' offer will depend on his play next season.
Welker is a professional. Barring an injury, Welker will continue to play well and earn a contract with someone, be it the Patriots or someone else. He's getting older, the Patriots won't budge.
Let's not talk about the next year though. Welker will be back for at least another year and I expect him to play just as well as he always have and be a key cog in the Patriots system.
Original Story:
http://www.bostonsbettah.com/?p=4669
THE BACKYARD
BEST OF MAXIM
RELATED ARTICLES
The New England Patriots and wide receiver Wes Welker were unable to reach agreement on a long-term contract by Monday's 4 p.m. ET deadline, according to the Boston Globe, and, as a result, Welker will play the 2012 season under a $9.5 million franchise tag. The failure to reach an agreement did not come as a surprise, because the two sides reportedly were about $6 million...
Despite speculation that the Patriots and star wide receiver Wes Welker would push to get a deal in place before Monday's deadline, a new contract does not appear likely as of Sunday. Talks between Welker and the Patriots haven't been "overly active" in recent days, and "it would be a surprise if an extension was reached," Mike Reiss of ESPN Boston reports...
Getty Images According to Albert Breer of the NFL Network, the New England Patriots and wide receiver Wes Welker failed to agree on a long-term deal.  He'll now play under the franchise tag for the 2012 season. The Patriots and Welker's reps will now have to wait until the end of the regular season to continue to negotiate towards a long-term contract, if they choose to.  
Getty Images According to Tom Curran of CSNNE.com, "it would be an upset" if the New England Patriots and wide receiver Wes Welker end up getting a long-term extension worked out before Monday's 4pm est deadline. "Talks remain stagnant and by stagnant I mean non-existent," Curran said. Looks like Welker will play out this season under the franchise tag.  Both sides will...
2011 Wes Welker Highlights (by Seldenjo) Well we get another season at least of watching awesomeness like this.
Monday's 4:00 p.m. deadline went by for NFL players to sign long term contact extensions with their respective teams and have the franchise tag removed. The Patriots and wide receiver Wes Welker were unable to come to agreement on a new deal, so the four time Pro-Bowler will play the 2012 season under the franchise tag earning [...]
Will the Patriots lock up Wes Welker for the long haul? That's been the top question during the offseason, and the answer is almost here. The team has until 4pm Monday to get a longer term deal done, or they'll have to wait till after the season as Welker plays out the year under the Franchise tag.
Welker and Patriots couldn't complete a long-term deal. (Source: Bleacher Report) So the 4 p.m. deadline to sign franchised players to long-term deals passed and there were a couple notable deals. The Ravens signed Ray Rice to 5 year deal and the Bears signed Matt Forte to a four year pact. The Patriots and Wes Welker could not come to an agreement as many sites had stated...
Hot News for WR Wes Welker
With so many wide receivers in New England Patriots camp, who will find themselves playing much "wider-out" than they had hoped come September? Many say that the 2011 New England Patriots were just one fairly routine Tom Brady to Wes Welker completion away from winning their fourth Super Bowl.  Well we all know what didn't happen [...]
Patriots News

Delivered to your inbox

You'll also receive Yardbarker's daily Top 10, featuring the best sports stories from around the web. Customize your newsletter to get articles on your favorite sports and teams. And the best part? It's free!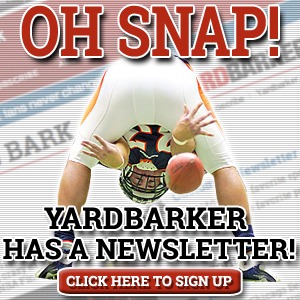 Latest Rumors
Best of Yardbarker

Today's Best Stuff

For Bloggers

Join the Yardbarker Network for more promotion, traffic, and money.

Company Info

Help

What is Yardbarker?

Yardbarker is the largest network of sports blogs and pro athlete blogs on the web. This site is the hub of the Yardbarker Network, where our editors and algorithms curate the best sports content from our network and beyond.