Found May 16, 2012 on Sports Blog Net:
Many movie moments could symbolize
Wes Welker
's decision to
sign his $9.5 million franchise tender Tuesday
and return to the Patriots for the 2012-13 season. Perhaps the Hulk destroying enemy ships in
The Avengers
. Or Dean Portman showing up at halftime of the JV-Varsity game at the end of
Mighty Ducks 3
. Really, any clip of someone returning from somewhere and then going on a rampage would do. But none could do it better than Randy Quaid in
Independence Day:
Just pretend the spaceship is an opposing defense and the metaphor works perfectly. Kinda like Welker and
Tom Brady
.
Welker Played His Best, Made Everyone Better in 2011 [caption id="attachment_2135" align="alignleft" width="275" caption="Wes Welker signed his $9.5 million franchise tender Tuesday, meaning Patriots fans will get to watch him do this (hopefully repeatedly) for at least one more season. (Photo by Thearon W. Henderson/Getty Images)"]
[/caption] Despite whatever grief Patriots fans gave Welker following his
drop towards the end of Super Bowl XLVI
, Welker still had a career year last season. He set career-highs in nearly every possible receiving category: 1,569 receiving yards, 12.9 yards per reception, nine touchdowns, and 77 first downs. He caught an NFL-best 122 passes (22 ahead of second-place
Roddy White
of Atlanta), coming within one of his career-best. As great as Welker's Pro Bowl-qualifying individual accomplishments were, he also greatly improved the rest of the Patriots' receivers.
Rob Gronkowski
posted the
best season by a tight end in NFL history
because secondaries couldn't focus on him and leave Welker open in the slot. Such decisions too often proved disastrous (just ask
the Dolphins in Game 1
), and teams willingly risked a second-year player dominating for even the
possibility
of containing an eight-year vet like Welker. Seemingly completely recovered from his knee injury two years ago, Welker's agility and vision made him a lethal receiver across the middle: too speedy for linebackers, too crafty for most cornerbacks. And as Welker wreaked havoc in the middle of the field, receivers like Gronkowski,
Aaron Hernandez
and
Deion Branch
benefited from the chaos. Welker Setting Up for Bigger Payday Kudos to Welker for not dragging his contract situation through the mud. He wanted a better deal, the Patriots didn't want to give it to him, and they franchised him. Welker knew what they would do and, rather than piss and moan, just accepted it. An
emphatic statement of support
, an
enthusiastic tweet
, and the issue is over and done with. But no one should misconstrue Welker's tolerance for altruism. If Welker has another career year like 2011, he can show every team out there (Patriots or not) that he's playing the best football of his life. Higher signing bonuses, more "guaranteed" (a phony word in NFL bargaining) cash, more years – a 2012 that matches or exceeds 2011 makes everything possible. On top of his numbers, Welker's approach shows professionalism and responsibility. Both of those qualities translate to profitability, because teams are
way
more likely to work with a player if they think he'll keep the process to himself.
Randy Moss
' options have dwindled considerably over the last few seasons as more and more teams realize just how much of a prima donna he is. Despite Hall-of-Fame numbers, few teams want to go after a player who'll air every petty grievance to the press. And when it comes to the fans,
every
contract issue seems petty. When you're making $30,000 a year, you don't care if a guy gets $8 million over one year or $13 million over two. Fighting over so much money can only alienate fans towards both the player
and
the franchise. Welker has shown none of the egotism athletes typically develop when they become on-the-field superstars. His humility is a bankable attribute, same as his speed. The Patriots didn't give Welker a longer deal because they're still unsure his knee has fully healed (and because they're the Patriots). Had Welker signed for longer elsewhere and struggled, the team might have cut him or asked him to renegotiate. Then he'd be exactly where he is now, except he'd be older and coming off a worse year. But a second fantastic year and a rational approach to bargaining make Welker the ideal free-agent package, no matter who goes after him. How Welker handled the franchise tag sets him up for the big-money, long-term deal he's wanted all along. And it gives Patriots fans one more year to enjoy one of the greatest receivers in franchise history. That, as they say, is a win-win.
Original Story:
http://mgoisman.sportsblognet.com/201...
THE BACKYARD
BEST OF MAXIM
RELATED ARTICLES
The New England Patriots have been known to be shrewd in their dealings with players. They are not shy to let greats go when they have determined they are done with them. Yet, in the case of the Wes Welker contract negotiations they are going the wrong way. Wes Welker is not just another wide receiver. He is the go-to-guy on one of the most explosive offenses the NFL has ever seen...
Getty Images New England Patriots wide receiver Wes Welker has come out and said that since he signed his franchise tender, contract talks between his representatives and the Patriots have only gotten worse. "There have been talks, but nothing that's brightened anything at all," Welker said. "It's actually gotten worse." Welker admitted that he went against the advice...
It was music to Patriots' fans ears when franchise player Wes Welker announced today that he would not hold out into the regular season, saying he has "9.5 million reasons" why he won't miss any regular season games. The 9.5 million refers to the franchise tender value that he is guaranteed this season. Welker has expressed the desire to get a long term deal and remain a...
Wide receiver Wes Welker has proven once again that he's one of the most team-oriented players in Patriots history. Welker signed his franchise tender Tuesday, which fully guaranteed his $9.5 million salary for the 2012 season, and it means he'll be able to report for offseason workouts at Gillette Stadium, if he chooses to do so. That's timely because the Patriots start...
Last year, the Patriots offered Wes Welker a lot of money for a slot possession receiver. This year, they franchised him and he signed the one-year tender for $9.5 million. When he received his offer a year it ago, it was for 2-years and $16 million, so when you think about it, he is getting [...]
Wes Welker said Monday that he's got 9.5 million reasons not to miss any games this season. He reaffirmed that in a big way on Tuesday. Welker has decided to sign his franchise tender with the Patriots, which means he'll earn $9.5 million this season after the Pats placed the franchise tag on him this offseason. The news was first reported by The Boston Globe's Greg Bedard...
Getty Images According to Greg Bedard of the Boston Globe, New England Patriots wide receiver Wes Welker has signed his franchise tag, which will pay him $9.5 million for the 2012 season. Welker was just on WEEI Radio in Boston yesterday and stated that he had 9.5 million reasons to play this year and ultimately not hold out.  He said that at he moment he wasn't sure what he was...
Patriots WR Wes Welker has signed his franchise tender, according to a league source. — Greg A. Bedard (@GregABedard) May 15, 2012
New England Patriots four-time Pro Bowl wide receiver Wes Welker has signed his $9.4 million franchise tender. Welker made the announcement via his official Twitter account.
New England Patriots All-Pro wide receiver Wes Welker has signed his franchise tender according to a team official. The Patriots gave Welker the franchise tag back on March 5th as one of 21 teams to select a franchise player. By signing the tender Welker is guaranteed to make $9.51 million dollars for the 2012 season.  He and the team still have until July 14 to reach a longterm...
Wes Welker said Tuesday that he was taking a leap of faith in signing the franchise tender. However, it was more of a push from the New England Patriots front office. Passing camps start soon and Welker knows all to well that if he's out of sight, he's out of mind. In the 2012 off-season, the Patriots restocked their diminished wide receiver position. Brandon Lloyd, Jabar...
NFL News

Delivered to your inbox

You'll also receive Yardbarker's daily Top 10, featuring the best sports stories from around the web. Customize your newsletter to get articles on your favorite sports and teams. And the best part? It's free!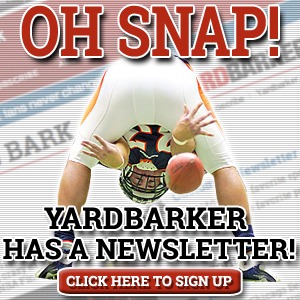 Latest Rumors
The Backyard

Today's Best Stuff

For Bloggers

Join the Yardbarker Network for more promotion, traffic, and money.

Company Info

Help

What is Yardbarker?

Yardbarker is the largest network of sports blogs and pro athlete blogs on the web. This site is the hub of the Yardbarker Network, where our editors and algorithms curate the best sports content from our network and beyond.