Found December 25, 2011 on Waiting For Next Year:
PLAYERS:
Pat Shurmur
,
Baron Davis
,
Carlos Santana
,
Mike Holmgren
,
Eric Mangini
,
Andy Reid
,
Sam Bradford
,
Colt McCoy
,
Alex Smith
,
Greg Little
,
Jordan Norwood
,
Evan Moore
TEAMS:
Cleveland Browns
,
New York Knicks
,
Cleveland Indians
,
Philadelphia Eagles
,
St. Louis Rams
As the year comes to a close, like we have done the last three years, WFNY will take a look at what we view to be the 10 biggest sports stories affecting our local sports scene. Each day through the rest of the year, we will be counting down from ten to one. We started with #10 - The Colt Concussion, next was #9 -Key Cavalier Wins. Then, we broke down #8 – the Baron Davis Trade. Yesterday, it was Carlos Santana's walkoff grand salami. Today, we hit some stellar timing with the hiring of Pat Shurmur.
On January 13th, 2011, Browns team president Mike Holmgren made the announcement that he was hiring St. Louis Rams offensive coordinator Pat Shurmur to replace the recently fired Eric Mangini, becoming the 13th coach in Cleveland Browns history. It was a decision made largely to bring the front office and coaching staff onto the same page, striving for a clear direction and building a sustainable competitive team in the near future and for the longterm.
Shurmur was well versed in the West Coast Offense from his days as a QB coach under Andy Reid in Philadelphia, and he was applauded for his work with rookie QB Sam Bradford in St. Louis. The hope was (and still is) that Shurmur could take second-year quarterback Colt McCoy under his wing and help him vastly improve.
The honeymoon hasn't lasted long, however. Shurmur calls his own plays, and without an offensive coordinator, he has taken the heat for several questionable decisions this season. They include yesterday's debacle at the goal line before half (not the first time his clock management has come under scrutiny), taking point off the board in Jacksonville, his team getting caught in the defensive huddle in the opener against Cincy, and handing off to tight end Alex Smith as a fullback. The collection of bad decisions constitute a blame that can be spread around to the quarterback, other players, assistants, and of course, the medical staff (see #10), but in the end, being a NFL head coach is an elite job, and with it comes accepting the blame for pretty much everything that goes on with your football team.
In his defense, the loss of the team's top three running backs for a large chunk of the season, the NFL lockout eliminating precious practice time, and some of the decision-making of his young quarterback have not aided Shurmur in his quest to turn this team around. He has overseen the creation of weapons in Greg Little, Jordan Norwood, and Evan Moore for stretches this season. With another draft, let's hope we can start to see sustained progress in the new offensive system.
While I think Shurmur is in over his head, I don't think we can determine whether he is worth keeping or not just after this season. He does, however, need an offensive coordinator who will handle the playcalling. I hope we don't have his firing on this Top 10 next season.
Merry Christmas, everyone!
(Photo: Mark Duncan/AP)
Original Story:
http://www.waitingfornextyear.com/201...
THE BACKYARD
BEST OF MAXIM
RELATED ARTICLES
Browns coach Pat Shurmur says he's the one ultimately responsible for his team's mistakes. Two blunders on Saturday in Baltimore were costly in a 20-14 loss to the Ravens. Browns backup quarterback Seneca Wallace botched a scoring opportunity at the end of the first half and rookie defensive tackle Phil Taylor jumped offside on fourth down in the final two minutes to seal...
Browns coach Pat Shurmur held out the possibility that Colt McCoy could return Sunday when the Browns (thankfully) end their season against the Pittsburgh Steelers. He also said McCoy has not yet been cleared to practice. And he said this while saying that he did not mean to be vague or avoid questions, and while listening to a soliloquy from ex-Browns coach Sam Rutigliano about...
Wallace says it was his decision to call for a running play at the end of the first half instead of spiking the ball.
"[Coach Harbaugh] was like 'there's no way they jump.' … I don't know if I've ever been in position for that to happen. It's never worked." – Joe Flacco "It seems that it's the 15th time I've said this, (but) the guys played extremely hard." — Pat Shurmur ————— The Browns' plan to lull the Ravens to sleep with a 20-0 lead through most of...
Cleveland Browns coach Pat Shurmur indicated that if quarterback Colt McCoy can practice on Wednesday, he might be able to take the field next Sunday against the Pittsburgh Steelers.
While We're Waiting serves as the early morning gathering of WFNY-esque information for your viewing pleasure. Have something you think we should see? Send it to our tips email at tips@waitingfornextyear.com. Serving Shurmur some humble pie- "That's the problem in Cleveland. Pat Shurmur is quick to point out his team's flaws, and talk about how a drop here, or a drop there...
As the year comes to a close, like we have done the last three years, WFNY will take a look at what we view to be the 10 biggest sports stories affecting our local sports scene. Each day through the rest of the year, we will be counting down from ten to one. We started with #10 - The Colt Concussion, next was #9 -Key Cavalier Wins. We broke down the Baron Davis Trade and talked...
I saw a game decided by a hard-count offsides penalty on the defense in Seattle when the Seahawks induced the Eagles' DE Juqua Parker to jump on a 4th-and-1 play earlier this season. I didn't think I would ever see a play like that again in my lifetime.Wrong.The Cleveland Browns were in the midst of coming back and beating the Ravens late in the second half on Christmas Eve...
If the Rams get the No. 1 pick in the draft, they most likely will keep Bradford ... and the price tag to get him through a trade will be steep.
NFL News

Delivered to your inbox

You'll also receive Yardbarker's daily Top 10, featuring the best sports stories from around the web. Customize your newsletter to get articles on your favorite sports and teams. And the best part? It's free!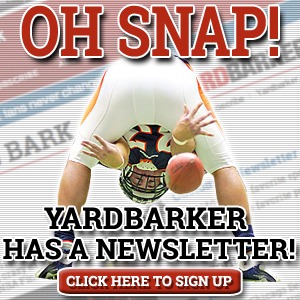 Latest Rumors
The Backyard

Today's Best Stuff

For Bloggers

Join the Yardbarker Network for more promotion, traffic, and money.

Company Info

Help

What is Yardbarker?

Yardbarker is the largest network of sports blogs and pro athlete blogs on the web. This site is the hub of the Yardbarker Network, where our editors and algorithms curate the best sports content from our network and beyond.