Found September 17, 2012 on Boston Sports Media Watch:
PLAYERS:
Wes Welker
,
Aaron Hernandez
,
Bill Belichick
,
Rodney Harrison
,
Richard Seymour
,
Randy Moss
,
Rob Gronkowski
,
Deion Branch
,
Josh Mcdaniels
,
Drew Bledsoe
,
Tom Brady
,
Julian Edelman
TEAMS:
New England Patriots
,
Arizona Cardinals
,
Oakland Raiders
,
San Francisco 49ers
,
New York Giants
The Patriots lost their home opener for the first time since 2001 with a 20-18 loss to the Arizona Cardinals. It was perhaps the most unexpected loss in recent memory for the Patriots. The actual game however, will likely be overshadowed this week by scrutiny over the usage of franchise wide receiver Wes Welker. Welker did not start the game (though he was announced as a starter) and only entered the game after Aaron Hernandez suffered an ankle sprain that will likely keep him out until November. Whether it is Tom Curran and Ron Borges arguing over the use or Welker, or sports radio hosts and callers and Twitter NFL experts angrily questioning whether Bill Belichick knows what's best for his team. Greg A. Bedard tries to cover all possibilities – Role of Patriots' Welker further in doubt Karen Guregian asks if we're nuts to wonder what is going on here – Again, Wes isn't more Tom E. Curran says even Welker seems mystified at what's happening – Welker was a backup plan vs. Cardinals ...
Original Story:
http://feedproxy.google.com/~r/Boston...
THE BACKYARD
BEST OF MAXIM
RELATED ARTICLES
It doesn't make much sense on the surface, an All-Pro receiver under utilized when there is a dire need for him. Wes Welker had less snaps (43) than Julian Edelman (55), and Edelman is no Welker. Welker has caught the most passes since 2007, and he's scratching his head on why he's not getting more burn. Wes talked on WEEI in Boston with Mut, Lou, and Troy Brown about if...
The way many people see it, Patriots wide receiver Wes Welker was left out of New England's game plan in some ways on Sunday. The way Welker sees it, though, it was just another game, with everyone doing their best to fill their roles. "We've got a good team and some good players, and [offensive balance is] good to have," Welker told WEEI on Monday. "If we...
Catch the Patriots taping opposing team's signals on the sidelines? Yawn. Watch Wes Welker seemingly get shunned from the Patriots' offense after an offseason contract situation in which he was nothing but the good soldier? Now you've got the attention of New England fans. Patriots supporters are waiting to see whether Aaron Hernandez's ankle is hurt badly and wondering...
Wes Welker broke one of the Patriots cardinal rules and then the Cardinals beat the Patriots. I'd say things are even for now. New England Patriots WR Wes Welker used to be Tom Brady's right hand man. That's why it seemed logical that the Patriots would try to work out an acceptable deal to extend Welker despite his size and advancing age. Especially, since he returned so quickly...
Welker owns 4 of the top 25 single season reception totals in NFL history, no one else has more than 2 in the top 25 (2 each for C.Carter, J.Rice, J.Smith and M.Harrison). He is coming off a tie for the 4th highest reception total ever when he had 122 receptions in 2011, and you do not go from that point to being behind Julian Edelman on the depth chart. The issue here is a...
If one of the Patriots' Swiss Army Knives Julian Edelman gets cut this week, its pretty much safe to say it's because he took out one of the team's superstars. Edelman rolled up underneath tight end Aaron Hernandez's ankle during Sunday's loss against the Arizona Cardinals as he made his way downfield after catching a screen pass from Tom Brady. Please Click Here To Read This Article
BLASPHEMY!
LaRon Landry had some harsh words for two NFL coaches, criticizing both Bill Belichick and Mike Shanahan. See what he said.
There's a very simple explanation for what is happening between the New England Patriots and the team's relationship with Wes Welker. After Welker was third on the depth chart at wide receiver during Sunday's loss to the Cardinals – behind Julian Edelman – there's been speculation everywhere about what the hell is going on, but I haven't heard anybody come up with...
If you were watching the New England Patriots game Sunday you were repeatedly told by FOX announcer Dick Stockton that the only reason New England was out of sync offensively was due to the loss of tight end Aaron Hernandez. From the moment Hernandez went down after Julian Edelman rolled on his ankle while being tackled on an early first quarter pass play the long time play-by-play...
New England Patriots coach Bill Belichick says he doesn't know how long tight end Aaron Hernandez will be sidelined with a right ankle injury. Asked Monday if Hernandez broke any bones, Belichick said, ''I don't really have any update on his status. I think they're still looking at him.'' ESPN.com reported that Hernandez would not play Sunday night at...
New England Patriots head coach Bill Belichick gave his best Allen Iverson impression Monday when he touched on a rumors of a poor practice week might have led up to a poor performance by the Flying Elvii Sunday."I don't know, you would have to ask them that. I think practice is practice. Practice never goes perfectly. That's what practice is for: you work on new things...
Smack Talk Sports hosts Chris McCarthy and Sean Bakke have a jam packed show lined up! They will be breaking down  week two of the NFL and the New England Patriots loss at home to Arizona, plus they will tell you their theory on what is going on with Wes Welker and Julian Edelman plus [...]
NFL News

Delivered to your inbox

You'll also receive Yardbarker's daily Top 10, featuring the best sports stories from around the web. Customize your newsletter to get articles on your favorite sports and teams. And the best part? It's free!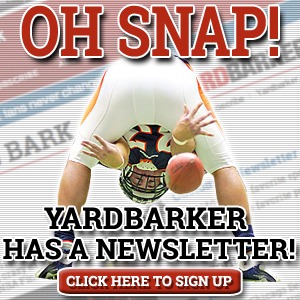 Latest Rumors
The Backyard

Today's Best Stuff

For Bloggers

Join the Yardbarker Network for more promotion, traffic, and money.

Company Info

Help

What is Yardbarker?

Yardbarker is the largest network of sports blogs and pro athlete blogs on the web. This site is the hub of the Yardbarker Network, where our editors and algorithms curate the best sports content from our network and beyond.