I recently read a piece from Mike Tanier on the new Sports on Earth website that broke down the NFL title contenders into 4 different approaches to winning or team identities essentially. Recommended reading. There were 22 teams listed in the piece, divided into the four categories. The categories, according to Tanier are "Wind up the Franchise Quarterback and Watch Him Go", "Strong and Sturdy Everywhere Wins the Race", "Ground, Pound and Rarely Throw it Around" and "Big-Play/Big-Mistake Roulette". The Browns were not one of the 22 contenders listed. in case you were wondering. Here's what the article got me thinking about- what kind of team are the Browns building? Tom Heckert and Mike Holmgren now have three drafts in the books for the Browns. Looking at those drafts, it should be safe to say that the Browns want to establish a pass rush. They want to be a team that gets after the opposing quarterback. They have drafted four defensive linemen in the last two years, including first, second and third round selections. They have also drafted heavy on defensive backs, grabbing six total. But what about offensively, what kind of identity are they trying to create? They run a west coast offense, which would traditionally mean an accurate QB and a do everything type of running back. Have they found those players in Weeden and Richardson? Obviously time will be the final judge of that. But with Weeden's ability to throw the ball deep, and the addition of fast receivers like Travis Benjamin and to some degree even Josh Gordon, you have to wonder if the identity of the offense doesn't become a little less west coast, and a little more vertical passing. Is it important that the team have an identity at all? Well, yes. But not so that the team can fit into some nice category, or be labeled easily. These teams have earned their identity because they are really good at something. If Brandon Weeden turns into a top tier QB, we would all gladly accept that as an identity. Those teams tend to win. If they become an elite defensive team with a sturdy running game, I'm sure we'd all accept that as well. From Tanier's article about the strong and sturdy teams-
"The best teams in this category have very good quarterbacks, but not the kind who can complete 70 percent of their passes over four seasons or throw four interceptions in 500 attempts. Category 2 teams are hard to build, but it may be harder to acquire and develop a Category 1 quarterback than the dozens of capable players needed to be strong across the roster."
Let's face it, anything is better than the identity the Browns currently have. Which player would you say has been the face of the Browns the last 10 years? It would have to be Josh Cribbs or Phil Dawson wouldn't it? And what kind of identity is that? We return kick-offs often! Our place kicker is our best weapon! Here's hoping Richardson, Weeden or even Gordon can become that face.
Original Story:
http://www.waitingfornextyear.com/201...
MORE FROM YARDBARKER
Browns News

Delivered to your inbox

You'll also receive Yardbarker's daily Top 10, featuring the best sports stories from around the web. Customize your newsletter to get articles on your favorite sports and teams. And the best part? It's free!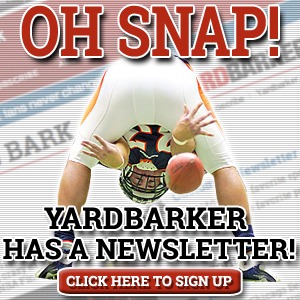 Latest Rumors
Best of Yardbarker

Today's Best Stuff

For Bloggers

Join the Yardbarker Network for more promotion, traffic, and money.

Company Info

Help

What is Yardbarker?

Yardbarker is the largest network of sports blogs and pro athlete blogs on the web. This site is the hub of the Yardbarker Network, where our editors and algorithms curate the best sports content from our network and beyond.