Found August 23, 2012 on CJ Sports NASCAR Talk:
PLAYERS:
Eli Manning
,
Brad Johnson
,
Trent Dilfer
,
Peyton Manning
,
Tom Brady
,
Drew Brees
,
Tony Romo
,
Philip Rivers
,
Chad Pennington
,
Matt Cassel
,
Mark Brunell
TEAMS:
New York Giants
,
New England Patriots
,
New Orleans Saints
,
Dallas Cowboys
,
San Diego Chargers
,
Miami Dolphins
,
Kansas City Chiefs
Against popular belief, just because you self-proclaim yourself to be elite, doesn't mean your elite.  If that was the case, Joe Flacco and Jamarcus Russell would already be in elite status.  Against New York Giants fans and ESPN's so-called "experts" belief, winning a Super Bowl doesn't make you elite either, which keeps Brad Johnson and Trent Dilfer out of this class.
To be elite, it takes many different attributes.  So many that there is only a few active quarterbacks in this class.  The list of active quarterbacks is short, simple and to the point.  This list consists of Peyton Manning, Tom Brady, Aaron Rogers and Drew Brees.
Some of you might be sitting, strictly New York Giants fans, wondering where Eli Manning is and why isn't he on this list of active elite quarterbacks.  The answer to that is really simple, Eli Manning is NOT an elite quarterback.  Just because he self-proclaims it, doesn't make it so.  Before some of you New York Giants' fans get your pink panties in a wad, just because you happen to be on two winning Super Bowl teams doesn't automatically put you in that status.  If that was the case we would have a lot of elite players walking around in the league right now.  Also, when your defense wins the Super Bowl for you twice, it really shoots down your claim to the club.
I am not saying Eli Manning can't become elite, I am just saying he still hasn't entered this status as of yet.  Lucky for him and you the fans, I will break down what he needs to be accomplished to actually be considered elite.  It is actually pretty simple, well… for Eli Manning it might not be, but all he has to do is work on three areas while continuing to add Super Bowl titles to his resume.  The three areas are:
Nobody can be taken serious in the NFL or especially in the conversation of being elite when you are only completing one out of every two passes.  That is pretty much where Eli Manning is at this point.  With seasons with a completion percentage of 48.2% and 52.8% and with a career completion percentage of a dismal 58.2%, where does anyone get off throwing Eli Manning into an elite conversation.  First of all, with those numbers I can NOT take anyone serious from sports outlets like ESPN who throw Eli in this group.  Sorry ESPN, with many other reasons, you have killed your reputation.  Secondly, you must have a minimum completion percentage of at least 60% to be even considered in the elite group.  Finally, all those names I threw at you that are the ONLY active quarterbacks in this group, have a completion percentage of at least a 62% (Tom Brady 62.3%, Peyton Manning 64.9%, Aaron Rogers 65.4% and Drew Brees 65.9%).
Touchdown to Interception/Fumble Ratio:
Don't expect to see this again in 2012-13 (Courtesy NFL)
This area you would think would be the easiest for the quarterback to master.  You're the quarterback, the most important person on the field, hold on to the ball.  You can not be an elite quarterback and be lousy at maintaining possession of the ball.  Yet this is probably Eli Manning's worst area.  The four quarterbacks in the elite class have more touchdowns than interceptions/fumbles.  I am not saying there has a to be a touchdown to interceptions/fumbles ratio, but to be elite you must have at least more touchdowns than interceptions/fumbles.  Eli Manning does NOT have a positive ratio, as a matter of fact Eli Manning has thrown 185 TDs and has 196 INTs/FUMs.  What part of that spells elite?
Then there is the third and final area that Eli Manning has to fix to become elite, his quarterback rating.  In eight years Eli Manning was only able to crack 90+ twice.  Twice?  Now with a 82.1 career quarterback rating, even though he finally got out of being in the 70s, having a 82.5 is garbage.  Eli Manning is not even in the top 40.  With the likes of Tony Romo, Philip Rivers, Chad Pennington, Joe Flacco, Shaun Hill, Rich Gannon, Matt Cassel, Brad Johnson and Mark Brunell being ahead of Eli Manning makes it hard for me to have a serious conversation about Eli being elite.  A quarterback can have a possible rating of 158.3, so why did the elite conversation get brought up when he was rated in the 70s?  And now that he is in the 80s, why is it still being brought up?  When and if he makes it in the 90s, then this conversation can be reopened.
Eli Manning has definetly turned his career around ever since 2007, but not enough to be in the elite class.  Eli has beefed up his resume and entered the Pro Bowl status, but until he is able to address and fix these three key areas, he will never be an elite quarterback in the NFL.  Until then, this will be an age-long debate that will cause lines to be drawn and new standards to be set.
Related articles
Original Story:
http://110sportztalk.com/what-new-yor...
THE BACKYARD
BEST OF MAXIM
RELATED ARTICLES
Direct TV's fairy commercials to support their NFL Sunday Ticket are a bit ironic. Football..fairies…players…tights…anyway, this reel signals the return of Peyton Manning. As we will soon be reminded when he's in motion, his brand shows up more than just on the field.
If quarterbacks were judged by MVP awards and commercial appearances, Denver's Peyton Manning would undisputedly be the greatest of all time. From wiping the windshield, to giving wet willies, to getting a massage, to 'cut that meat', to 'orange barrel, reroute!', to telling on Eli for locking him in a closet, Peyton has pretty much done it all. Below are outtakes...
After last night's debacle on offense, the Arizona Cardinal faithful have to be disgruntled for not landing Peyton Manning during the offseason.Through their four preseason games, the Cardinals have gone 1-3 and the offensive line has looked awful at times.  Kevin Kolb and John Skelton have combined for 5 INT's, 8 Sacks, and only 2 scores.  They've also combined for...
Russell Wilson stands at a mere 5-foot-11 and 206 pounds, on a good day. But at that diminutive stature, many big-time NFL pundits would say Wilson has no place playing quarterback in the league. Right? Well, in college, the talented quarterback only threw for 3,000 yards in three consecutive seasons. He also tossed just 109 touchdowns to 30 interceptions over his four-year career...
Denver, CO. The glimpses and flashes of potentially explosive plays with this Denver Broncos offense has given all who follow this team plenty of optimism as we inch closer to the season opener early next month. Peyton Manning has looked pretty good, running the show with the leadership he has mastered for over a decade now. The receivers have looked pretty good, catching most...
AP According to Bill Williamson of ESPN.com, Denver Broncos quarterback Peyton Manning has had problems throwing the ball to his right side. "It appears that one of the biggest challenges for Denver Broncos quarterback Peyton Manning as he comes back from a serious neck injury is throwing to his right. "ESPN guru John Clayton pointed it out to me this summer. While he thought...
In 1998 the debate about the best quarterback available in the draft centered around the word "upside." While most appreciated Peyton Manning's football acumen, pedigree and polish most agreed that Ryan Leaf had a better arm as well as the potential to grow more. The pundits felt Manning was too ready. In hindsight they look like the buffoons in Major League proclaiming...
Denver Broncos News The Denver Broncos are feeling a bit chippy about their performance against the run, so its a good thing another strong rushing attack is on the docket this weekend. [DenverBroncos.com] When was the last time the Broncos were in the top 6 from odds makers to win the Super Bowl? I'm betting it was somewhere around 2006… [First & Orange] Derek Wolfe and...
The Patriots once again lost in the Super Bowl to the Giants thanks to yet another late 4th quarter comeback drive orchestrated by Eli Manning. And there was a great rejoicing. Since then, the Patriots have been mostly busy getting trying to suppress the events of the Summer of Gronk, as well as signing eight thousand other tight ends. Five Fast Facts About The Greatriots: - Josh...
ENGLEWOOD, Colo. -- Four Denver Broncos quarterbacks and their position coach were scouting the Seattle Seahawks' defense when Peyton Manning suddenly paused the video. Brock Osweiler was paying attention and taking notes. The rookie from Arizona State just didnt expect the storied veteran to put him on the spot. Manning asked Osweiler to identify the Mike, which is the term...
It's the most highly anticipated preseason game – game number three, when the first team often plays well into the third quarter. In other words, Friday night will be the dress rehearsal for the New York Giants going into their week one showdown with division rival Dallas. The Giants have looked solid this preseason, but Head Coach Tom Coughlin would like to see less mistakes...
NFL News

Delivered to your inbox

You'll also receive Yardbarker's daily Top 10, featuring the best sports stories from around the web. Customize your newsletter to get articles on your favorite sports and teams. And the best part? It's free!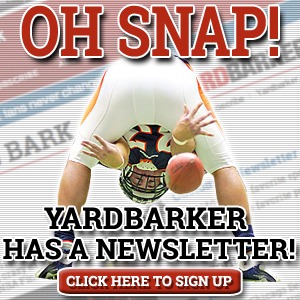 Latest Rumors
The Backyard

Today's Best Stuff

For Bloggers

Join the Yardbarker Network for more promotion, traffic, and money.

Company Info

Help

What is Yardbarker?

Yardbarker is the largest network of sports blogs and pro athlete blogs on the web. This site is the hub of the Yardbarker Network, where our editors and algorithms curate the best sports content from our network and beyond.