Found February 26, 2012 on The Broad Street Journal:
I'm going to cut to the chase here folks. Franchising DeSean Jackson is a lose-lose situation.
Sure, if the Eagles franchise him, he'd be looking at roughly $9.5 million in salary in 2012, which one would think, would make him happy, since all he wants is more money. However, he still wouldn't have what he really wants–long term security. That means he's still going to play scared,  and he's still going to be a dick to everyone in the locker room and in the media.
And what will the Eagles get for this $9.5 million? One of the most explosive players in the league, but a player who will continue to play like a woman due to his perceived lack of commitment from the Eagles organization.
You guys sort of know how I feel about DeSean Jackson. For the style of offense the Eagles like to run, he could be arguably the most important cog in the wheel next to Michael Vick.
Sure, he only had 4 TD's last year, but his ability to stretch the defense opens things up for everyone else, and I do mean everyone.
Do you think LeSean McCoy would have 6 foot wide lanes to run through if the safeties weren't forced to play 30 yards off the ball?
Do you think Jeremy Maclin would be as good as he is if he had a safety over his head for much of the game like DeSean does?
Do you think Michael Vick would have as much confidence in the other wide receivers as he does in DeSean Jackson?

DeSean Jackson opens up the entire offense, and when you pass the ball as much as Andy Reid likes to do, you absolutely need an explosive wide receiver who can stretch the field. Period. We learned that the hard way here in Philadelphia with the likes of James Thrash, Todd Pinkston, and the other bums we had here, who in many people's minds lost us at least two NFC Championship games.
Also, when you have a defense with as many question marks as this defense has, and will continue to have going forward, you need to be able to score at minimum 28 points per game on offense to protect yourself.
The other option that many have talked about recently is the possibility of franchising him, and then trading him for a front line player or high draft pick. The problem is though, trading a proven commodity for an unknown commodity is always risky, especially when that proven commodity is such a big part of your game plan. And we now know that signing those front line players doesn't guarantee ****. Looking at you Nnamdi Asomugha.
High draft picks are never guaranteed to work out either, and especially when it's the Eagles who are the team using those high draft picks.
I'm not sure anyone wants to see DeSean Jackson go, but if he's still going to play scared, and act like a punk ***** to everyone in the process, it's probably best that he gets to steppin'. And if that happens, the next big discussion will be who will be the one that replaces him.
You just finished reading "What Should The Eagles Do with DeSean Jackson?" on The Broad Street Journal! I'd love to hear your thoughts about it!Thanks for following along!
Original Story:
http://feedproxy.google.com/~r/thebro...
THE BACKYARD
BEST OF MAXIM
RELATED ARTICLES
The Philadelphia Eagles are open to the possibility of dealing disgruntled wide receiver DeSean Jackson.According to a league source, the Eagles are open to field offers for the speedy wideout. Philadelphia is expected to franchise Jackson, like last season, which resulted in a holdout that carried into the shortened training camp. Jackson was also benched one game for disciplinary...
While there are nothing but questions regarding DeSean Jackson's future in Philadelphia, the signs increasingly point to the fact that the Eagles want to keep to Jackson. GM Howie Roseman, in Indianapolis with the rest of the football world for the start of the Combine, said the following about Jackson on Thursday: "We think he's got a great future and we're excited about...
The Eagles are open to listening to trade offers for wide receiver DeSean Jackson, according to league sources. Jackson is expected to be franchised. When the Eagles franchised him last season, he held out for a new contract in training camp. He was later deactivated for a game for disciplinary reasons and his production slipped. The 25-year-old receiver finished the season with...
Either way, I'm getting paid in 2012 T...   Flying the Coop The Eagles are reportedly looking to franchise DeSean Jackson in order to trade him according to ESPN's Adam Schefter.  The rumor of him getting franchised surfaced a few weeks ago, but this sign and trade rumor just hit the wire. The Eagles would get a first round draft pick in return for the speedy WR that...
Mike Florio talks Eagles with sideline reporter Howard Eskin, looking at possible offseason moves and debating whether DeSean Jackson will be back in Philadelphia.
The team that made the most commanding moves in the 2011 off season: The Philadelphia Eagles. After signing key defensive players including Pro Bowl defensive end Jason Babin, and a trio of superstar corner backs in Asante Samuel, Dominique Rodgers-Cromartie, and Nnamdi Asomugha, the Eagles were dubbed the "Dream Team". This title quickly proved to be just that, a dream. The...
The Eagles have been pretty consistent with their public statements about wanting DeSean Jackson back with the team in 2012. According to Adam Schefter of ESPN, that might not represent their full take on the situation. Schefter reported Friday that the team is open to listening to trade offers for Jackson after they use the…
Robert Griffin III Here is a shocker from the Combine. Heisman Trophy winner Robert Griffin III revealed on Friday that he had undergone one private interview with a team. Okay, that's not at all surprising. He's RGIII. Though not the fun NFL Network part that we all get to see, it's a critical part of the screening process for teams. No biggie. But hold on a second. That team...
According to ESPN NFL Insider Adam Schefter, Indianapolis Colts wide receiver Pierre Garcon rejected a five-year contract offer from the Colts. Though one could argue that Garcon simply wants to be paid, one could also speculate that Garcon doesn't want to play for a team hell-bent on rebuilding with a new general manager, head coach and quarterback. Also on Friday, Schefter...
NFL News

Delivered to your inbox

You'll also receive Yardbarker's daily Top 10, featuring the best sports stories from around the web. Customize your newsletter to get articles on your favorite sports and teams. And the best part? It's free!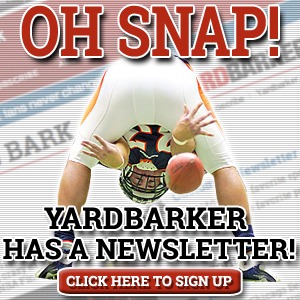 Latest Rumors
The Backyard

Today's Best Stuff

For Bloggers

Join the Yardbarker Network for more promotion, traffic, and money.

Company Info

Help

What is Yardbarker?

Yardbarker is the largest network of sports blogs and pro athlete blogs on the web. This site is the hub of the Yardbarker Network, where our editors and algorithms curate the best sports content from our network and beyond.