The Buccaneers decided to ruffle some feathers of their fanbase by selecting North Carolina State quarterback Mike Glennon in the third round of the NFL Draft. Immediate general thought was that they were drafting Glennon to replace Josh Freeman. While many feel that to be true, a backup plan for Josh Freeman may be the actual truth. No one thought the Buccaneers would be drafting a quarterback in this year's draft. In fact, PewterRerport.com's Draft Analyst Eric Dellaratta joined TheBayCave.com for a Q&A on the Bucs' potential draft plans. "I don't think the Bucs should use a pick on a quarterback this year," he said. "The talent at the quarterback position is not great and the team still has Freeman under contract for one more year." Dellaratta would also add that the Buccaneers would be better off drafting a quarterback in the first round of 2014. But that obviously did not happen. Depending on who you talk to, Glennon struggles with the same inconsistencies Josh Freeman does. Others would say it was a great pickup — like NFL.com's Mike Mayock, who called him a potential franchise quarterback. So why is nearly everyone so uptight over the selection? It was a surprise. And if you weren't surprised, you were probably shocked. In the 2011 draft, the New England Patriots drafted quarterback Ryan Mallett with pick No. 74 in the third round. Why would they have drafted Mallett when they have Tom Brady? Any possible reason for questioning the Patriots was out there. Much like the uproar the Buccaneers received Friday night after drafting Glennon with pick No. 73. Mallett was not drafted by New England to replace Brady. Instead, he was drafted for insurance in case something were to happen to Brady. Very much like the approach the Buccaneers are taking with Mike Glennon — at least for now. Another common thing said after the Glennon pick was "they could have picked (insert any name here) with No. 73." Well, you know who the Patriots could have had instead of Mallett? Richard Sherman. You know who else? Cecil Shorts. See where this is going? You can say that about any team in any draft for any player. A team drafts to their needs and where they have players rated, not to who they could have when they feel they may be satisfied at certain positions or even when they are drafting for depth — like what this draft is about for the Buccaneers. Buccaneers' Director of College Scouting Eric Stokes highly recommended quarterback Russel Wilson to Pete Carroll and the Seahawks when Wilson was there at their selection in the third round of last year's draft (when Stokes was in Seattle). Glennon was also coached by the same coaches who coached Wilson and Falcons quarterback Matt Ryan. Fact is, the Bucs had Glennon rated high on their boards. Therefore, they got him with their third round selection. In no way is this article written to compare Tom Brady to Josh Freeman nor Ryan Mallett to Mike Glennon from a talent standpoint — Wilson and (Matt) Ryan also included. If you think it is, you're missing the point. Sure the Buccaneers could have drafted this guy and that guy, but when it's all said and done, they draft who they have on their boards and who they need or feel is best available. That player was Mike Glennon at No. 73. The post What's the big fuss over Mike Glennon? appeared first on The Bay Cave.
Original Story:
http://www.thebaycave.com/2013/04/27/...
MORE FROM YARDBARKER
Buccaneers News

Delivered to your inbox

You'll also receive Yardbarker's daily Top 10, featuring the best sports stories from around the web. Customize your newsletter to get articles on your favorite sports and teams. And the best part? It's free!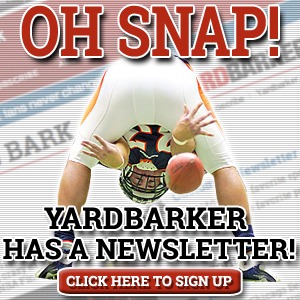 Latest Rumors
Best of Yardbarker

Today's Best Stuff

For Bloggers

Join the Yardbarker Network for more promotion, traffic, and money.

Company Info

Help

What is Yardbarker?

Yardbarker is the largest network of sports blogs and pro athlete blogs on the web. This site is the hub of the Yardbarker Network, where our editors and algorithms curate the best sports content from our network and beyond.