Found May 10, 2013 on Waiting For Next Year:
"My feeling is that we need to present a different picture of this organization. It's been stale. It has not done well. I don't think people view the Browns in a positive light. My perception from the outside was that the Browns just weren't successful. They weren't energetic or forward-thinking. I'm not afraid of transparency. Most of what we do here — there's no secret to it." On Monday, there was much consternation to be had. Not only had Terry Pluto been the subject of a complete hack job, it was reported that the Cleveland Browns listed their draft sheet not by position or grade, but alphabetically. Debate ranged from incompetence and baseless speculation to blind benefit of the doubt—maybe the Browns had multiple draft boards; the report, however, stated nothing of the sort. The end result was a discussion surrounding how the debates surrounding the unknown could be silenced if the Browns had taken our pro bono advice, an output typically reserved for overpaid consultants and advisory firms. It's simple, really: Talk to people. The Browns left the 2013 NFL Draft with Barkevious Mingo and a handful of draft picks for 2014. Had the team allowed someone—anyone—to have an inside track to the thought process, all there would be to debate would be the merits of their thought process. Instead, we are left with the insufferable back-and-forth regarding what-should-have-been, rooted entirely in speculation, topped off with splash of agenda. This led to the next sequence of tweets. The Monday after the #Cavs draft last year, Brian Windhorst published that inside look at the team's process. — Scott @ WFNY (@WFNYScott) May 6, 2013 Some fans may have disagreed with the pick of Dion Waiters, but the thought process behind the pick was there for all to see. — Scott @ WFNY (@WFNYScott) May 6, 2013 It's mind-blowing that Berea doesn't see value in exposure like this. — Scott @ WFNY (@WFNYScott) May 6, 2013 Following the 2012 NBA Draft, ESPN's Brian Windhorst published a piece that was written from the inside. The Cleveland Cavaliers allowed the long-time scribe to be a fly on the wall during what was a crucial evening, one integral in the rebuilding process of a team that had once been perennially on top. During that night, Windhorst was radio silent—his whereabouts were unknown, texts were not returned. The output of his work, largely thanks to access, was superb. While Cavalier fans were able to discuss whether or not they agreed with the thought process behind the selection of Dion Waiters and Tyler Zeller, they were able to understand the why in addition to the what. Little did I know, while I was firing off the tweets above, Grantland's Chuck Klosterman was filing and editing a piece that was ultimately published on Thursday, documenting his behind-the-scenes reporting from Berea on the night of the NFL Draft. The piece is extremely well reported, and contains plenty of draft-day facts that clear a lot of the air regarding the players themselves: the Browns were set on Barkevious Mingo and were only going to trade down had he not been available at sixth overall; there were multiple trades proposed, one which included multiple first-round picks for future drafts that would leave the Browns without a first-round pick in 2013; assistant GM Ray Farmer was a part of the war room; Mike Lombardi was a huge fan of an unnamed offensive lineman who would've been a target in a trade-down scenario; Lombardi is a huge fan of the SEC. This was all well and good for those looking for something to chew on. The rest of the several-thousand-word story, however, left the Browns looking worse than they did before they had agreed to let Klosterman in to their compound. The quote used above is from the team's new president Alec Scheiner. His backgound has been discussed here before; he was the main attraction for Craig when he descended upon Boston for the Sloan Analytics Conference. It would appear that he gets it, not only based on his words above, but the message he attempted to deliver over that weekend in March. But if Scheiner does in fact get it, he is on an island as the rest of the exposé painted a picture of paranoia, distrust and contradiction—and out and out dismissal of any efforts to erase what is being purported as a misperception. If the Browns feel that they are being falsely accused for being shrouded in a cloak of secrecy, and are not "forward thinkers," all they did over draft weekend was help cement these beliefs. Letting Grantland in is a step worth applauding—it's a new-age site that features pop culture and spectacular prose so the intentions were good, I'm sure. What they did after cutting the credential , however, was analogous to Chansi Stuckey fumbling the ball while attempting to gain an extra yard and the team ultimately losing a winnable contest. Providing bookends to the draft-day nuggets listed above was Klosterman being told multiple times that certain items were off of the record; Scheiner (he of the transparency quote) was painted as the chief offender. A television was giving the war room foursome fits, but an IT worker (a team employee, mind you) was not allowed in the room to fix it until the dry erase board was cleared off. The only discussion Klosterman had with Ken Kovash, the team's analytics guru, was over dinner and the entire conversation was not allowed to be printed. While Klosterman was waiting in the new cafeteria—which drew rave reviews for food quality, for what it is worth—he was shadowed by Brian Smith, one of the team's public relations members who has yet to reply to a voicemail I left him several weeks ago. Smith was specifically instructed to monitor Klosterman, a long-time writer and published novelist, so he would not speak to any employees without the team knowing. "I don't think they're building chemical weapons in Berea," writes Klosterman. "But they might be. I can't say for sure." Klosterman was turned down multiple times when requesting an interview with Joe Banner, a man whom he did credit in the footnotes for being "hypercompetent." The piece de resistance, however, came at approximately 5:30pm on Thursday night when the draft was about to begin. As Klosterman was gearing up to soak in all of the nuances, similar to what Windhorst did a few months earlier with the Cavaliers, he was escorted out of the room by Scheiner—without explanation. It is at this point where it is worth mentioning that this was the reason Klosterman was there to begin with—the draft room was the story. Instead, given zero insight and blanketed by public relations members, the story was relegated to all of the black paint being applied to the pristine new office windows which are set to overlook the practice field—the "institutional paranoia." It is easy to say that this is a "football" thing, that what Windhorst did with the Cavaliers on the night of the NBA Draft was merely indicative of a culture in basketball that isn't as pervasive in football. ESPN the Magazine has recently run multiple features on NBA teams as the Indiana Pacers and Portland Trailblazers both gave unfettered access to team meetings, practices and analytics-based employees are typically kept behind the scenes, adding machines and all. But all it takes is a quick Google search to see that this is no longer the case. Days before Klosterman's piece ran, Sports Illustrated's Peter King wrote from inside the war room of the St. Louis Rams, detailing not just the mannerisms of the men involved, but the discussions that took place surrounding the selections as well as the trades that were agreed to. It was short and sweet, but the piece was exactly what Klosterman should (and likely assumed he would) have been able to see. We have long wondered why the Browns, a team in dire need of positive public relations, continues to mishandle opportunities when they arise. Why haven't they endeared themselves to a local reporter? Why are they so secretive? Why do they not have the common courtesy to reply to emails or return phone calls? The Cavaliers are masterful at controlling the message; the Indians are not far behind, albeit with a little extra needed effort. In reporting stories in the past, I've had several instances of "off-the-record" replies, but there may have been one or two for every 10 that were on. I've had multiple one-on-ones with players and executives where there was not a PR staff member anywhere to be seen. For full disclosure, I have exchanged emails with Mike Lombardi. He is as affable as Klosterman describes in his piece. The fact that the team continues to largely hide him from the media, appearances on the new radio homes not withstanding, is baffling. The inability (or outright unwillingness) to be forward thinkers, while claiming that there is a misperception surrounding such a cultural characteristic could not be more ironic. This goes well beyond the whole "fans don't need to know everything" narrative that is fastened together by strawmen. There is a substantial difference between calculated decisions and outright paranoia. Unfortunately, as Klosterman's piece documents, this Browns team—with a "burnt orange shade of opaque"—treads heavily on the latter. There is no doubt in my mind that the Browns felt that allowing Grantland to have access would work out in their benefit. Klosterman is an energetic and creative writer who provides unique perspective on a variety of topics. But his perspective is based on reporting and having the ability to ask the tough questions. Perspective is nothing without knowledge, and if the firewalls prevent such from being obtained, we're left with a picture of disconnect—if Scheiner does in fact pride himself on transparency, the rest of his colleagues are not like-minded. To say that there is a misperception on the current regime based on the missteps of the predecessors is fair. Not actively changing it is akin to a company taking over BP in the middle of the Gulf of Mexico oil spill and making nary an effort to clean it up because it did not occur on their watch. Klosterman describes himself sitting in the end zone of the team's indoor practice facility, bunkered with the local media who are watching the draft unfold on televisions before them. I can picture the bearded scribe walking down the field, alone, with a messenger bag strewn over his shoulder as the Cleveland media stares at him like a pack of deer, smirking on the inside as the big national guy was given the same boot they have been given for the majority of the last decade. The big difference: where a piece by a local beat reporter would be devoured by you or I, this piece by Klosterman was given top billing on a national site that is devoured by millions every day. It may be a few years before the four men who were sitting in the war room can have an effect on the inept win total that has driven fans crazy since 1999. The public relations battle could have been won yesterday. Instead, it was escorted out of the room and was forced to republish the same robotic quotes that were given to everyone else. "This is the outcome we were hoping for," were the words spoken by Joe Banner following the selection of Barkevious Mingo with the sixth overall pick. It's fair to assume that those words can now only be placed on their selection as the described fallout—the paranoia, the guarded mentality and the off-record response—could not have been mishandled any worse. As Scheiner said above, the team needs to paint a different picture of the organization. First, they will need to come to terms with the fact that that this can't be done unless someone is willing to pick up a brush and display the final product.
Original Story:
http://www.waitingfornextyear.com/201...
THE BACKYARD
BEST OF MAXIM
RELATED ARTICLES
The Cleveland Browns today added their second undrafted free agent running back to camp by signing Robbie Rouse out of Fresno State. Rouse becomes the 19th undrafted free agent signed by the Browns. "The Cleveland Browns today signed running back Robbie Rouse as an undrafted free agent, the club announced. A four-year letterman at Fresno State University (2009-12), Rouse started...
According to Ian Rapoport of the NFL Network, from looking at how the Cleveland Browns have conducted themselves this offseason, it looks like Brandon Weeden will be the starter going forward. Rapoport says Browns offensive coordinator Norv Turner loves Weeden and head coach Rob Chudzinksi is excited to work with him. It looks like Jason Campbell was brought in to compete, but more...
The Browns have not had a productive offense since 2007. And if you're like me, over the last five years you've probably watched the likes of New England, Green Bay, and New Orleans and wondered how it was possible that Brady, Rodgers, and Brees were playing the same sport that us Cleveland fans watched every Sunday. In 2011 Drew Brees threw for 46 touchdowns while the entire...
The Cleveland Browns seem to find themselves in a midst of trouble thanks to new owner Jimmy Haslam. To NFL fans, we knew he was a minority owner of the Pittsburgh Steelers who became the owner of AFC North rival Cleveland Browns last year. What NFL fans may not know is he owns a company called Pilot Flying J, which has 500 gas stations all over the country and Pilot is in trouble... Read more
The Browns are giving Armonty Bryant another chance. Bryant, arrested last week for driving under the influence in Oklahoma, was among 49 players participating Friday on the first day of a three-day rookie minicamp. The seventh-round draft pick was on the field along with first-round pick Barkevious Mingo, third-rounder Leon McFadden and others as coach Rob Chudzinski and Cleveland...
The Cleveland Browns are coming off a 2012 season where they only reached five wins as well as a 2013 draft class that only had five players taken and only two in the first five rounds.For Browns fans the 2013 season doesn't seem too promising. When you have a quarterback battle between the likes of Brandon Weeden and Jason Campbell, you know it might be a long season.But thankfully...
Browns linebacker D'Qwell Jackson and former teammates Chris Gocong and Eric Barton have become ambassadors for Athlete Ally, an organization dedicated to ending homophobia in sports, the trio announced via press release on Friday. Per the release, the addition of these three new Athlete Ally Ambassadors is part of an ongoing effort to empower professional athletes to help make...
The Cleveland Browns have signed diminutive undrafted free agent running back Robbie Rouse. The 5-foot-9 Rouse is Fresno State's career rushing leader. In four years at the school, Rouse ran for 4,467 yards, scored 37 touchdowns and added 110 receptions for 794 yards. He rushed for more than 1,000 yards in each of his final three seasons and had 21 career 100-yard rushing performances...
The Eagles will bring in free agent LBs Chris Gocong and Gerald McRath for tryouts during the team's rookie minicamp this weekend, via PhiladelphiaEagles.com Gocong, 29, and McRath, 26, will be the only two veteran players in attendance this weekend. Both players suffered serious injuries last year as Gocong tore his Achilles and McRath torn left patella tendon. It's not...
On the eve of the first rookie camp under Chip Kelly, the Philadelphia Eagles were busy getting down to other business with their rookies—getting five of the team's draft picks signed. Included in that group are second-round pick TE Zach Ertz, fifth-round safety Earl Wolff, and seventh-rounders DE Joe Kruger, CB Jordan Poyner and DE David King. This means that three of the team's...
Selecting a wide receiver in last July's supplemental draft then trading for one on draft day this year left the Cleveland Browns short of picks. The team decided to get defensive with their remaining selections...
Check out Lavelle Hawkins run after the catch against the Cleveland Browns in 2011. 
NFL News

Delivered to your inbox

You'll also receive Yardbarker's daily Top 10, featuring the best sports stories from around the web. Customize your newsletter to get articles on your favorite sports and teams. And the best part? It's free!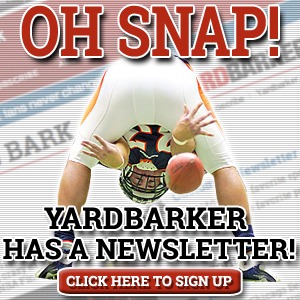 Latest Rumors
Best of Yardbarker

Today's Best Stuff

For Bloggers

Join the Yardbarker Network for more promotion, traffic, and money.

Company Info

Help

What is Yardbarker?

Yardbarker is the largest network of sports blogs and pro athlete blogs on the web. This site is the hub of the Yardbarker Network, where our editors and algorithms curate the best sports content from our network and beyond.