Found May 03, 2013 on FatManWriting:
It must be tough to be in your early 20s and have the weight of a fan base resting on your shoulders--or in Robert Griffin III's case his knees. The pressure on guys like him is intense from performing on the field, doing the right thing off the field, and saying nothing that anyone can twist or misinterpret to get in you in hot water with, well--anyone. So when a player such as Robert Griffin III tweets or speaks there is one thing that you can be sure of. Everyone--and I mean everyone--will be listening (or reading; you know what I mean). Thursday night RG3 sent a series of tweets that are likely going to produce a whole lot of blog posts and specualtion (hey!). Why? Well, not just because they are from him or what they said. Almost more because of what they didn't say: "You ever say something & people interpret it a certain way but you didn't mean it that way but meant it how you said it??? Yea..." ""The few" will always ...
Original Story:
http://feedproxy.google.com/~r/blogsp...
THE BACKYARD
BEST OF MAXIM
RELATED ARTICLES
Washington Redskins quarterback told ESPN the Magazine that he realizes that staying in last season's playoff game against the Seahawks was a mistake. "I don't feel like playing against the Seahawks was a mistake. But I see the mistake IN IT," Griffin said, via Dan Steinberg of The Washington Post.   Griffin elaborated. "With what happened and how everything was running...
Washington Redskins quarterback Robert Griffin III is literally all over the place. Just last week he was at the White House Correspondents dinner after party, and this weekend he is at the Kentucky Derby. This kid knows how to enjoy life, and might I add, look good while doing it. In an interview with NBC...
The Washington Redskins' name continues to be controversial, and, recently, local politicians again began to put pressure on the franchise to change it. However, according to the team's star quarterback, that all may be just a bunch of P.C. hogwash. On Tuesday, after the moniker again started to make headlines, Robert Griffin III took to Twitter, decrying the evils of political...
"A lot of people have said DC's my town, it's not Obama's town," RG3 says. "Obama's the second most popular person in the city. I don't look at it that way. But I can see what they're saying....
The most talked about knees in the nation's capital do not belong to the President or the First Lady, but the 23-year old quarterback of the Washington Redskins, Robert Griffin III. Will they--especially the one injured in the playoff game--be good to go on Opening Day in a few months? No one knows; it all depends on how well RG3 rehabs his injury. We do know one thing--RG3...
Whoop de doo Juan… So far it's been a great 1st day of May, and Washington Redskins Quaterback Robert Griffin III is a coverboy for ESPN Magazine 15th year anniversary issue. To See the RG3 pics click here. RG3 Does Jumping Jacks On Draft Day RG3 Shows Off His Backswing
Robert Griffin III crafted the perfect statement of controversial vagueness yesterday afternoon, when he tweeted out this melodramatic rant against the agents of political correctness. This, of course, led many to speculate exactly what issue had caused such agita in the young quarterback. Was he upset that he had to hold back against misguided government do-gooders and Native Americans...
During a pep rally on Saturday, RGIII said he wants to make Cowboys Stadium his "home" (Credit: AP Photo/Tim Sharp) On Saturday, the Washington Redskins held a pep rally at FedEx Field for the team's fan. During the rally, quarterback Robert Griffin III took some time to talk to the crowd and get the fans excited about the possibility of him coming back week one. Griffin, took...
Washington Redskins, DOWN: The Redskins addressed some of their needs, but they didn't do anything in the draft to help keep their young star, Robert Griffin III, safe. If he gets banged up again, we'll be looking back at the draft wondering why the Redskins didn't spend the farm protecting one of the most electric players in football. New York Giants, UP: Giants...
It's been a rough offseason for the Washington Redskins, and not just because of the knee injury to star quarterback Robert Griffin III. The team's nickname, which some consider a derogatory term for Native Americans, has faced a barrage of criticism. Local leaders and pundits have called for a name change. Opponents have launched a legal challenge intended to deny the team...
WASHINGTON — It's been a rough offseason for the Washington Redskins, and not just because of the knee injury to star quarterback Robert Griffin III. The team's nickname has faced a new barrage of criticism for being offensive to Native Americans. Local leaders and pundits have called for a name change. Opponents have launched a legal challenge intended to deny the team federal...
ESPN The Magazine is celebrating 15 years of success with an "Anniversary Issue" featuring four excellent covers with superstar athletes Blake Griffin, Robert Griffin III, Ronda Rousey, & Bryce Harper. Check out their fun-filled shoot below, which cover is your favorite. Blake Griffin(Los Angeles Clippers) John Vavartos jeans, J.Crew shirt, Saint Laurent necktie, Air Jordan...
Redskins News

Delivered to your inbox

You'll also receive Yardbarker's daily Top 10, featuring the best sports stories from around the web. Customize your newsletter to get articles on your favorite sports and teams. And the best part? It's free!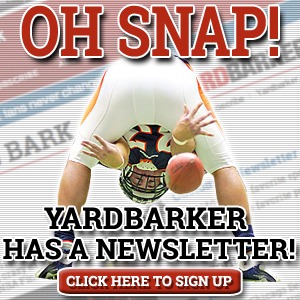 Latest Rumors
The Backyard

Today's Best Stuff

For Bloggers

Join the Yardbarker Network for more promotion, traffic, and money.

Company Info

Help

What is Yardbarker?

Yardbarker is the largest network of sports blogs and pro athlete blogs on the web. This site is the hub of the Yardbarker Network, where our editors and algorithms curate the best sports content from our network and beyond.