Found November 29, 2012 on Boston Sports Then & Now:
PLAYERS:
Tom Brady
,
Terry Bradshaw
,
Brett Favre
,
Dan Marino
,
John Elway
,
Peyton Manning
,
Otto Graham
,
Johnny Unitas
,
Joe Montana
,
Eli Manning
TEAMS:
New England Patriots
,
Pittsburgh Steelers
,
Minnesota Vikings
,
Washington Redskins
,
Miami Dolphins
,
Denver Broncos
,
Indianapolis Colts
,
Cleveland Browns
,
New York Giants
,
Green Bay Packers
,
San Diego Chargers
,
Kansas City Chiefs
TB12 Stands Tall In SI's Football's Greatest, But Maybe TOO Tall Patriots QB Tom Brady is enjoying a NFL MVP worthy season in 2012 thus far. In 11 games, he has a QB rating of 105.2 with 3,299 yards, 24 touchdowns and only THREE measly interceptions. If he continues at this pace, he is a shoe in for the league's Most Valuable Player. But we all know that TB12 is TEAM first and wants to add another championship ring or two to his collection before he rides off into the sunset. With a FOURTH or FIFTH Super Bowl championship on his STELLAR resume, where does Tom Brady rank ALL-TIME? Sports Illustrated's latest book, "Football's Greatest" is choc full of top 10 lists including "The 10 Best Quarterbacks". You may be a bit SURPRISED where Thomas Edward Patrick Brady, Jr. ranks…. 10. Terry Bradshaw (FOUR Super Bowl Titles)-Pittsburgh Steelers 9. Brett Favre (ONE Super Bowl Title)-Green Bay Packers, NY Jets & Minnesota Vikings 8. Sammy Baugh (TWO NFL Titles)-Washington Redskins 7. Dan Marino (ZERO Super Bowl Titles)-Miami Dolphins 6. John Elway (TWO Super Bowl Titles)-Denver Broncos 5. Peyton Manning (ONE Super Bowl Title)-Indianapolis Colts, Denver Broncos 4. Otto Graham (SEVEN Yes SEVEN NFL Titles)-Cleveland Browns 3. Tom Brady (THREE Super Bowl Titles)-New England Patriots 2. Johnny Unitas (ONE Super Bowl & Two NFL Titles)-Baltimore Colts, San Diego Chargers 1. Joe Montana (FOUR Super Bowl Titles)-San Francisco 49ers, Kansas City Chiefs Tom Brady Will Have Run The Table To Catch His Childhood Idol. Ok, did you DIGEST it? Take it all in? What do you think? My take, that's it's almost IMPOSSIBLE to compare quarterbacks of the last 20 years to the ones of  "yesteryear". S.I. got number one right. No DISPUTING that Joe Montana was the best with his UNBLEMISHED Super Bowl record and GAUDY numbers in those games. Titles should be the NUMBER ONE determining factor for defining the "GREATEST" or "BEST" in any sport. That's why I have a problem with Dan Marino on this list. Sorry Charlie, you had great career stats but you COULD NOT WIN the BIG GAME. Now Tom Brady, in the early part of his career, was LIGHTS OUT in big games winning his first THREE Super Bowls. He has stumbled a bit lately dropping his last two championship match-up versus Eli Manning & the New York Giants. So based on this alone, he is TOP 5 worthy. I am not sure about #3 though. Terry Bradshaw and Otto Graham should rank above Mr. Brady on this list. Both of them were MORE clutch during the MOST pressure packed games of their careers. BST&N's Top 5: 5. Johnny Unitas 4. Tom Brady 3. Terry Bradshaw 2. Otto Graham 1. Joe Montana Hey Tom Brady has NOTHING to be ashamed of falling one sport in BST&N's Top 5 Greatest ALL-TIME Quarterbacks. Being a sixth round pick and with 3-5 years left in the tank, the pride of San Mateo, California should move up to the Top THREE in NFL History behind the pride of the Cleveland Browns, Otto Graham and his childhood hero, Joe Montanan. Let's hope Sports Illustrated updates their book in 2017.
Original Story:
http://boston.sportsthenandnow.com/20...
THE BACKYARD
BEST OF MAXIM
RELATED ARTICLES
Tom Brady lost a bet to Mike Vrabel as to who would win this year's Michigan vs. Ohio State game, and on Thursday Brady paid his dues like a good boy.  Check out the below picture which was Tweeted out by Vrabel who was a former Patriots player who also played at Ohio State.   Because of the Wolverines loss, Brady had to rock Vrabel's Ohio State jersey during at least one...
Tom Brady and Calvin Johnson are arguably the best in the world at what they do, and because of that, we expect them to do amazing things year after year after year. They're back at it again this season, too, with dominant seasons. The Patriots quarterback continues to limit the mistakes, entering Week 13 having thrown just three interceptions. On the other side, Johnson is gathering...
QB Tom Brady The Dolphins have been awful against the pass this year, and white-hot Brady has torched this team for 8 TDs and just one pick in his last three trips to Miami. Look for him to put up around 300+ yards and 2-3 scores this time around. WRs Wes Welker, Brandon Lloyd, Julian Edelman The Dolphins' respectable run defense means that the Pats will probably be...
Save this picture, because it's one of the few times you're going to see Tom Brady in Ohio State gear. The former Michigan quarterback apparently lost a bet with his former Patriots teammate over last weekend's Michigan-Ohio State game and had to wear the Mike Vrabel Buckeyes jersey you see above during a recent practice. "As promised #buckeyenation. A bet is a bet" Vrabel...
CharityBuzz.com:Perfect for the aspiring football fanatic in your life, this package includes the once in a lifetime opportunity to have a private clinic for 2 people with Patriots living legend Tom Brady! Have Tom teach you the finer points of being QB that made him one of the best quarterbacks of all time! Bid now for an afternoon you will never forget.Tom is often discussed as...
I learned this pose from Tom Brady Juan…
He is young. He is only a red shirt freshman. He has a lot of school in front of him. He probably doesn't know anything about New England.But he just might possess the perfect combination of skills that would catch the eye of a football genius like Bill Belichick.Can you imagine?Tom Brady starts to slow down...Bill Belichick starts to wonder when he is going to find someone with...
The Patriots have finally come down off their Thanksgiving feast at the Meadowlands and are ready to bite into some more division rivals. This time it would appear sushi is on the menu. A trip to the bright and sunny skies down in Miami seems like it would be a welcome travel destination for Tom Brady and company, but a quick look at their record over the past decade in the sunshine...
Every year, we are reminded how the NFL has become a passing league and if you don't have a franchise quarterback, you don't have a chance. Well, there is always a slim chance, but in recent years it has been the same names in the same game.With the passing boom of the 21st Century NFL, it feels as if defensive players appear to be at a slight disadvantage with all of the...
The Patriots are not known as a team that runs the ball particularly well, but they may look to do so on Sunday in order to take advantage of a mismatch against the Miami Dolphins. The NFL Network's Mike Lombardi joined The Dennis and Callahan Show on Friday to break down the Dolphins defense. While Miami appears to stop the run well, the Patriots could turn out to be a tough matchup...
Looking to play a quick game of "Where's Waldo?" during an NFL game this Sunday? Hate to spoil your fun, but it's not going to take very long to find him. As the winter season is now upon us, the NFL has released its latest line of cold-weather apparel, which features some interesting hats. The knit sideline hats have been distributed to the players and are now for sale on...
After a disastrous start to the season a year ago, meaningful December football will return to Miami this weekend as the Dolphins take on the AFC East leading New England Patriots. The 8-3 Patriots have yet to feel any pressure from their division rivals as they can already clinch a playoff spot with a win on Sunday while the 5-6 Dolphins will look to build off their comeback victory...
NFL News

Delivered to your inbox

You'll also receive Yardbarker's daily Top 10, featuring the best sports stories from around the web. Customize your newsletter to get articles on your favorite sports and teams. And the best part? It's free!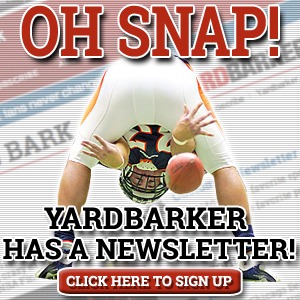 Latest Rumors
The Backyard

Today's Best Stuff

For Bloggers

Join the Yardbarker Network for more promotion, traffic, and money.

Company Info

Help

What is Yardbarker?

Yardbarker is the largest network of sports blogs and pro athlete blogs on the web. This site is the hub of the Yardbarker Network, where our editors and algorithms curate the best sports content from our network and beyond.