Found July 29, 2012 on Waiting For Next Year:
PLAYERS:
Josh Gordon
,
Colt McCoy
,
Pat Shurmur
,
Joe Haden
,
Kate Upton
,
Mike Wallace
,
Plaxico Burress
,
Ben Roethlisberger
,
Bradley Beal
,
Dion Waiters
,
Michael Kidd-Gilchrist
,
Anthony Davis
,
Steve Nash
,
Antawn Jamison
,
Ryan Hollins
,
Chris Paul
,
Blake Griffin
,
Justin Masterson
,
Chris Perez
,
Manny Acta
,
Dan Snyder
TEAMS:
Cleveland Browns
,
Pittsburgh Steelers
,
Chicago White Sox
,
Washington Wizards
,
Cleveland Cavaliers
,
Charlotte Hornets
,
New Orleans Pelicans
,
Los Angeles Lakers
,
Los Angeles Clippers
,
Cleveland Indians
,
Dallas Cowboys
,
Washington Redskins
,
Toronto Blue Jays
,
Los Angeles Angels
While We're Waiting serves as the early morning gathering of WFNY-esque information for your viewing pleasure. Have something you think we should see? Send it to our tips email at tips@waitingfornextyear.com. The Browns have a lot of potential on offense. "In his first practice, Josh Gordon caught the attention of Browns fans. Nearly 3,000 fans showed up despite threatening skies and scattered thunderstorms to see the Browns on display for the first time. After he caught a pass from Colt McCoy in 11-on-11, the crowd cheered wildly for him. "This feels like a place that I definitely want to call home," Gordon said after practice about fans cheering for him. Pat Shurmur has been pleased with Gordon's ability to pick things up. "He's really a fine learner and he was a little faster (today)." Shurmur said due to the rules the defensive backs weren't allowed to bump-and-run in the OTAs and minicamps, so this is the first time the receivers have been challenged. Shurmur said Joe Haden went up and hit Gordon at the line and reported back to Shurmur. "He has great size and didn't have to deal with the bump-and-run in college," Shurmur said. "In this league, you get challenged. Joe came back to the sideline and said 'Wow, this is a big sucker'."" [Fred Greetham/Orange and Brown Report] - I thought this open letter to Jimmy Haslam was pretty clever. "And to flirt around with that sorry of an excuse for a team? That's like being married to Kate Upton and flirting with that awful looking woman sitting two desks down from me. I'll spare you the picture, because you don't want to see it. And we don't appreciate those who intentionally spite us. Approximately 84 percent of us are now blocked on Mike Wallace's twitter feed due to our discord over his holdout. Ask Plaxico Burress. He's all but banished and all he did was tell Ben Roethlisberger to call a different play in the huddle. Plus, that whole "spiking the ball before being tackled" thing never sat well, and I'm being fair in assuming it never will. Where were you when the Jaguars were for sale? I didn't read your name back then. Granted, Jacksonville isn't Shangri-La either, but compared to Cleveland, it's Shangri-La with free drinks and crab cakes. Maybe toss in a cigar. This says nothing of the rivalry we have with Cleveland. You know, the whole Steelers/Browns thing? I know in your time you've never seen the Browns beat the Steelers, and even if you stayed in Pittsburgh for another 20 years you still may not ever see it, but you had to realize they're still in the league, right?" [Neal Coolong/The Steel Curtain] - These games against the Twins count just as much as the games against the Tigers. "Remember Thursday night? When the Indians – in what was being called their biggest game of the year – stared down baseball's best pitcher and their divisional rival and exploded in the 7th inning as the momentum of a season seemed to shift at the corner of Carnegie and Ontario? Since then, the Indians have been outscored by a 23-5 margin by a team that had been outscored by 106 runs in their previous 98 games in the Twins…and they looked bad doing it.  Up and down…up and down, and as this team continues to astound (Thursday's game against Verlander) and confound (Friday's game with Tomlin likely punching his ticket to the bullpen or Columbus and Saturday's debacle), the Indians find themselves trying to figure out what they're going to do, with the full knowledge that making any significant upgrades isn't going to magically turn this team into a cresting juggernaut, but with the pang of a feeling that this AL Central is still inherently flawed as the White Sox (with the tenuousness in their staff) and the Tigers (who always fail to impress when they play the Indians) still look "catchable" for the Tribe…as hard as it is to see this Indians team going on an extended run to catch/pass either or both." [Paul Cousineau/The Cleveland Fan] - My NBA schedule analysis: the Cavs play everyone in the NBA. Fin. "Cavs fans will have the opportunity to see 3rd overall pick Bradley Beal play here in Cleveland on opening night when his Wizards come to town. He'll be matched up with 4th overall pick Dion Waiters. Michael Kidd-Gilchrist, the 2nd overall selection in this year's Draft, won't be back here to CLE until the second last home game of the season on February 6th. January 4th the Cavaliers travel to Charlotte for a road match-up in their only other meeting of the season with his Bobcats. At first I thought the Cavaliers would not be playing against 1st overall pick Anthony Davis and his New Orleans Hornets. Somehow I didn't see the February 20th home date between this year's number one pick and last year's. Pretty weird I missed that. It will also be weird when Skyenga and his Lakers make their triumphant return to Cleveland on December 11th, but you already had that one circled. Steve Nash is coming with Kobe and Christian that night, along with Antawn Jamison. Ryan Hollins will also be out for revenge himself on November 5th when the Cavs head to Los Angeles to do battle with his Clippers. Ryan will have teammates Chris Paul and Blake Griffin fired up for that one to be sure. " [Brendan Bowers/Stepien Rules] - Justin Masterson's hard work paid off for roughly three innings yesterday. "Masterson's season started on Opening Day, and he looked as dominant as one could possibly look. He pitched eight innings, allowing only two hits and striking out 10. According to Baseball-Reference, he was only the third pitcher since 1918 to put together that line score on Opening Day. He left the game leading 4-1 over the Toronto Blue Jays, but Chris Perez and the bullpen could not hold the lead, and the Tribe eventually lost in 16 innings. "Personally, it's not disappointing at all, because that is the nature of baseball," Masterson said. "As a team, you're upset because it's Opening Day and you want to win that game. We were close, and again, that's how crazy baseball is. It's just happens to be one of the two blown saves our closer has. It happens." What happened for Masterson were three bumpy starts, resulting in two losses and a no decision, making him winless to start the season and holding a 6.65 ERA. According to Indians Manager Manny Acta, Masterson made some mechanical changes in his delivery, and the results began to show on April 27 when he went eight and one-third innings, allowing four hits and two runs against the Los Angeles Angels. According to Masterson, the adjustments were just minor in nature. "You never really make any serious mechanical adjustments," Masterson said. "Really there is a point where you get scared and worry if you need to make some major adjustments or just some minor tweaks, and that's what we did, made some minor tweaks. That's what you do whether you're feeling good or not. You're always going to have some minor bumps."[Mike Brandyberry/Did the Tribe Win Last Night] - I'm really interested to see where this new Ownership takes the Browns. " Because Lerner did not sit behind a desk every day at team headquarters in Berea, because he dared to have outside interests, most notably Aston Villa of the English Premier League, Lerner became an easy punching bag for disappointed and angry Browns fans. Being a "hands-on" owner does not correlate to on-field success, however, a fact lost on many fans. You just have to look at the Dallas Cowboys and Washington Redskins for proof of that. Jerry Jones (Dallas) and Dan Snyder (Washington) are two of the most involved owners in all of professional sports. But what do they have to show for it? Since 1999, when Cleveland returned to the NFL as an expansion team, the Cowboys have exactly one more playoff win than the Browns.  Snyder bought the Redskins in 1999 and since then Washington has two playoff wins. Perhaps Jones and Snyder should find something else to do with their time. This doesn't take Lerner off the hook, however. It's probably safe to say he never intended to become the owner of the Browns, only taking over after his father passed away. And no one pays $119 million for a soccer team, like Lerner did for Aston Villa in 2006, just for fun. He wanted Villa, but he was responsible for the Browns." [Tom Moore/Red Right 88]
Original Story:
http://www.waitingfornextyear.com/201...
THE BACKYARD
BEST OF MAXIM
RELATED ARTICLES
Three days into his first NFL training camp, Josh Gordon is making an impact with the Cleveland Browns. Practicing in front of fans for the first time Saturday, the wide receiver made several nice catches and heard cheers. He also dropped a 40-yard pass in the corner of the end zone and had veteran defensive back Joe Haden nastily knock him off stride. Coach Pat Shurmur says it...
Pat Shurmur talks to media following first day of training camp The difference in Pat Shurmur year over year is obvious. While it is far too early to see how it translates to the team on the field, there's simply no doubting he is a different guy than the guarded, often flustered coach that talked to the media every day last year about the percentage of "installation" that...
Browns new weapon at wide out Josh Gordon showcases his potential at the first training camp practice open to fans Saturday, July 28. Physically, it appears Gordon has all the tools.
Getty Images Cleveland Browns great Jim Brown told the Cleveland Plain-Dealer that he plans on attending Alumni weekend on September 22-23.  Both former defensive back Clarence Scott and running back Ernie Green will be inducted into the Cleveland Browns legends. "I'll be there to support Ernie," said Brown on Saturday night per the Plain-Dealer. The induction ceremony will...
BEREA -- The education of a rookie continued Sunday. Brandon Weeden got baptism by pads, and he understood immediately that the first Cleveland Browns training camp practice in full gear meant the intensity was that much higher. Especially for the defensive guys, Weeden said. Throw those pads on and start thumping up, theyre just hungry to do that. Everybody gets more intense. Its...
The Browns had a rather spirited practice this morning, complete with some goal-line drills, two minute offense and even a couple of minor scuffles. A couple of rookies stepped up, while others struggled and a veteran receiver looked good. LB James-Michael Johnson looked very good in drills and in the two minute situations. He picked off two passes, one of which was tipped. He was...
Joe Banner will have some decisions to make in Cleveland While Randy Lerner's sale of the Cleveland Browns to Jimmy Haslam is not yet official, it's becoming quite clear that everyone expects the deal to go through without issue. Furthermore, we now know that former Philadelphia Eagles President Joe Banner is a part of Haslam's ownership group. What does that mean for the Cleveland...
One of the things we talked about most last year at this time was the maturity of Colt McCoy. He got the team together for "Camp Colt" down in Texas. He spent a weekend throwing with Brett Favre to try and improve his game. He had the support of his teammates in camp and did all the big interviews with the national writers that came through town. That was last year. This year...
Randy Lerner's father, Al Lerner, bought the Browns for $530 million in 1998. After a decade of losing, Randy was looking to sell the Brownies for a price upward of $1 billion (sweet gig, being a sports owner, eh?). While it looks like Lerner's billion dollar asking price won't be met, I'd imagine he'll be okay with this outcome: Randy Lerner is in the process of selling...
About 2,937 attended the first training camp practice open to the public -- more than attended any camp session a year ago. And coach Pat Shurmur was a much more relaxed man 24 hours after learning the team was being sold.
Forbes magazine reported this weekend that the Cleveland Browns are being sold for $920 million dollars. Current owner Randy Lerner is selling the team to a group headed by James Haslam, a current minority owner in the Pittsburgh Steelers. Forbes had placed a value of $977 million on the Browns organization last summer and Lerner reportedly had been asking between $1 to 1.1 billion...
It's been 10 years since credit card magnate Randy Lerner assumed control over the Cleveland Browns when his father, and then owner, the late Al Learner passed in 2002. Before the elder Lerner passed his son made a promise to him that he would keep the Cleveland Browns in the family. It's been a tumultuous [...] [[ This is a content summary only. Visit my website for full links...
NFL News

Delivered to your inbox

You'll also receive Yardbarker's daily Top 10, featuring the best sports stories from around the web. Customize your newsletter to get articles on your favorite sports and teams. And the best part? It's free!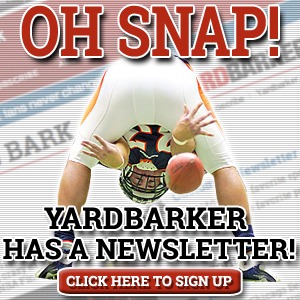 Latest Rumors
Best of Yardbarker

Today's Best Stuff

For Bloggers

Join the Yardbarker Network for more promotion, traffic, and money.

Company Info

Help

What is Yardbarker?

Yardbarker is the largest network of sports blogs and pro athlete blogs on the web. This site is the hub of the Yardbarker Network, where our editors and algorithms curate the best sports content from our network and beyond.