Found March 23, 2012 on Waiting For Next Year:
PLAYERS:
Phil Taylor
,
Ed Reed
,
Daven Holly
,
Bart Scott
,
William Buford
,
Larry Fitzgerald
TEAMS:
Cleveland Browns
,
Baltimore Ravens
,
New York Jets
,
Arizona Cardinals
,
New York Giants
,
New England Patriots
,
Ohio State Buckeyes
While We're Waiting serves as the early morning gathering of WFNY-esque information for your viewing pleasure. Have something you think we should see? Send it to our tips email at tips@waitingfornextyear.com.
"At 36 years of age, Cleveland Browns fans know Ward all too well. Perhaps not as well as Keith Rivers or Ed Reed or Daven Holly or Bart Scott, but the 14-year relationship with Ward is one of many memories, some better than others. Upon their return in 1999, the Browns were greeted by their bitter rival. Some homecoming that turned out to be; the final score was a 43-0 shellacking in front of the lakefront crowd. Ward, making up for lost time in the wake of the Browns' absence, hauled in three passes including one touchdown, his first of many against the Cleveland Franchise. His 1,000th and final NFL reception, fittingly, occurred within the confines of Cleveland Browns Stadium. " [Scott/Still WFNY]
—-
Our own Kirk was asked to provide some insight on the Buckeyes' Buford for a Pistons' site-  "William Buford provides a perimeter threat with a variety of options in which to score. Buford's mid-range game with the ability to curl around screens for jumpers is second to none in college basketball. That skill alone should allow him to stick around for 10 years in the NBA. He's an excellent foul shooter, and he goes through stretches of being an excellent three-point shooter. There have been times this season where the 6'5″ guard has taken the Buckeyes on his back and single-handedly carried them across the finish line with hot shooting. Buford's battle at the next level, just as at this one, will be to remain consistent, avoiding the 2-for-13 shooting nights that have plagued him at times. However, if you're talking about an early second round selection, there are few that have as much scoring ability from the wing as Buford does." [Piston Powered]
—-
I have to say, if this were baseball, a rule change wouldn't be on the horizon for 8 more years. "The NFL Competition Committee announced during a conference call Wednesday that it will introduce multiple rule changes and bylaw proposals to ownership next week in Palm Beach, Fla., including the following: Making the penalty for having too many men on the field a dead-ball foul. This stems from an incident that took place during the most recent Super Bowl. With the New York Giants' defense illegally having 12 men on the field, the New England Patriots ran a play and wound up losing valuable time, although they gained 5 yards. The new proposal would immediately stop the play and make it a 5-yard infraction." [Wyche/NFL.com]
—-
Jimenez had a much better outing- "Ubaldo told me the homer angered him and he stopped messing around after that. I suggested he pitch angry from now on. As for the much-documented pitch velocity, Jimenez was sitting around 92-95 mph on the afternoon. He was mainly around 93 mph with his heater. It's not the 97-98 mph fastball that Jimenez boasted a couple years ago, but it's early and he remains hopeful that his pitch speed will get better as we get deeper into the summer. "I'm not going to lie to you," Jimenez said. "Sometimes you do [think about it], because sometimes you don't feel like it's coming out of your hand good. So you wonder about it like, how hard am I throwing? But, today, that wasn't the case. I was thinking about throwing strikes and I felt really good with my mechanics. I think it's getting better and better." [Bastian/MLB.com]
—-
Oof- "The 49ers did indeed make an inquiry about the Steelers restricted free agent during the opening week of free agency. But they and the other teams that asked about Wallace were told the receiver was looking for a lot of money. How much? A league source said that Wallace, 25, wants a contract that surpasses the eight-year, $120 million deal that Larry Fitzgerald signed last year with the Cardinals. Combine that with the first-round pick any team that signs Wallace to an offer sheet would lose if the Steelers didn't match the offer, and you start to understand why we've heard so little about Wallace in the last week and a half." [Barrows/Sacremento Bee]
—-
Finally, here's a fun game. Find the worst quarterback on this list. [McManamon/FSO]
—-
Update: This hilarious post regarding Browns defensive tackle Phil Taylor is a must-read if you missed the mid-air antics yesterday. [Kissing Suzy Kolber]
Original Story:
http://www.waitingfornextyear.com/201...
THE BACKYARD
BEST OF MAXIM
RELATED ARTICLES
Rams GM Les Snead thought it was important to correct the record after Mike Holmgren's conference call with Browns season ticket holders last week where Holmgren stated that the Browns offer to the Rams for the draft pick that would have allowed them to select Baylor quarterback Robert Griffin III was "every bit the offer that was chosen." Holmgren also said that St. Louis...
By Fred GreethamOBR Senior ReporterFoxSportsOhio.com I was out with Barry McBride (Digital Content Manager for Fox Sports Ohio and OBR Publisher) recently and we were talking Browns over lunch. We then started talking about how quickly it seems Colt McCoy has dropped in the opinion of fans and the media, both locally and nationally. I heard one local sports talk show host say that...
Browns receiver tackled on a three-yard out on 3rd-and-5 … DRINK! Mike Holmgren talking retirement plans on Seattle radio again … DRINK! Randy Lerner's plane touches down in Hamptons airport … DRINK! Pat Shurmur post-game presser … GLUG, GLUG, GLUG, GLUG, GLUG. BATTLED. And in how much more style than with this beauty? A limited edition Tim Couch commemorative bottle from...
While We're Waiting serves as the early morning gathering of WFNY-esque information for your viewing pleasure. Have something you think we should see? Send it to our tips email at tips@waitingfornextyear.com. "Perhaps the overall organizational strategy could have been amended to include the possibility of blowing up the future to land "one really talented player." But then...
The Browns visited with Jonathan Goff of the Super Bowl champion New York Giants on Tuesday. Goff didn't play the entire season after tearing his ACL on the Monday before the first week of the season. Goff was looking like an improved player before he went down for the season according to Mike Garafalo of the Star-Ledger. He was looking fluid in training camp after working on his...
According to Matt Miller (Senior NFL Draft Lead Writer at Bleacher Report and Founder of New Era Scouting), agents for top draft picks have told him their clients do not want the Browns to draft them- "I have now heard from three agents, all with Top 10 picks, who don't want to play for the #Browns." "#Browns fans are missing the point. A) Don't shoot the messenger. B...
Though free agents have apparently been steering clear of Berea, reports are circulating that place Virginia Tech running back David Wilson in front of Mike Holmgren and company in early April. According to Scout.com's Aaron Wilson, the draft hopeful will visit both the Browns as well as the Tampa Bay Buccaneers, owners of the fourth- and fifth-overall picks in the upcoming NFL...
The Browns are certainly putting in their homework on the outside linebacker position as it appears they're planning for life after (or without) Scott Fujita. They are also, apparently looking to get faster and more athletic at the spot as they are set to meet with West Virginia's Bruce Irvin. Aaron Wilson of Scout.com has the report. West Virginia outside linebacker-defensive...
OBR's Fred Greetham wonders if -- after the Browns' failed to trade up to take RG3 -- the plan is to now build around Colt McCoy.
NFL News

Delivered to your inbox

You'll also receive Yardbarker's daily Top 10, featuring the best sports stories from around the web. Customize your newsletter to get articles on your favorite sports and teams. And the best part? It's free!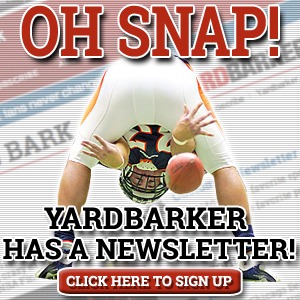 Latest Rumors
Best of Yardbarker

Today's Best Stuff

For Bloggers

Join the Yardbarker Network for more promotion, traffic, and money.

Company Info

Help

What is Yardbarker?

Yardbarker is the largest network of sports blogs and pro athlete blogs on the web. This site is the hub of the Yardbarker Network, where our editors and algorithms curate the best sports content from our network and beyond.