Found October 10, 2013 on Waiting For Next Year:
PLAYERS:
Josh Gordon
,
Tristan Thompson
,
Mike Brown
,
Daniel Gibson
,
Jose Ramirez
,
Corey Kluber
,
Joe Mauer
TEAMS:
Cleveland Browns
,
Cleveland Cavaliers
,
Cleveland Indians
,
Minnesota Twins
,
Ohio State Buckeyes
Cleveland sports fans are waiting. Thus, while we're all waiting, the WFNY editors thought you might enjoy reading. Because you never know how long we might be waiting. So here are assorted reading goodies for you to enjoy. Send more good links for tomorrow's edition to tips@waitingfornextyear.com. Video analysis on why Josh Gordon is untradeable: "While Gordon is one step away from being suspended for an entire season under the NFL's substance abuse policy, he is also one step away from being an elite receiver in the league. The Browns should accept nothing less than a first-round or high second-round draft pick for Gordon. He is that good." [Will Burge/Bleacher Report] – Kyrie says he's staying in a cute video with a little kid! He's really staying! [@cavsforever/Instagram] – Meanwhile, defense from Kyrie, what a concept: "It is only one preseason game to be sure, but Irving appeared focused defensively on a per-possession basis far more often than he was during the 2012-13 campaign. While defending Brandon Knight with just under eight minutes remaining in the third quarter, for example, Irving hustled to stay in front of Knight after the Milwaukee guard gained a step on Irving before swiping the ball away later in the possession. That type of defensive recovery is something we haven't seen from Irving on a consistent basis throughout his first two years in the league." [Brendan Bowers/Bleacher Report] – The 2013-14 Cavs: More question marks than you know what to do with. But Tristan ain't one of them: "Tristan Thompson, the No. 4 pick in 2011, was never expected to carry the franchise. He was drafted to be Kyrie's defensive-minded sidekick, someone who could anchor the defense and be a finisher on the pick-and-roll. Still only 22 as he heads into his third season, he's established himself as a legitimate NBA player with a promising future. However, with so many talented young players in Cleveland, his place in the Cavaliers' long-term plans is unsettled." [Jonathan Tjarks/SB Nation] – Great point about actually coaching: "The Mike Brown era has returned to Cleveland, and folks, it looks awfully promising. We've said it before, but one of the things which makes Coach Brown so unique is the extent to which he actually coaches during games." [Sam Allard/Cleveland Scene] – Do you miss Boobie already, too? "What if I told you Daniel Gibson was the reason I'm here? By "here" I mean writing about NBA basketball in the wee hours of a Sunday instead of doing homework or hanging out with some friends. By "here" I mean spending hours on Synergy sifting through John Jenkins off-ball movement clips. By "here" I mean loving basketball like no normal person should." [David Vertsberger/Hickory-High] – Strength of schedule talk, hooray! "Man, you were sick of hearing about how lousy Ohio State's schedule was back in April. Brace yourselves: It's about to get justifiably louder. The Buckeyes' next five opponents have a combined record of 14-12. Their first six victims are currently 14-16. Remove the six losses tied to having had the misfortune of playing Ohio State and it's still lousy." [Ramzy Nasrallah/Eleven Warriors] – Hopeful predictions for the Tribe in 2014, including this bold one: "Jose Ramirez needs to become the permanent second baseman, but if they won't move Kipnis, make him a centerfielder. Let me just say this now: Jose Ramirez becoming a utility player is a mistake. He's just too good. Could he handle it? Yes. Could he be effective at it? Yes. Should he do it? No." [Jim Pete/Indians Baseball Insider] – I used to think Kluber would wind up as a reliever, but not anymore: "When training camp broke in April, Corey Kluber was not a part of the Cleveland Indians 25-man roster. By the end of the season, Kluber had proven to be one of the Tribe's best starters. He has also now become one of the more promising young players on the team." [Craig Gifford/Did The Tribe Win Last Night?] – Another one of the (so far) disappointing recent pitcher draft picks: "When the Indians made [Mitch] Brown their 2nd round pick in 2012, he became the highest-drafted player from Minnesota since Joe Mauer was the #1 overall pick in 2001. Even as a high school pitcher, Brown had already developed three solid pitches (fastball, curveball, and changeup… he's also worked on a slider), and He was viewed as someone who could become a #2 or 3 starter in Cleveland with a few years' seasoning." [Jason Lukehart/Let's Go Tribe]
Original Story:
http://www.waitingfornextyear.com/201...
THE BACKYARD
BEST OF MAXIM
RELATED ARTICLES
In his weekly press conference Cleveland Browns head coach Rob Chudzinski said that the team is not shopping wide receiver Josh Gordon and have no plans to trade him. Chudzinski was asked about Gordon in light of rumors and reports that surfaced from national media members after the weekend. The coach was asked about the timing of the rumors and whether these reported conversations...
In the name of front office accountability, I've been very open with the fact that I'm not a fan of the Trent Richardson trade. I've learned quite a bit about criticism and sports over the last five years with our Cleveland franchises and Mike Holmgren helped ensure that I already finished drinking my last bottle of "Benefit of the Doubt" cola, 1 let alone a sugary glass...
Cleveland Browns head coach Rob Chudzinski said on Friday morning that quarterback Brian Hoyer will have surgery to repair a torn anterior cruciate ligament in his right knee on Friday, Oct. 18. Hoyer, 27, injured his knee while sliding early in the first half of the Browns' win against the Buffalo Bills last Thursday. On the season, the Cleveland native had won both starts prior...
Give Brandon Weeden credit. He heard the fans booing on Thursday night and responded with enough plays to earn the win. Give him credit for saying the right things as well. When asked about being booed in Thursday's game, Weeden said he understood why the fans booed. "Obviously I heard them (the boos) but I personally think we have the best fans in the National Football League...
Can Brandon Weeden overcome the utter contempt of the front office and convince them not to fire sale the rest of the team? Brian Hoyer brought hope, but he's out for the season with a knee injury and it says something that Jason Campbell hasn't been used yet. Winning three in a row has Browns fans happy, however, can Weeden keep it going or will the fire marshall have to...
Thursday Night Football was special to Cleveland in many ways.  It was a chance for a young and improving Browns team to prove on a national stage, that what they had done the last few weeks were not a fluke, and they are for real.  More than that it was a chance for a young nobody to thrust himself into the national spotlight and grab a firm hold on a starting job in the NFL...
Cleveland Browns defensive coordinator Ray Horton comes from the old school teachings of Pittsburgh Steelers DC Dick Lebeau, and his defense plays the same type of style as the Steelers do, but better these days.
Cleveland Browns Director of Player Personnel Jon Sandusky was arrested on DUI charges in Fargo, ND early Tuesday morning. The 36-year-old NFL front office man turned down a breathalyzer test and then failed field sobriety tests miserably. Yes, he's the son of Jerry Sandusky, the amoral monster who's atrocities led to the (deserved) dismal state of Penn State football today....
The Cleveland Browns have won the last three games in creative fashion. Both the Cleveland Browns and Detroit Lions look to improve to a 4 and 2 record this Sunday at First Energy Stadium. Here are some keys to the game.• Reggie BushThe Cleveland Browns have the 4th ranked defense in the NFL. Cleveland has allowed only 95 rushing yards a game this year playing against some elite...
The Cleveland Browns are expected to look to quarterback Brandon Weeden to lead them the rest of the way after Brian Hoyer's season-ending injury. The Detroit Lions are hoping they don't have the difficult task of trying to replace All-Pro receiver Calvin Johnson for a second straight week. The Browns will try to remain in first place in the AFC North by earning a fourth...
NFL owners will provide financial support to the Cleveland Browns and to the Washington Redskins to upgrade their stadiums. Will it be enough to compete with fan experience in their own home? Calling a time out for that one. The Browns will receive $62.5 million in funding for at $120 million, two-year renovation project for FirstEnergy Stadium. The Browns revealed that new stadium...
If Detroit Lions' WR Calvin Johnson plays Sunday, Browns defensive back Joe Haden is prepared for the challenge.
NFL News

Delivered to your inbox

You'll also receive Yardbarker's daily Top 10, featuring the best sports stories from around the web. Customize your newsletter to get articles on your favorite sports and teams. And the best part? It's free!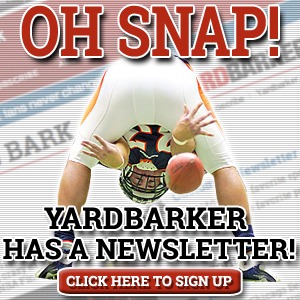 Latest Rumors
The Backyard

Today's Best Stuff

For Bloggers

Join the Yardbarker Network for more promotion, traffic, and money.

Company Info

Help

What is Yardbarker?

Yardbarker is the largest network of sports blogs and pro athlete blogs on the web. This site is the hub of the Yardbarker Network, where our editors and algorithms curate the best sports content from our network and beyond.