Found July 13, 2012 on Waiting For Next Year:
While We're Waiting serves as the early morning gathering of WFNY-esque information for your viewing pleasure. Have something you think we should see? Send it to our tips email at tips@waitingfornextyear.com.
"Assuming the aforementioned players can play at a high level, the Browns could have one of their best offensive lines for the foreseeable future. Adding former first-round picks Joe Thomas and Alex Mack to the mix, the Browns have not been negligent to that position. Thomas is entering his prime in his sixth season and has been voted to the Pro Bowl in each of his first five seasons for his play at left tackle. Mack has anchored the center spot since joining the Browns and has been to the Pro Bowl.
Pinkston and Lauvao played all of 2011 at guard and should only get better. Schwartz is penciled in as the right tackle and the Browns are hoping he will be there for a long time. The depth is expected to come from veterans Greco, Cousins and Miller. There are eight other candidates vying for a roster spot, including four undrafted rookie free agents." [Greetham/Orange and Brown Report]
—-
Big League Stew's Top Ten players that need a good start to the second half. No argument here. "7. Ubaldo Jimenez, Cleveland Indians 8-7, 4.50 ERA, 1.51 WHIP, 86 ERA+
The Tribe traded two of their top young pitchers to Colorado last summer in hopes that Jimenez could serve as the staff ace for the playoff push ahead. That didn't happen as Jimenez struggled and the Indians quickly faded behind the Detroit Tigers. Perhaps it's now a pipe dream to think that Jimenez can regain his early 2010 form, but the middling Indians rotation needs something — anything — from him if they want to stick with the White Sox and Tigers atop the AL Central." [Kaduk/Big League Stew]
—-
Not quite sure how it would help, but here's one fan's idea- "Scott Rubin, former editor-in-chief of National Lampoon, is finally attempting to kick his addiction to his habitually losing team, the Buffalo Bills. The film "Losing It" will document Rubin's crusade to either end his dependence on watching his team lose again and again, or completely turn things around and bring them to win a championship. Rubin hopes to pick up fans of other losing teams along the way, and is reaching out to fans of all Cleveland sports in the fight to get his team, and Cleveland teams, to quit being losers." [Losing It Kick Starter]
—-
Sullinger looking good in summer league- "In his first three games with the Celtics' summer team, Sullinger scored 20 points, grabbed 16 rebounds and scored 16 points, respectively. Read: This week, no one's talking about Sullinger's back issues or the fact he was "red-flagged" by NBA doctors. He's shown an ability to power his way over taller defenders, draw fouls, hold his position near the paint and work his way toward the basket for easy shots. Sort of like he did in his two seasons at Ohio State." [Amico/FSO]
—-
Interesting read on college football trends- "Picking up on an idea that has spread amongst Airraid coaches such as Holgorsen and Tony Franklin, I spent several weeks detailing the rise of packaged concepts. The idea is simply to take what has made option football so effective–making a defender wrong every time, and expand it to the passing game to give an offense options against multi-faceted defenses. This fall will be a good glimpse into how this concept can expand, for example with an offense combining the traditional power play, which already amasses blockers at the point of attack, with stick, which pulls out the front side linebacker against this amassed threat. So long as an offense can address timing issues and a combination similarly accomplishes the same option effect, expect offenses to continue to attack with these combined looks. " [Fulton/Eleven Warriors]
Original Story:
http://www.waitingfornextyear.com/201...
THE BACKYARD
BEST OF MAXIM
RELATED ARTICLES
Most people in the comments seem satisfied with the risk level that the Browns took today in selecting Josh Gordon with a 2013 second round pick by way of the supplemental NFL draft. Gordon, like current Browns receiver Greg Little, has had an idle year before entering the NFL. Maybe that is why when Tom Heckert spoke to the media today after the pick, he referred to Gordon as an...
It's amazing to consider that training camp begins in just two weeks. The Browns will kick-start their 2012 season with a helmet practice from 8:45-11:15 a.m. on Saturday, July 28. In the meanwhile, it's been a fairly exciting offseason for the Brownies, especially on the offensive side. In the past few years, defense was the focus, as the team added new talents such as Phil...
Former Baylor receiver Josh Gordon said "I was more than shocked for sure," he told FOX 26 Sports in Houston after being picked in the 2nd round of the 2012 supplemental draft by the Cleveland Browns. "I definitely didn't think that high, but I'm thankful for the opportunity. . . . I'm definitely in shock.  It still probably hasn't hit me yet." Josh's agent...
Getty Images According to Tony Grossi of ESPNCleveland.com, Cleveland Browns wide receiver Moahmed Massaquoi was put on notice by president Mike Holmgren that he has to step up and fullfill his potential this year. Now with the addition of rookie Josh Gordon, the Browns could decide to cut Massaquoi after a very unimpressive three-year career in Cleveland.  
When it comes to the Urgency Alarm in Berea, Ohio, I'm admittedly torn on the visual. I like to believe that it's a full-go, all-on sirens and lights show; bright orange and white, orbiting lights that, when shining in your rear-view mirror make your stomach fall to your ankles. The blaring of the sirens could be mistaken for an air raid or, at worst, a get-to-the shelter type...
Forrest Gump said, "Stupid is as stupid does." If we translate that into an NFL language, we would say, "the Browns are as the Browns do." In today's supplemental draft, the Browns picked up Baylor WR John Gordon, who was dismissed from the program last year after failing a drug test. In his sophomore season (2010), he caught 42 balls for 714 yds and 7 TDs. Pretty good...
As we get closer to the season, Colt McCoy is one of the biggest names, if not the biggest name, who is very available via trade. McCoy is the incumbent starter in Cleveland, but struggled en route to a 4-12 record last year, prompting the Browns to use a 1st round pick on Brandon Weeden, a soon to be 29 year old quarterback. Given Weeden's age, they want him out there week 1 and...
TSX previews the Cleveland Browns training camp and players to watch...
The Cleveland Browns didn't leave anything to chance in bidding a second rounder to select former Baylor receiver Josh Gordon. It has been confirmed on NFL.com, so you'll have another receiver added to Mike Holmgren's infamous "pile" that he talks about. Tom Heckert and company must have really liked Gordon, or they were paranoid about bidding on another receiver and losing...
While We're Waiting serves as the early morning gathering of WFNY-esque information for your viewing pleasure. Have something you think we should see? Send it to our tips email at tips@waitingfornextyear.com. I'm back, and hopefully better than ever! Just completed a move to the 440. Looking forward to some awesome Cleveland experiences on the daily. As such, check out this...
NFL News

Delivered to your inbox

You'll also receive Yardbarker's daily Top 10, featuring the best sports stories from around the web. Customize your newsletter to get articles on your favorite sports and teams. And the best part? It's free!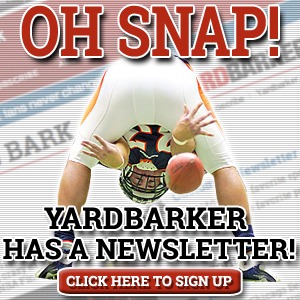 Latest Rumors
The Backyard

Today's Best Stuff

For Bloggers

Join the Yardbarker Network for more promotion, traffic, and money.

Company Info

Help

What is Yardbarker?

Yardbarker is the largest network of sports blogs and pro athlete blogs on the web. This site is the hub of the Yardbarker Network, where our editors and algorithms curate the best sports content from our network and beyond.