Found September 27, 2012 on Waiting For Next Year:
While We're Waiting serves as the early morning gathering of WFNY-esque information for your viewing pleasure. Have something you think we should see? Send it to our tips email at tips@waitingfornextyear.com.
"I don't like the Browns because they make me feel good. I like them because they're the Browns. The franchise is highly guilty of lacking the exalted, trebly end of bathos, but they're not evil or a scam, they're just ************* like me and lots of other people. It sucked when they moved to Baltimore in 1995—it sucked so much that Susan Faludi has a chapter in one of her books about the feelings of betrayal and loss that it inspired in Browns fans. We watched the press conference where Art Modell formally announced the move on a TV set in the middle of my 9th grade biology class. The new Browns are ******** than the old Browns, but it's still a perfectly good football team. I was never happier in my football-watching life than when Eric Metcalf returned his second punt of the game for a TD against Pittsburgh in 1993, but when William Green, who later missed time when his fiancée stabbed him with a kitchen knife, uncorked a 64-yard TD against Atlanta in 2002 to clinch a playoff spot, the new Browns were the real Browns as far as I was concerned. Even though I dance aroundthe dumpster fire and mutter about abandoning the Browns a few times every year, I'm never going to leave. No amount of losing or cutaway shots to Pat Shurmur looking like Beaker from The Muppets made flesh, no bad draft picks, no anything can make me not a Browns fan." [Pete Beatty/The Classical]
–
On Native American imagery and sport: "Some people view these developments as a long-overdue response to offensive stereotypes; others view it as political correctness run amok. Either way, the issue is unlikely to go away anytime soon.
The intersection of sports and Native Americans is a touchy area, and it frequently descends into angry name-calling. But I don't think it has to be that way. If you're fine with the use of Native American imagery, that doesn't automatically make you a racist. And if you're opposed to it, that doesn't make you an activist crusader. In short, I think reasonable people can disagree on this issue." [Paul Lukas/ESPN]
–
Shelley Duncan gets his 2012 season put under the microscope. [Let's Go Tribe]
–
We know how you're feeling, Tampa Bay. Well, without the whole winning thing: "All of which is to say, the Rays can easily afford to give Price a big contract extension, or just ride out the three years of team control they have left before he can test the open market. Ditto for the just-purchased-for-$800-million Padres and a Headley extension (or two more years), the Mariners with a new Felix deal or two more years, and plenty of other young stars on teams not named the Yankees, Red Sox, or Dodgers. Claiming otherwise amounts to concern-trolling. It offers a ******** excuse for teams to cry poor as they sell off their best players. And as history has shown, the prospects who poor-mouthing teams acquire when they unload star players often turn out to be little more than magic beans with a pulse." [Jonah Keri/Grantland]
–
And finally, can the Browns defend the passing game of Baltimore's Joe Flacco? [Dawgs by Nature]
Original Story:
http://www.waitingfornextyear.com/201...
THE BACKYARD
BEST OF MAXIM
RELATED ARTICLES
Big scare for Cleveland Browns receiver Josh Cribbs last night. He received a 54-yard Sam Koch punt and made his way upfield for 14 yards, and then was stopped cold in his tracks as Ravens linebacker Dannell Ellerbe crushed him with a devestating shoulder-to-helmet hit that sent Cribbs' helmet flying and his head crashing to the ground. He lay on the field for a while...
Last week: 32 (+0) Record: 0-3 In a year where up is down and down is up, one thing has remained constant, the Browns suck. Of the only 2 remaining 0-3 teams left in the NFL, the Browns are the one that isn't even the slightest bit surprising. They are currently in the lead in the Blow for Barkley sweepstakes and should remain on the pole throughout the season. Studs LT Joe Thomas...
Fans around the league might not remember the Sunday game anymore, now that a wild Week 3 has been capped by one of the biggest referee mistakes in history. The Ravens pulled off a crazy last-minute upset, fueled by a grieving Torrey Smith, and may or may not have missed the field goal.After all those ups and downs, will they be able to show up for the divisional matchup against...
You have got to give the Cleveland Browns credit...they made it close and took it down to the final seconds of the game... And this was Brandon Weeden's best game so far as a rookie quarterback in the NFL, despite incessant pressure from the Ravens' pass rush...But in the end, the Ravens wore down the 0-4 Browns, winning by the margin of a Cary Williams interception pick...
While We're Waiting serves as the early morning gathering of WFNY-esque information for your viewing pleasure. Have something you think we should see? Send it to our tips email at tips@waitingfornextyear.com Home field disadvantage: "Can it happen here? As in, "Can it happen in Cleveland?" And it pains me to write this, but will new the Cleveland Browns Stadium ever be like...
We're 30 minutes of gametime into the return of the real refs and it's already a refreshing return to normalcy. The game moves at better than glacial pace. Why, it may even end before 1 a.m. Fights after the play are promptly broken up without sidelines clearing and extended delays. The only derps so far belong where they should: with the Browns offense. The Cleveland defense...
In the fallout of the latest thoroughly demoralizing loss of the Pat Shurmur era, a matchup in which the Browns were dominated in all three phases of the game by the Buffalo Bills, Shurmur and his friends at the Browns' wholly owned press organ want you to know that it's all Greg Little's fault. Little dropped one five-yard pass in Browns' territory with about 30 seconds...
NFL News

Delivered to your inbox

You'll also receive Yardbarker's daily Top 10, featuring the best sports stories from around the web. Customize your newsletter to get articles on your favorite sports and teams. And the best part? It's free!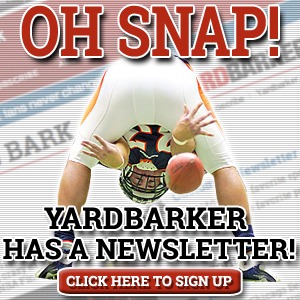 Latest Rumors
The Backyard

Today's Best Stuff

For Bloggers

Join the Yardbarker Network for more promotion, traffic, and money.

Company Info

Help

What is Yardbarker?

Yardbarker is the largest network of sports blogs and pro athlete blogs on the web. This site is the hub of the Yardbarker Network, where our editors and algorithms curate the best sports content from our network and beyond.