Found November 26, 2012 on Fox Sports Arizona:
PLAYERS:
Ken Whisenhunt
,
Ryan Lindley
,
Bobby Massie
,
Nate Potter
,
Adrian Wilson
,
Paris Lenon
,
Stewart Bradley
,
Rashad Johnson
,
James Sanders
,
D`Anthony Batiste
,
Aaron Rodgers
,
Levi Brown
,
Beanie Wells
,
Ryan Williams
,
Kevin Kolb
,
Kurt Warner
,
Clark Haggans
,
Tom Coughlin
,
Russ Grimm
,
Matt Leinart
,
Max Hall
,
Darnell Dockett
,
Calais Campbell
,
Daryl Washington
,
Larry Fitzgerald
TEAMS:
Arizona Cardinals
,
Green Bay Packers
,
San Francisco 49ers
,
New York Giants
,
Oakland Raiders
GLENDALE, Ariz. When Cardinals training camp opened in Flagstaff in late July, coach Ken Whisenhunt did his best to diffuse the notion that he was on the hot seat after a pair of disappointing seasons. By the time he addressed the media Sunday evening and Monday morning, he seemed resigned to this persistent storyline. Thats part of the business, he said following the Cardinals' seventh straight loss. Youve got to have a thick skin. It is clear that the Cardinals coach has pulled out all the stops and turned over every rock in an effort to save this season. In Sundays 31-17 loss to the Rams, he started rookie quarterback Ryan Lindley and rookie tackles Bobby Massie and Nate Potter. He has agreed to shelve defensive captain Adrian Wilson to give the team more speed in its nickel packages. And he looked inward with the rest of his staff over the bye week to examine every facet of the operation for flaws and potentially hidden strengths. Nothing has worked. So if it is fair to alter personnel in the search for a solution, it is also fair to consider changes among those making the personnel decisions. And that starts with Whisenhunt, who earned a great deal of respect and a great deal of power after the franchises first and only Super Bowl berth in 2009. If the Cardinals cant pull themselves out of this tailspin over the seasons final five games by winning two or three times, does Whisenhunt deserve to serve out the final year of his contract in 2013? Here are some of the bullet points working for and against him. FOR Players coach: With the possible exception of Wilson, whose pride is currently bruised, Whisenhunt has the unquestioned respect of his players. He is fair, he is open to dialogue and he is consistent with his message that the best players will play, whether its ageless middle linebacker Paris Lenon over expensive free-agent Stewart Bradley, Rashad Johnson and James Sanders over Wilson in the aforementioned situations, or seventh-round pick Nate Potter over seven-year veteran DAnthony Batiste. That means a lot in a locker room, and there are no outward signs of dissension despite the teams struggles. Unmatched success: Despite the past three seasons, Whisenhunt must still be considered the clubs most successful coach since it moved to Arizona for the 1988 season. He has the franchises only Super Bowl berth, a 4-2 playoff record and just one losing record in his five prior seasons. In the Cardinals 19 previous seasons in Arizona, they made the playoffs just once. Injuries: Coaches are loath to use injuries as an excuse for their lack of success. Green Bay is the classic example of a team that has been able to withstand myriad injuries and still win. But the Packers have Aaron Rodgers (well get to the QB thing later) to mask their deficiencies. Its unrealistic to expect that the Cardinals could overcome the loss of their starting left tackle (Levi Brown) for the entire season, the loss of their top two running backs (Beanie Wells, Ryan Williams) and their once-top tight end for huge chunks of the season, and the loss of their starting quarterback (Kevin Kolb) for the past five-plus games and nearly half of last season. Every club suffers injuries; few experience such a plague of bad luck with key players. How, then, do you judge Whisenhunts coaching with that in mind? Many of the pieces are in place: Despite recent setbacks, the Cardinals appear to have one of the leagues better defenses, with most of the pieces (aside from aging safeties) set for several years. They appear to have a strong receiving corps (not that youd know it with their inaccurate QBs), a good stable of running backs and some depth at tight end. So if the Cards can shore up that offensive line and get a much-deserved break by keeping Kolb healthy, they do appear capable of making the playoffs. That was apparent early in the season when they started 4-0. The NFL is too reactionary; maybe Michael Bidwill is not: Whisenhunt lost a Hall of Fame-caliber quarterback when Kurt Warner retired a year earlier than expected. It takes time and luck (no pun intended) to recover from that. With all that hes accomplished here -- with all that hes given this city and franchise -- Whisenhunt at least deserves to serve out his contract and try to get this thing fixed. The belief here is that hes a good coach who has suffered some bad breaks. And as former Cardinals linebacker Clark Haggans noted: Look at the Giants. Before Tom Coughlin won the Super Bowl, they wanted to fire him. They wanted to fire him during the season they won the Super Bowl! This business is brutal. The stadiums still selling out: Sure there are empty seats, but fan support is still good. Phoenix hasnt quit on the Cardinals. AGAINST Long losing streaks: Following Sundays setback, the Cards have lost seven in a row for the second time in the past three seasons. They also did the deed in 2010, and they lost six straight last season. Its not as simple as this statement makes it sound, but you have to find a way to pull your team out of such epic tailspins. Three straight years of this habitual losing is a disturbing trend. Failure to address the O-line: Clearly, this does not fall solely on Whisenhunt. General manager Rod Graves, O-line coach Russ Grimm and the scouting staff deserve equal blame for neglecting this glaring deficiency. Since drafting Brown in the first round in 2007, the Cards have not selected an offensive lineman higher than the fourth round. Theres this belief in some NFL circles that you dont need to expend high picks on linemen because there will be enough later. Tell that to the 49ers, who have arguably the best line in the league and have three former first-round picks starting. Mismanagement of QBs: You can rip the Cards if you want for not finding Kurt Warners replacement, but as we examined last week, it hasnt been so simple. Of greater concern has been the mismanagement of the QBs Whisenhunt has had. First it was the decision to cut the cord with Matt Leinart, who lost his job before he ever played a regular-season game to Derek Anderson. We know Leinart hasnt amounted to much, but he knew the system. Could the Cards have fared better than 5-11 with him? We think theres an argument to be made, and we think he earned his shot, especially when you consider Whisenhunts alternatives. Anderson was inaccurate, turnover-prone and hyper-sensitive to criticism. Max Hall is a terrific, humble guy, but he never had an NFL arm and never belonged in an NFL game. Whisenhunt could not have foreseen Kolbs injuries, but he did lobby hard to acquire him, and thus far, that has not panned out. And finally, there was Whisenhunts curious decision to switch to Ryan Lindley after one quarter in Atlanta last week. If he had truly seen enough of John Skeltons inaccuracy, fine, but Whisenhunt said in a press conference following the loss that Skelton had played well the week before in Green Bay. If that was true, why the short leash? Who not give Skelton, known for improving as games wear on, a chance to play through his mistakes? And if he was simply protecting Skelton and knew all along he wanted to play Lindley, why not use the bye week to prepare Lindley and then just start him against the Falcons? The Cards have clearly been hamstrung by poor QB play for the better part of three seasons, but repeated missteps by the coaching staff at the position havent helped. The stadiums still selling out: The fans deserve better, and the Cards shouldnt take them for granted. Three straight seasons with no playoffs: This one needs no further explanation. Regardless of circumstances, the NFL is a performance-based business. If you miss the playoffs three straight years, your job is anything but secure. Spending without results: The Cards have shed their former frugal ways with big, early contract extensions for Wilson, Darnell Dockett, Calais Campbell and Daryl Washington. They spent big money on Kolb and gave Larry Fitzgerald a sultans fortune. What has it gotten Bidwill? How does that sit with the boss? A successor in house? Assuming his unit doesnt continue a recent downward trend, defensive coordinator Ray Horton is going to get more head coaching interviews, likely as soon as this offseason. Horton is already an attractive candidate. Throw in the Rooney Rule and you can bet his interviewing skills will be polished by the end of the spring. Could he forge a seamless transition from Whisenhunt? If the Cards believe hes head coach material, can they afford to wait on that decision? Remember, the Cards have gone this route before -- they hired defensive coordinator Dave McGinnis after firing his boss, Vince Tobin. Follow Craig Morgan on Twitter
Original Story:
http://www.foxsportsarizona.com/11/26...
THE BACKYARD
BEST OF MAXIM
RELATED ARTICLES
The Arizona Cardinals season has become a disaster after starting 4-0. The quarterback situation remains undecided with Kevin Kolb still not back in the lineup and John Skelton performing unremarkably. On Sunday, the Cardinals turned to rookie Ryan Lindley. Lindley threw four interceptions, two of which were returned for touchdowns. Given the lack of quarterback play in the last...
Cardinals receiver Larry Fitzgerald caught three passes for 31 yards on the team's first drive Sunday against the Rams but watched his final nine targets fall incomplete.Fantasy Spin:According to AzCardinals.com, it was St. Louis' plan to take Fitzgerald out of the game. Rookie QB Ryan Lindley did that for them. The receiver has only reached the century mark once this season...
Cardinals rookie QB Ryan Lindley was disastrous in his first NFL start Sunday, completing 31-of-52 for 312 yards but throwing four interceptions with zero touchdowns.Fantasy Spin:Larry Fitzgerald only had three catches on 12 targets and probably can't wait for the season to end.
By BOB BAUM AP Sports Writer TEMPE, Ariz. -- The Arizona Cardinals are sticking with Ryan Lindley at quarterback, at least until Kevin Kolb is healthy enough to play. Coach Ken Whisenhunt says that while Lindley had three bad throws that resulted in interceptions, two of them returned for touchdowns, in his first NFL start on Sunday, the rookie did have other times when he was...
SPOKANE – Mike Leach said BUCK linebacker Travis Long is the only Cougar he expects to be selected in the 2013 NFL draft. But would he play linebacker or defensive end in the pros? Leach also touched on Jeff Tuel, recruiting, Marquess Wilson and more.
No more bye weeks. It's all up to health and strategy from here on out to get you to a fantasy football championship. Here are some updates on...
Top 5 Free Agent 1) Beanie Wells ARI RB - 48 Rushing Yards 2 TD Beanie Wells came off the snide and instantly became the lead back in Arizona. Beanie had 17 carries, while the rest of Arizona running backs combined for just five. 2) Knowshon Moreno DEN RB - 89 Total Yards 0 TD Moreno took over as Denver's starting running back and filled in admirably. Just two season ago, Moreno...
Either Janoris Jenkins was really good on Sunday, or the Cardinals' quarterback situation has reached an all-time low. It looked like it was actually a little bit of both. The Rams' rookie cornerback intercepted Cardinals rookie quarterback Ryan Lindley twice, and he took both picks back for touchdowns. The first appeared to be a good read by Jenkins — jumping LaRod Stephens...
Arizona running back LaRod Stephens-Howling is active for Sunday's game against St. Louis, but is not expected to start.Fantasy Spin:Despite 127 yards on the ground last weekend, Stephens-Howling is thought of as a change-of-pace back and a third-down receiving option. Beanie Wells is the starter and is expected to carry the majority of the workload.
GLENDALE, Az. -- A season that started with so much promise has completely disintegrated for the Arizona Cardinals. That's how Sunday's 31-17 loss to the St. Louis Rams began and ended, too. The Cardinals flexed their muscles early behind rookie quarterback Ryan Lindley in his first NFL start, but when things began to unravel, it was too much to overcome as Arizona dropped...
Sam Bradford completed only seven passes against the Arizona Cardinals in their first meeting, only eight in their second. But he'll take winning by two touchdowns apiece any day of the week. For that, he has his defense to thank.  After playing so soft over the last month that they could have been cast in a Charmin commercial, the Rams finally found their aggressive streak...
NFL News

Delivered to your inbox

You'll also receive Yardbarker's daily Top 10, featuring the best sports stories from around the web. Customize your newsletter to get articles on your favorite sports and teams. And the best part? It's free!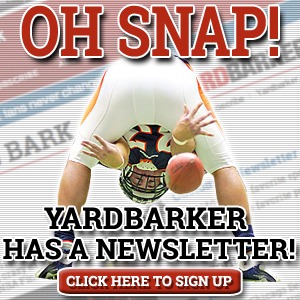 Latest Rumors
The Backyard

Today's Best Stuff

For Bloggers

Join the Yardbarker Network for more promotion, traffic, and money.

Company Info

Help

What is Yardbarker?

Yardbarker is the largest network of sports blogs and pro athlete blogs on the web. This site is the hub of the Yardbarker Network, where our editors and algorithms curate the best sports content from our network and beyond.