Found March 16, 2012 on Rams Herd:
Brandon Lloyd was the biggest trade deadline acquisition of the 2011 NFL season, stepping in and immediately becoming the primary target of the St Louis Rams' passing game. In eleven games, Lloyd became as prolific a pass-catcher as any player since Torry Holt was patrolling the sidelines.
Just six months later, though, the Rams are curiously cool toward the prospect of resigning Lloyd. Why is this? And is it justified?
The Chemistry Question
Despite Brandon Lloyd's incredible circus catches, his overall catch rate in St Louis was an abysmal 45.5%, bringing in only 51 of 112 passes. This had me questioning the chemistry between Bradford and Lloyd.
The two had only five starts together, thanks to the pounding that Bradford took behind his patchwork (read: inexcusably awful) offensive line. In those five games, Bradford threw at Lloyd 56 times. Over a season, that would amount to 179 targets, eclipsing Roddy White for most in the league. But Lloyd only brought in 24 of those passes, a 42.8% catch rate that was somehow worse than his season average overall.
This would suggest that, despite his catch volume and occasional acrobatics, Lloyd is actually among the least productive receivers in the game per pass. But we have to factor in the quarterback here as well. Digging deeper into stats provided by Pro Football Focus, only 58 of the 112 passes thrown at Lloyd were deemed "catchable." That is a staggeringly low percentage, lowest in the league.
Just behind Lloyd on that list: Larry Fitzgerald, who benefited from only 83 catchable balls among the 151 thrown in his general direction. Fitzgerald came down with 80 of those, giving him a raw catch rate of 52.9%. Clearly, "raw catch rate" is a stat that has to come with a massive asterisk. 
Value Added
Josh McDaniels' offense should have taken off with the addition of a veteran receiver that was fully inculcated in his complex schemes. The results, though, weren't as strong as the Rams had hoped.
Without Lloyd: 0-6 record, 9.8 points per game.
With Lloyd: 2-8 record, 13.1 points per game.
A net positive, yes. But not a big one ... unless you look beyond Lloyd's contribution. His addition to the team was the one net positive against a column full of negatives during the final eleven games of the regular season. Three different starting quarterbacks. The loss of four of our five starting offensive linemen. Fans howling for the heads of the coach and GM.
In that context, any offensive improvement at all has to be considered all the more impressive. All else being equal, Lloyd's presence probably added closer to a touchdown per game.  
Locker Room
This is where Lloyd's contributions come under the most scrutiny, as he has a well-earned reputation for being a less-than-model citizen in the locker room. A reputation he fully admits to. But none of the current Rams coaching staff has immediate knowledge of his impact in the St Louis locker room, outside of whatever they might have picked up in conversation.
It's worth noting that New England has not been aggressive in resigning Lloyd either, though they seldom go whole hog in chasing after free agents. Still, though, with the crop of available help at wide receiver now almost completely harvested and Lloyd still available, one has to wonder where the Rams' leading receiver of 2011 fits among Les Snead's offseason priorities.
Original Story:
http://www.ramsherd.com/2012-articles...
THE BACKYARD
BEST OF MAXIM
RELATED ARTICLES
The first 24 hours of Free Agency have seen the St. Louis Rams nab one of the best cornerbacks in the league from the Titans, Jeff Fisher's former pupil Cortland Finnegan. Finnegan, 28, is considered one of the best corners in the league and young enough to still have some years in him. Finnegan's five-year contract
The Rams inked cornerback Cortland Finnegan to a five-year deal worth $50 million, but he remains the team's only acquisition so far. Here is a piece outlining the players currently being targeted by the Rams: http://bleacherreport.com/articles/1107088-top-free-agent-targets-remaining-for-the-rams
The St. Louis Rams signed defensive end Kendall Langford to a four-year contract worth $24 million on Saturday. Langford's deal includes $12 million guaranteed, ESPN's Josina Anderson reported. "Now it's time to start a new chapter in my life here with the St. Louis Rams and I'm pretty excited about it!" Langford posted on his Twitter account. Langford...
The New England Patriots have signed free agent WR Brandon Lloyd to a three-year, $12 million deal.  Lloyd is a former member of the Denver Broncos and St. Louis Rams and has played for offensive coordinator Josh McDaniels in both places.  Translated that means he knows the offense and is a legit deep threat for QB Tom Brady. Lloyd, 30, is a Kansas City, MO native who played...
The New England Patriots signed free agent wide receiver Brandon Lloyd to a three-year, $12 million contract Saturday, according to ESPN NFL Insider Adam Schefter.Lloyd was traded by Denver to St. Louis last season and caught 51 passes for 638 yards and five touchdowns in 11 games for the Rams.The 30-year-old led the league with 1,448 yards receiving in 2010 and is reunited with...
The St. Louis Rams appear out of the Eric Winston sweepstakes. A source told FOXSports.com that Winston won't be making his free-agent trip Friday to the Rams as originally planned. There are no plans for a rescheduled visit, the source said. Winston met Thursday and Friday with the Kansas City Chiefs but a signing isn't imminent. Winston began his tour Wednesday by meeting...
According to beat reporters Jim Thomas and Howard Balzer, the St Louis Rams stopped parading free agents through their hallways long enough to sign one - center Scott Wells, formerly of the Green Bay Packers. Preliminary reports of terms suggest that the deal is worth up to $25 million over four years, with about half that guaranteed. With Wells north of 30 years of age, those...
The St. Louis Rams signed center Scott Wells to a four-year, $24 million contract Friday, according to the St. Louis Post-Dispatch.Wells could make up to $25.5 million with incentives.The 31-year-old was named to the Pro Bowl in 2011 as a member of the Green Bay Packers.The nine-year pro was selected by Green Bay in the seventh round of the 2004 NFL draft.
The Patriots reached agreements with C Dan Connolly, DE Trevor Scott and WRs Brandon Lloyd and Anthony Gonzalez late last week. What else have they done? Here's a look at their free agency moves headed into this week.
NFL News

Delivered to your inbox

You'll also receive Yardbarker's daily Top 10, featuring the best sports stories from around the web. Customize your newsletter to get articles on your favorite sports and teams. And the best part? It's free!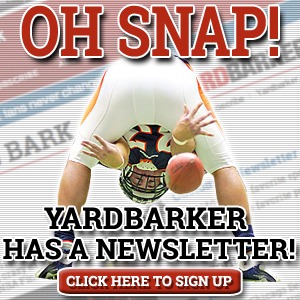 Latest Rumors
The Backyard

Today's Best Stuff

For Bloggers

Join the Yardbarker Network for more promotion, traffic, and money.

Company Info

Help

What is Yardbarker?

Yardbarker is the largest network of sports blogs and pro athlete blogs on the web. This site is the hub of the Yardbarker Network, where our editors and algorithms curate the best sports content from our network and beyond.