Found May 16, 2012 on Purple Jesus Diaries:
This is Toby Gerhart. He is a running back for the Minnesota Vikings. Wears number 32. He's white, kind of has a fetus head, but it's only because he needs it after he went to Stanford and got all genius like with big words, math problems, and Socrates ****.
With his is what appears to be a personalized motorcycle bike object. Full disclosure: I know as much about bicycles as I know where the female clitoris is, but from what I can deduce, this bike appears to be a nightmare personified. Unless it belongs to Diggz Garza, then this **** is legit.
Either way, I have no idea why Toby Gerhart is standing next to this bike. I don't know if he owns it, offered to take a pic next to it for a fan because he's a super, duper, guy, or if this is photoshopped. I wish it was, but it's Toby, so ...... Chances are it's for charity of some sort, but that's not a very good story. So instead, we came up with some other ideas of what this bike could be for after the jump:
Gerhart has actually taken on a new role with the team and is replacing Ragnar as the team mascot with "Muscly White Guy in Black V-Neck T-Shirt." I think it's going to go over much better.
He is participating in the annual Ride for Life Event the Vikings put on, where they go on motorcycle rides across the state to raise money for sick people, or something. It's probably an actual worthy cause. Gerhart thought they would be riding tricycles though, which is why he looks a little hesitant in the photo.
Toby has signed an exclusive deal to play Johnny Blaze in the upcoming Ghost Rider 3 movie, titled "Holy ****, Look at this Bike From Hell."
Gerhart is looking a bit dejected because he took this picture last week right before the government nerds approved a new Vikings stadium. He just finished all the custom work on it and was preparing to ride it THROUGH the closed doors of the capitol playing a Winger song.
He's actually just standing behind anything he could find - which happened to be this bike - to hide the boner he got when he consequently saw it.
Maybe someone smarter than me can fill me in ... Why does the back tire have to be big enough to haul lumber across the country? And what do you grab on to, the Viking horns? Is that actually the handle bars? That's messed up. Also, is this a two seater? Because if it is, I know a couple of dudes I want to have ride on this with me as we drive around Lake Calhoun blasting Madonna and swerving in and out of traffic this summer. Hope this **** is for rent!
[follow]
Original Story:
http://purplejesusdiaries.com/2012-ar...
THE BACKYARD
BEST OF MAXIM
RELATED ARTICLES
EDEN PRAIRIE, Minn. Minnesota Vikings coach Leslie Frazier was watching several players return punts early on the first day of the Vikings' rookie mini-camp on May 4. With over 70 players at the camp, Frazier didn't know each player just by sight. He was relying on a "cheat sheet" with names and numbers to recognize players. One particular player caught his eye...
EDEN PRAIRIE, Minn. The Minnesota Vikings made a pair of minor moves to change some of the depth along its offensive line. Minnesota signed guard Tyler Holmes, a rookie from Tulsa, on Monday, waiving wide receiver Kris Adams. Holmes had participated in the Vikings' rookie mini-camp on a tryout a week ago. A day later, the team added rookie offensive tackle Kevin Murphy from...
EDEN PRAIRIE, Minn. The Minnesota Vikings continued making minor roster adjustments Thursday, cutting offensive tackle Kevin Murphy and cornerback C.C. Whitlock. Murphy, a rookie from Harvard, was signed earlier in the week. Whitlock, from South Carolina, agreed to terms with Minnesota as a rookie free agent after going undrafted in April. The moves bring the Vikings' roster...
EDEN PRAIRIE, Minn. Working with the players two weeks ago, the excitement from Minnesota Vikings strength and conditioning coach Tom Kanavy was easily seen.Kanavy was walking around the Winter Park fieldhouse where several defensive players were going through the start of the team's offseason program. Kanavy was in his element, dealing with more players than he can remember...
Getty Images As Minnesota Vikings running back Adrian Peterson continues to rehab from a torn ACL in 2011, he still plans on being ready for week one of the regular season.  He told ESPN that he feels like he'll be 50-50 once training camp rolls around. "To be honest with you I feel like 50-50. I feel like honestly, sitting here telling you the truth, I'll be able to participate...
ST. PAUL, MN—Inspired by the large pirate ship that the fellow sea faring Tampa Bay Buccaneers have in their stadium, the Minnesota Vikings have announced that their brand new $975 million stadium's centerpiece will be a full-sized Viking ship that will celebrate each touchdown by burning and pillaging a random seating section. Just as the Buccaneers fire cannons from...
EDEN PRAIRIE, Minn. The Minnesota Vikings swapped out a pair of defensive ends on its roster Wednesday, signing third-year player Nick Reed and waiving rookie Kevin Cyrille. Reed, a seventh-round draft pick by the Seattle Seahawks in 2009 out of Oregon, has bounced around in his short NFL career, playing with a new team each season. Reed, who finished his career at Oregon as...
What's retirement like for Brett Favre? He can't even make a stop this morning at some place called The Donut Hole for some breakfast without some chick live tweetin' the whole damn thing. Gotta give the guy credit, he hasn't just resorted to slappin' eggs and 'taters together in the skillet for Deanna. The old boy will actually take his wife out on a Thursday for some...
What, this isn't good enough? Aw crap, more state politics. This time we're talking new stadium agreements, and the fun begins in Minnesota, where the Vikings have agreed to terms on a partnership with the taxpayers for the creation of a $975 million stadium. The team will pay $477 million toward the new facility, while the state and Minneapolis will pay the other $498 million...
Rhett Ellison is thrilled to be in the NFL and trying to learn multiple positions for the Vikings. He talked about his role with the team, his admiration for Jim Kleinsasser and the similar role he could be ask to execute.
Donovan McNabb has yet to go on a single visit this offseason, or at all since being released midseason by the Vikings last year, but at least he has one supporter, former Head Coach Andy Reid, who said that he thinks McNabb can still play and that he looks good physically. While that does suggest Reid has seen McNabb work out this offseason, don't expect any reunion between the...
The Minnesota Vikings finished in the bottom half of nearly all offensive statistical category in 2011, but their passing offense was especially bad – ranking 28th in the league (184.8 passing yards per game). The reason for this ranking? Well, that's a matter of opinion. Some would point to the porous offensive line that allowed 49 sacks (fifth most in the NFL). Journeyman...
Vikings News

Delivered to your inbox

You'll also receive Yardbarker's daily Top 10, featuring the best sports stories from around the web. Customize your newsletter to get articles on your favorite sports and teams. And the best part? It's free!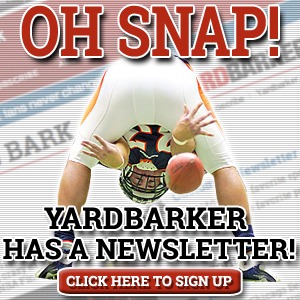 Latest Rumors
The Backyard

Today's Best Stuff

For Bloggers

Join the Yardbarker Network for more promotion, traffic, and money.

Company Info

Help

What is Yardbarker?

Yardbarker is the largest network of sports blogs and pro athlete blogs on the web. This site is the hub of the Yardbarker Network, where our editors and algorithms curate the best sports content from our network and beyond.