Found September 06, 2012 on Fox Sports Detroit:
PLAYERS:
Louis Delmas
,
Chris Houston
,
Aaron Berry
,
Alphonso Smith
,
Amari Spievey
,
John Wendling
,
Erik Coleman
,
Jim Schwartz
,
Nate Burleson
,
Jacob Lacey
,
Drayton Florence
,
Kevin Barnes
,
Jonte Green
TEAMS:
Detroit Lions
ALLEN PARK, Mich. -- You wanted a new secondary. You got it. The consensus opinion was that the Detroit Lions had to do something after getting torched for a combined 90 points and 928 passing yards during their final two games last season. The changes might not be exactly what many had in mind, but it's a totally revamped unit entering Sundays regular-season opener against St. Louis. Complicated by injuries to safety Louis Delmas (knee) and cornerback Chris Houston (ankle), the Lions will likely start a back line that few would have imagined just weeks ago. The turnover has been extreme: Starting cornerback Eric Wright, signed by Tampa Bay as a free agent, is gone. So is Aaron Berry, Wrights projected replacement. Berry was released shortly before training camp, after being arrested twice in a month. Alphonso Smith, who had eight interceptions the last two years, is no longer around either. He was cut last week because he makes too many mental mistakes. As a result, the only returning cornerback of the six on the roster is Houston, and he hasnt practiced with the team since getting injured in the third preseason game. Its a different look at safety, too, partly because Delmas has been out since undergoing knee surgery a month ago. Amari Spievey also was slowed at times during camp because of post-concussion issues, leaving John Wendling and Erik Coleman as the starting safeties until further notice. Wendling has started two games in his five years in the NFL. Coleman, entering his ninth year, has one start over the last two seasons. Some naysayers are most concerned about the safety position. Others fret more over the cornerbacks. Take your pick. Together, they are capable of ruining this teams chances of making the playoffs for the second straight year. It is what it is, coach Jim Schwartz said. Well get through and get those guys (Delmas and Houston) back on the field as soon as we can. "When we do, theyll be ready. If theyre not, we have other guys that get paid to play also. Well be fine. What this massive turnover has done is create opportunities for others, including cornerback Bill Bentley, a third-round pick out of Louisiana-Lafayette. Bentley missed the final preseason game because of a shoulder injury, but he's expected to start Sunday at the right corner. From all indications, Bentley has the potential to be a solid pro in time. Whether he makes a play or gives up a play, hes going to stop and ask a question, receiver Nate Burleson said. Hes just constantly trying to learn. Houston added: He doesnt make the same mistake over and over. Bentley, however, walks a fine line with his aggressive style. He might jump a route and make a big play, or he could get burned badly in the same situation. The Lions dont want to take away Bentleys aggressive nature -- thats what makes him the player he is -- but they need him to use it wisely. Hes a rookie. Hes going to make mistakes, but he seems to have the ability to bounce back from them quickly. Ideally, the Lions would have reliable veterans in place, giving Bentley time to develop. He probably needs that time, but hes not going to get it under the circumstances. This team needs him to mature fast, produce now. The coaches are putting him in the position where hes right in the fire, Burleson said. He has to handle the heat right now. For the most part, Bentley seems to have the demeanor to handle that heat. I want to be tested, he said. I know Im getting beat sometimes, but Im coming back the next play to compete and make a play. Im not saying Ill be a complete corner (right away). Its very serious out there on that island in the National Football League. But as the years progress, know Im definitely trying to be the No. 1 corner, and Im trying to be the person that follows the best receiver wherever he goes. Im doing what I love. Its my dream job. Until Houston returns, the starting left cornerback could be Jacob Lacey, a free-agent addition from Indianapolis, or Drayton Florence, a 10th-year veteran who was signed less than a week ago after being released by Denver. The Lions other cornerbacks are Kevin Barnes, acquired from Washington last week in a trade, and sixth-round draft pick Jonte Green. All of these scenarios are far from ideal. Theyre certainly not the typical makeup of a Super Bowl contender. Still, it can't be any worse than it was at the end of last season. Right?
Original Story:
http://www.foxsportsdetroit.com/09/06...
THE BACKYARD
BEST OF MAXIM
RELATED ARTICLES
Since 2009 Detroit Lions fans have been clamoring for Matthew Stafford to complete an entire season. The number one pick could only show glimpses of greatness between the mounting injuries that threatened to relegate him to bust status. In 2011 Stafford was healthy…and the results were outstanding. Teaming up with superstar Calvin Johnson, Stafford led the Lions to the 5th...
Quietly, the Detroit Lions have improved a porous offensive line over the past four seasons. The group has come together nicely and was a huge reason for the success and health of Matthew Stafford in 2011. The group is constantly improving, and if they're able to take another step forward during 2012, that will lend Detroit's offense an even bigger helping hand. The big...
According to Dave Birkett of the Detroit Free Press, Lions veteran defensive end Kyle Vanden Bosch agreed to restructure his contract giving the team some cap relief. Vanden Bosch reportedly had his $5 million base salary reduced to the league minimum ($925,000) and took the remaining $4.075 million as a signing bonus. Brian McIntyre of NFL.com notes that the simple restructure lowers...
Great new commercial for Monday Night Football. "Matthew Stafford had a big Sunday. He's a favorite for player of the week, so he does his favorite things"...   
Outside voices can say whatever they want about the Lions' need for a running game to complement quarterback Matthew Stafford. Those in charge of running this organization aren't sweating it. The Lions make no apologies for how they are built. They are built to pass the football. You don't use the first overall pick on a franchise quarterback as gifted as Stafford to...
A federal judge in Detroit has sentenced a 35-year-old Detroit Lions fan to three years' probation for phoning in a bomb threat to the Louisiana Superdome during the New Orleans Saints' playoff win over the Lions in January. Shawn H. Payton of Jackson pleaded guilty in June transmitting threats to injure in interstate communications. Prosecutors say Payton twice called...
St. Louis Rams (0-0) at Detroit Lions (0-0) Buy tickets for this game For those if you who didn't follow me in the offseason, I did a lot of work in an effort to find the 5 most underrated and 5 most overrated teams going into the season. The idea is simple. Every year, 5 teams that didn't make the playoffs the year before make the playoffs, including one team with 5 or fewer...
ALLEN PARK, Mich. -- Its such a fine line between bad and good in the NFL. The Detroit Lions went from a winless, pathetic team in 2008 to 10 victories and the playoffs three years later. You would think that theyd be a popular choice to take the next step and seriously contend for the Super Bowl, especially with the star power of quarterback Matthew Stafford and receiver Calvin...
Everybody should feel bad for Sam Bradford in this matchup because that boy named Suh and company will unleash the hounds on the Sooner legend. Speaking of quarterbacks, how about the career season that Matthew Stafford had? Calvin Johnson is arguably the best player in the entire NFL when you take away a few of those franchise quarterbacks, but Stafford has an absolute rifle. The...
The Detroit Lions' decade of losing football ended last season. It remains to be seen if new coach Jeff Fisher can help the St. Louis Rams end their string of sub-.500 campaigns. Looking to build off its first playoff appearance since 1999, Detroit opens its season with high expectations Sunday when the visiting Rams try to rebound from another last-place finish. After going...
Lions News

Delivered to your inbox

You'll also receive Yardbarker's daily Top 10, featuring the best sports stories from around the web. Customize your newsletter to get articles on your favorite sports and teams. And the best part? It's free!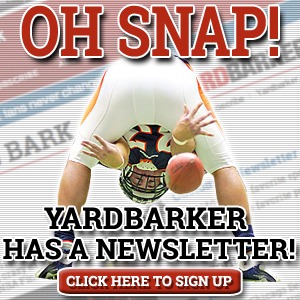 Latest Rumors
The Backyard

Today's Best Stuff

For Bloggers

Join the Yardbarker Network for more promotion, traffic, and money.

Company Info

Help

What is Yardbarker?

Yardbarker is the largest network of sports blogs and pro athlete blogs on the web. This site is the hub of the Yardbarker Network, where our editors and algorithms curate the best sports content from our network and beyond.