Found June 16, 2013 on Football and Futbol:
The tight end position in American football has evolved to arguably the most vital position in a modern day offensive package. A talented and productive tight end not only is a key extra blocker for when a running back scampers to the outside right, but he also needs to be fast enough to catch a ball down field and move the chains.  Certain NFL teams utilize the tight end position more so than others such as the San Francisco 49ers with Vernon Davis or the Atlanta Falcons with Tony Gonzalez.  With that being said, no team in the NFL has utilized the tight end position like the New England Patriots and no tight end in the NFL is as valuable to a team as Rob Gronkowski.   Rob Gronkowski Twitter Page (@RobGronkowski)   Robert James Gronkowski, known as 'Gronk' to fans and players of the game, was drafted by the Patriots out of the University of Arizona in the 2nd round of the 2010 NFL draft. In week one of his rookie year Gronk caught a touchdown pass from Brady against the Cincinnati Bengals in the 4th quarter. In week ten against the Pittsburgh Steelers, Gronk caught 3 TD's from Brady to set an NFL record as the youngest player ever to record 3 touchdowns in a game at 21 years old.  2011 season only saw Gronk blossom into a bonafide superstar as he went on to record 17 receiving touchdowns and become the first tight end in NFL history to lead the league in receiving touchdowns.  He did all of this with the Patriots implementing a 2 tight end scheme many times utilizing Aaron Hernandez, who in his own right, has done an amazing job himself under the tutelage of The Matinee Idol aka Tom Brady.   Despite all the accolades, playoff games and media darling he has become, "yo soy fiesta" anyone?, he has also been plagued with vicious injuries since his record setting sophomore season.  Gronk's first major NFL injury came in the 2nd half of the 2011 AFC championship game against the Baltimore Ravens when he suffered a high ankle sprain on a tackle by Ravens safety Bernard Pollard.  After the Super Bowl loss to the New York Giants, he had surgery on his ankle to repair torn ligaments.  After signing a six year $54 million extension the following season, the largest ever for a tight end, Gronk broke his left forearm late in the 4th quarter against the Indianapolis Colts in week 11 despite the fact the Pats were winning by 20+ points, way to go Bill Bellicheck you egomaniac.  Gronk came back after a month and a half off and re injured the same forearm against the Houston Texans in the first quarter of the AFC divisional game.  He required a second surgery to the forearm he had injured less than 2 months prior.  Four months ago, Gronk was diagnosed with an infection to the same forearm he had surgery on twice and was then cut open again to clean the infected area.  On May 20, Gronk underwent a fourth surgery on the same forearm in the span of a year to replace implanted hardware from the 2nd procedure and to keep cleaning out his infection. Just when you think Gronk was injured enough, it was revealed on Friday that Gronk will be having back surgery on Tuesday and could miss the start of the NFL season.   Lets do the math.  That is five surgeries related to two injuries in the span of a year and a half. Many people around the league are concerned if Gronk will ever be able to compete at the level he showed prior to his surgeries.  As many of you already know by now, the Pats signed Tim Tebow.  Since he is awful at quarterback and they already have a future hall of famer in Tom Brady, many believe that he might be utilized as the 2nd tight end opposite Aaron Hernandez while Gronkowski is out recovering from back surgery.  All of the injuries in such a short time do not bode well for Gronk and it is really sad to see such a promising career in the NFL be cut short with devastating injuries.  Although I am hopeful to see him back in the pads, I also have my doubts if he will ever perform up to his prior years.  That remains to be seen but here is what is certain.  If the pats ever want to hoist the Lombardi trophy again, they are going to need a healthy and productive Rob Gronkowski because after Tom Brady, he is arguably the most important piece to a successful Patriots season.      
Original Story:
http://www.footballandfutbol.com/will...
THE BACKYARD
BEST OF MAXIM
RELATED ARTICLES
********-newengland-patriots: Tom Brady & his father in 2006 
Before he became a household name with stops in Denver, New York, and now New England, Tim Tebow nearly went a different way with his career. In an interview with WEEI, Boston Red Sox scout Tom Kotchman revealed that the Los Angeles Angels were prepared to draft Tebow out of high school. "We wanted to draft him," Kotchman, who worked for the Angels at the time, said. "But...
Newly signed Patriots quarterback Tim Tebow has a fan in Patriots owner Bob Kraft.   Kraft was on CNBC's "Summer on the Street" program, and according to ESPN Boston, said he hopes Tebow makes the Patriots roster, and called him the "real deal." "I don't get why people wouldn't relate to this guy big-time," Kraft said Friday. "For us, it was a great opportunity...
Even when the New England Patriots are signing a third string Quarterback, they can still embarrass the New York Jets. Yes, after the numbers have been crunched, it turns out Tim Tebow will cost the Jets more in 2013 than he'll cost the Pats in both 2013 and 2014. Here's the eventual conclusion of Yahoo Sports after their calculations. Tebow currently has a $755,000...
New England QB Tom Brady has to rebuild the chemistry he has with his receivers after losing Welker to free agency.
Hallelujah Juan… New England Patriots backup QB Tim Tebow continues his publicity tour of preach first, practice second. The Heisman Trophy-winning quarterback spoke at the 15th annual HeartLight event this past weekend at the FedExForum. Can't Tim just focus on being the best football player for one G-d Damn sec? Tim Tebow The Baby Whisperer? Tim Tebow and Tom Brady Like Zoolander and Hansel?
New England new england patriots tight end Rob Gronkowski is scheduled to undergo back surgery Tuesday in Los Angeles, league sources said Friday., http://juicedsportsblog.com/sports-news/news/sources-gronkowski-back-surgery-tuesday
Every Patriots fan knows that as Tom Brady goes, so does the Pats offense. The franchise quarterback is undoubtedly the most important cog in Bill Belichick's machine. But now that Wes Welker, Brady's favorite target, is gone, who from New England's stable of offensive weapons now has the most responsibility? Opponents will certainly gameplan for Rob Gronkowski and Aaron Hernandez...
Lest you think we would go one calendar day without some type of "news" regarding soon to be Patriots' practice squad Quarterback Tim Tebow, take heart; just because it's a slow time in NFL news coverage does not mean there's no Tebow story to be written.  In fact, as the MLB All-Star game is about a month away, it seems like the perfect time to read about the baseball...
New England and frankly all of the country was buzzing over the Patriots signing Tim Tebow this past week. Some Pats fans were tweeting in agony thinking that Tebow was going to take snaps from Tom Brady. Drew Bledsoe has more of a shot playing QB by coming out of retirement for the Pats under Bill Belichick. Belichick is a brilliant strategist when it comes to bringing out the...
ESPN's Ed Werder reported Monday on SportsCenter that the New England Patriots legitimately do not know when tight end Rob Gronkowski will return from his most recent back surgery. In addition to the multiple surgeries Gronkowski has had on his arm, Gronk's most recent trip under the knife was an attempt to fix his back – the second time such an operation has been performed...
New England Patriots owner Robert Kraft would be thrilled to see a high-character guy like Tim Tebow make his club's 53-man final roster.
Patriots News

Delivered to your inbox

You'll also receive Yardbarker's daily Top 10, featuring the best sports stories from around the web. Customize your newsletter to get articles on your favorite sports and teams. And the best part? It's free!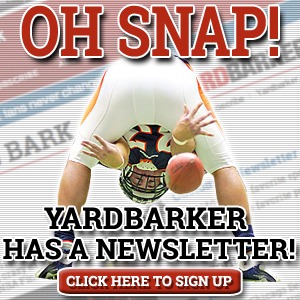 Latest Rumors
The Backyard

Today's Best Stuff

For Bloggers

Join the Yardbarker Network for more promotion, traffic, and money.

Company Info

Help

What is Yardbarker?

Yardbarker is the largest network of sports blogs and pro athlete blogs on the web. This site is the hub of the Yardbarker Network, where our editors and algorithms curate the best sports content from our network and beyond.