Found October 20, 2011 on Fox Sports:
Every week, the experts of FOX NFL Sunday reveal their observations and opinions as they prepare for football's top-rated pregame telecast -- seen each Sunday at noon ET/9 a.m. PT. We'll share some of the highlights from Curt, Terry, Howie, Jimmy and Michael grabbed from their weekly conference call with insider John Czarnecki. John Czarnecki: Won't head coach Sean Payton's injury hurt the Saints and quarterback Drew Brees? Jimmy Johnson: Yeah, he (Payton) calls the plays. And he has such great interaction with the quarterback and now he must leave the sidelines and go into the coaching booth. Michael Strahan: It even affected him last week when he got hurt. He couldn't see the field and he wasn't even out there for the second half. Jimmy: We are talking about one of the best play-callers in the entire league. Yes, it's going to have a big effect. Czar: How do you see the Carson Palmer trade turning out? Jimmy: What is interesting to me is that the Raiders are going to be competing with San Diego (in the AFC West) and Carson has been a next-door neighbor of Norv Turner's. In fact, Norv on numerous occasions has talked about 'Carson and I did this. Carson and I did that.' And now Carson is in Oakland. I really believe Carson's state of mind in Cincinnati wasn't worth a lot the last couple of seasons. He's with a team now, though, that can run the football and I think he will do a nice job. Michael: What I'm really curious about is how will his timing be with his new receivers in Oakland? I know he's been working out. It's not whether or not the guy can play. I think he can. Terry Bradshaw: I think his timing will be fine on comeback routes, quick outs and stuff like that. I think the deep posts and slants may take some time for both the receivers and Carson. They need some time to get comfortable and used to each other. Jimmy: I tried to get Bernie Kosar ready in three days after I traded for him (in 1993 when Johnson was head coach of the Dallas Cowboys), but it was a completely different numbering system from his offense to ours. So, he started the week after. But I do think he'll do fine because the Raiders' system, because of Hue Jackson, is very similar to what it was in Cincinnati and USC. Howie Long: It depends how he feels today and then again on Sunday. Hopefully, this turns out for the Raiders like the Richard Seymour trade did. When that trade happened, I thought there must be something wrong with him because New England had given up on him. But Seymour has had a monster impact on the Raiders. Big-time impact. Palmer is a quality guy and a California guy. He wants to be back here. I think he's in a great frame of mind. They do have a great running game and then he can take his shots down the field. I believe he can make all the throws and Cincinnati was a mess the last couple years for him. Czar: Didn't the Vikings have to go with Christian Ponder over Donovan McNabb and what about the Redskins' quarterback switch? Jimmy: I don't know if it was a no-brainer, but I do believe I would have made the same move because the Vikings are going nowhere and they might as well as see if the rookie can play. Howie: Donovan wasn't playing badly but every time they showed a highlight of him, he was bouncing a ball into the ground. Terry: I've been asking to see Ponder since the second week of the season. I don't know how much of a future McNabb has right now. Howie: Who really cares about the Redskins' change? The whole key in Washington is for them to be able to run for 200 yards every game. I don't believe that when Rex has to drop back and beat you, or pick up some points quickly, I'm not sure he's the guy. Terry: But I'm not sure John Beck is the guy, either. I would not have benched Grossman. I would have kept playing him and bring Beck in off the bench. Jimmy: Unfortunately, Grossman is a streak guy as a quarterback and right now his streak comes with a lot of interceptions. Howie: Last week, the Redskins got taken completely out of what they wanted to do. The Eagles jumped on them and Grossman couldn't bring them back. Michael: I would have kept Grossman in there. I look at him as an experienced guy and I would have given him another shot because I understand what kind of player he is. He's not a come-from-behind kind of guy. Terry: Shanahan is probably thinking that if Grossman would have played average last week, his defense played well enough to win at home. Czar: In the aftermath of the Jim Harbaugh-Jim Schwartz incident, should coaches simply do away with the postgame handshake? Jimmy: No, no, no. Please, we all know the losing coach never likes to go out there. Michael: It's sportsmanship. We are supposed to be teaching kids things in sports about how to act. Terry: This is on Harbaugh. A coach has to act like an adult at all times. I did do a movie with him a long time ago. Czar: Will the Lions snap back and beat the Falcons? Terry: If Detroit is as good as we think they are, they will win this game. I just don't think this is the same Atlanta team that we saw last season. They seem to be a little bit out-of-kilter right now. They simply don't look the same. I don't know what it is. But I'm on the Detroit bandwagon. Michael: Last week Detroit had a lot of trouble stopping San Francisco's running game and if Atlanta can keep that bowling ball going -- RB Michael Turner -- they have a shot. This is Detroit's game to lose. When you look at Atlanta, you just don't see the same speed, the same aggressiveness they had the last couple of seasons. This was a team that was 13-3 last season. Howie: If Detroit is for real, they should take care of business. But if they don't, do they take two steps back? I mean, both the Bears and 49ers were able to run well against that wide-nine front. They used a lot of quick traps against them. It's a must-win for both teams. I look at this game as two teams competing for a wild-card spot in the NFC. Terry: They were so proud of their defensive line, but the Lions simply got hammered by the 49ers. You have to find out if Ndamukong Suh and that bunch are upset by what happened. Howie: But the 49ers are so deep on their offensive line and they admit to being boring, but they simply love to pound you with the running game. I don't know many teams that can do what they did to the Lions. Michael: I think that Lions defensive line will bounce back. I mean, they are still a young team with a young quarterback. Terry: And who knows about RB Jahvid Best and whether or not he can play with his concussion?
Original Story:
http://msn.foxsports.com/nfl/story/FO...
THE BACKYARD
BEST OF MAXIM
NFL News

Delivered to your inbox

You'll also receive Yardbarker's daily Top 10, featuring the best sports stories from around the web. Customize your newsletter to get articles on your favorite sports and teams. And the best part? It's free!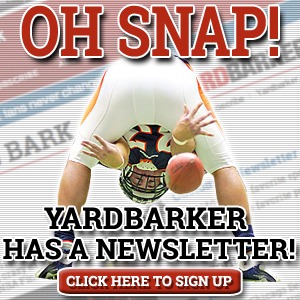 Latest Rumors
The Backyard

Today's Best Stuff

For Bloggers

Join the Yardbarker Network for more promotion, traffic, and money.

Company Info

Help

What is Yardbarker?

Yardbarker is the largest network of sports blogs and pro athlete blogs on the web. This site is the hub of the Yardbarker Network, where our editors and algorithms curate the best sports content from our network and beyond.