Posted September 27, 2012 on AP on Fox
PLAYERS:
Darrelle Revis
,
Kyle Wilson
,
Mike Pettine
,
Michael Crabtree
,
Mario Manningham
,
Randy Moss
,
Rex Ryan
,
Antonio Cromartie
,
Ellis Lankster
,
Isaiah Trufant
,
Reggie Wayne
,
Stephen Hill
,
LaRon Landry
,
Dustin Keller
,
Bryan Thomas
,
John Conner
,
Patrick Turner
,
Eric Smith
,
Bart Scott
,
Quinton Coples
TEAMS:
New York Jets
,
San Francisco 49ers
,
Indianapolis Colts
,
Boise State Broncos
The New York Jets were 30,000 feet in the air, flying back home from Miami and already planning for their biggest fear. How in the world are they going to replace Darrelle Revis? Revis is likely gone for the season with a knee injury sustained against the Dolphins on Sunday, and Kyle Wilson has the tough and unenviable task of taking over for the All-Pro cornerback. ''You're trying to enjoy the win, but at the same time, you can't enjoy it too much, knowing that your best player has suffered a significant injury,'' defensive coordinator Mike Pettine said. ''As coaches, you're always in the world of assume the worst and hope for the best.'' Their assumptions were right as an MRI exam Monday morning revealed a torn anterior cruciate ligament in Revis' left knee. While the Jets haven't yet placed him on season-ending injured reserve, the general feeling is that they'll have to try to get to the playoffs without Revis. ''That's the world in the NFL,'' Pettine said. ''There's no sympathy cards in the mail, and every week's a short one other than your bye. We needed to move on and that's the approach that we took.'' Wilson, the team's first-round pick in 2010, will start Sunday against San Francisco and the 49ers' tough trio of wide receivers in Michael Crabtree, Mario Manningham and Randy Moss. The Jets don't need Wilson to be great, just solid, as they've expected him to be since they drafted him. ''There's nobody that can just step in and replace Darrelle Revis,'' Pettine said. ''We're not foolish enough to think we can just continue to do what we've been doing. But we have some pretty good players in that room as well. I think a lot of people take the knee-jerk reaction of, `Well, the sky's falling and they lost their best player.''' Not the Jets, though. And certainly not Wilson, who has been working toward this moment for two-plus seasons. ''That just goes into your preparation each week,'' Wilson said. ''Either you're prepared or you're not. I looked at myself as more capable and well-prepared every week to do that and be in that position. I'm not going to look at it any different. Obviously, it's a nice opportunity and I'm definitely going to do everything I can, but I'm not going to change anything I've been working on.'' Wilson has become close to Revis over the years as the two work out in the offseason together, and also have neighboring lockers. So his response was a bit curious when asked what his first reaction was when he heard of the severity of Revis' injury. ''I was just thinking that we had work the next day and it was the usual day after a game where you correct everything from the game,'' Wilson said. ''I didn't really think too much about it.'' It's not a slight to Revis in any way. Rather, he's taking his promotion in stride as his buddy begins the rehab process. ''I don't want to make too much of it,'' Wilson said. ''I'm just going to continue to do the things I've been doing. They've worked well for me so far. I mean, I'm just looking to get better. It's been the same every week.'' From all accounts, Wilson has improved steadily since coming to the Jets as a raw but talented rookie out of Boise State, where he was a huge star and big-time playmaker. Fans and media have been waiting to see some of that on a consistent basis. Now, Wilson gets the chance to prove he was worthy of that first-round pick. He won't make everyone forget about Revis, of course, but he could help soften the blow for Rex Ryan. ''We are super fortunate to have Antonio Cromartie who, in my opinion, is a No. 1 corner,'' Ryan said. ''Clearly, that's going to be his challenge and Kyle's coming in to be a starting corner. We know he has that talent. But it's across the board, where our guys have to improve. We have to take it all on ourselves. Each man has to pick it up a little bit. We're very confident in the group that we have.'' That means the front seven has to put more pressure on opposing quarterbacks and do a better job against the run. And, the secondary has to continue to communicate well and defend the passing game with Cromartie, Wilson and backups Ellis Lankster and Isaiah Trufant. The Jets won't make any major changes on defense without Revis, who allowed New York to try aggressive approaches while he regularly shut down opponents' top receivers. They also won't expect Wilson to be as prolific in keeping guys such as Andre Johnson, Reggie Wayne and Larry Fitzgerald off the stats sheet. ''We're not going to ask him to be Darrelle and put him out there on one side of the field all by himself without any help anywhere nearby,'' Pettine said. ''We wouldn't do that.'' The difference on the Jets' defense will be ''more subtle'' than many expect. ''We're not going to all of the sudden change our packages and become a Tampa-2 defense and say, `We're going to protect our corners every snap,''' Pettine said. ''That's not what we do.'' Wilson has already been a major contributor through three games, playing 52 (87 percent) of the team's defensive snaps in the opener against Buffalo; 59 (92 percent) at Pittsburgh when he started for Revis, who was suffering from a concussion; and 48 (58 percent) last week at Miami. But now, Wilson's family from nearby Piscataway, N.J., will get to see even more of him. ''Yeah, they're excited,'' he said. ''That's an understatement.'' When he was drafted, Wilson talked about his reputation as a tough-talking defensive back in college -- a guy who didn't mind getting into it with opposing wide receivers. He's quiet and soft-spoken off the field, but Wilson's competitiveness on it is still very much there. ''It's more like an attitude thing, you know?'' Wilson said. ''Say they're throwing balls at you -- it's just like they're just messing with you. So, when you get a chance to go back, it's just like an attitude thing. When we're out there, it's a physical game and guys get after it. I don't have a problem doing that stuff. ''If you played against me, you would know. That's the best way I can describe it.'' NOTES: WR Stephen Hill (hamstring) and S LaRon Landry (heel) didn't practice, although Landry's absence was just the regular day off the Jets have been giving him each week. TE Dustin Keller (hamstring), LB Bryan Thomas (hamstring), FB John Conner (knee), WR Patrick Turner (hamstring), S Eric Smith (hip/knee) and LB Bart Scott (toe) were all limited. ... Ryan said he thinks DL Quinton Coples, the team's first-round draft pick, will see his role increase after having little impact the first three games.
Original Story:
http://msn.foxsports.com/nfl/story/Ky...
THE BACKYARD
BEST OF MAXIM
RELATED ARTICLES
Darrelle Revis is likely gone for the season with a knee injury, and Kyle Wilson has the tough task of replacing the All-Pro cornerback for the New York Jets. The rest of Rex Ryan's defense will need to step up in a big way, too, starting Sunday against the San Francisco 49ers. Defensive coordinator Mike Pettine says no one can ''just step in and replace a Darrelle...
The loss of cornerback Darrelle Revis may weaken the New York Jets defense a bit for their game against the San Francisco 49ers on Sunday, but it also creates more headaches for 49ers offensive coordinator Greg Roman to try to figure out how the Jets will compensate. Rex Ryan and his Jets defensive staff are known for the variety of looks they throw at an offense, and now they...
The best player on the Jets is out for the year and the Jets are headed South in the standings. And the Patriots battle with the hot Bills.
http://www.businessinsider.com/darrelle-revis-out-2012-9 The San Francisco 49ers defense was looking like the best in the NFL by leaps-and-bounds, but they looked human against the Minnesota Vikings of all teams. It was remarkable since Jim Harbaugh always struggled in the Metrodome, and history clearly repeated itself as they were stunned on the road 24-13. Alex Smith looked like...
MODEST APPROACH
Antonio Cromartie is taking Darrelle Revis' injury as an opportunity to boast about his ability. You'll never believe the claim he's making.
When Darrelle Revis lay on the turf at Sun Life Stadium Sunday clutching his knee in pain, the worst fears of New York Jets head coach Rex Ryan were being realized.  But in a strange twist, the season ending injury to the star cornerback may in fact have been a blessing in disguise for the bombastic Ryan, whose bold predictions of Super Bowl victories in the past have helped to...
Reggie Bush will take the blows. He just wants karma to be a pal and land some hits, too. The Jets spent the days leading up to their Week 3 matchup with the Dolphins talking about finding ways to stop Bush with a physical attack, with coach Rex Ryan saying New York needed to put "hot sauce" on Bush. After Bush left Sunday's game with an injured left knee, Calvin Pace...
Last week: 19 (-6) Record: 2-1 Remember how the Jets' chance to make the playoffs was on the conservative offense, good defense, don't make mistakes, easy schedule model? Yeah, that doesn't work if you can't play good defense and without Darrelle Revis, they're going to have a hard time doing so many of the things they normally do on defense. They also don't run the ball...
New York Jets cornerback Darrelle Revis is likely out for the rest of the season with a torn ACL leaving Antonio Cromartie to believe he's now the No.1 guy in the NFL. Cromartie told Manish Mehta of the New York Daily News that he's now the best cornerback in the entire NFL, better than even Nnamdi Asomugha. "I have said that I'm the second-best corner in the NFL,&quot...
The New York Jets have lost cornerback Darrelle Revis for the season, but they should have Dustin Keller back for the first time since the opening offensive play of the season. Dustin Keller made a seven yard catch on that play, but came up lame and didn't return to the game. He has been absent from the lineup since, and his absence has been very noticeable. Going up against...
NFL News

Delivered to your inbox

You'll also receive Yardbarker's daily Top 10, featuring the best sports stories from around the web. Customize your newsletter to get articles on your favorite sports and teams. And the best part? It's free!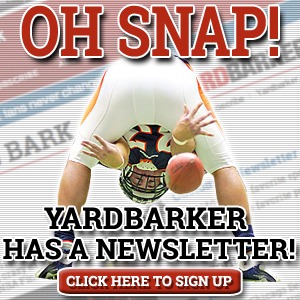 Latest Rumors
The Backyard

Today's Best Stuff

For Bloggers

Join the Yardbarker Network for more promotion, traffic, and money.

Company Info

Help

What is Yardbarker?

Yardbarker is the largest network of sports blogs and pro athlete blogs on the web. This site is the hub of the Yardbarker Network, where our editors and algorithms curate the best sports content from our network and beyond.